This is so delicious and keeps in the fridge for 3 to 4 days, but it never lasts that long around our house. It's quick, easy, and makes a great impression.  Or spread this on your gluten-free homemade bread or one of my Grain-Free Cassava Century Bread, and you've got yourself a scrumptious lunch or dinner. You're going to have to whip up some Foolproof Mayonnaise for this perfect salad on the go! You can use any curry seasoning, but my Crazy Curry is so delicious and easy. I took it to school for a birthday celebration with my grade level thinking I'd have some for leftover for lunch the rest of the week––but no such luck. They loved it (or they were really starving). So here you go, my friends. Enjoy!
CHOPPED ASIAN SALAD
May 7, 2017
: 4
: 20 min
: 15 min
: 35 min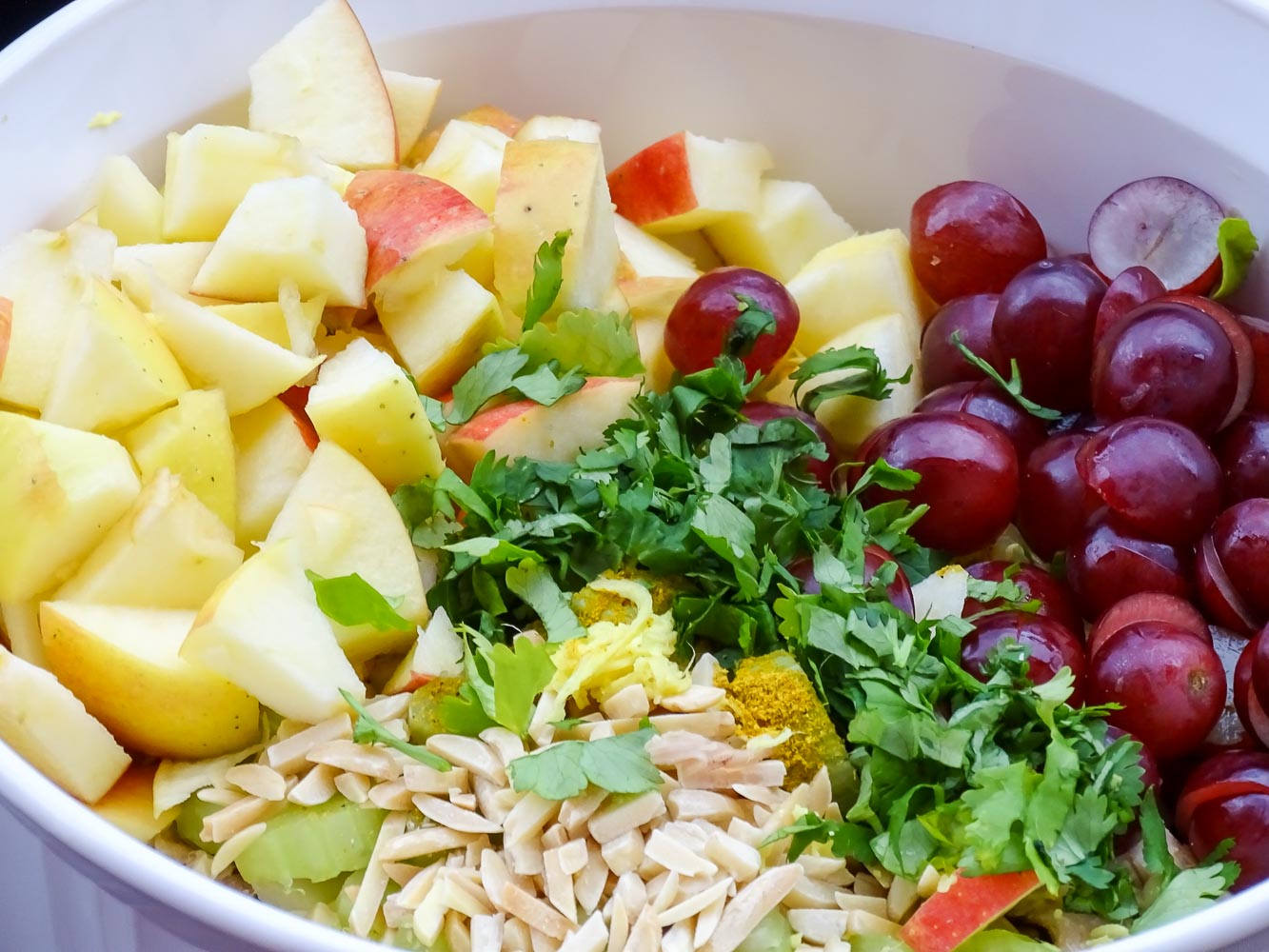 Ingredients
1 lbs Chicken Breast diced & cooked
2 apples green red or yellow
2 celery stalks chopped
1 cup red grapes sliced in half
1/2 medium red onion diced
5-6 sprigs cilantro chopped
1/4 cups raw almonds toasted
1 tsp fresh ginger grated
1 cloves garlic pressed
1/2 tsp fresh horseradish or wasabi
1 tsp Crazy Curry or store-bought
salt & pepper to taste
3/4 cup Foolproof Mayo or store-bought
Directions
Step 1

Dice the chicken in bite-size pieces and stir-fry Set aside to cool. I have also used the store-bought roasted chickens from the deli, and this works super when in a hurry.

Step 2

I also grill several extra chicken breasts when BQ'ing and freeze them for moments just like this.

Step 3

You will need a batch of my Foolproof Mayonnaise, so make sure you have some on hand!

Step 4

While the chicken is cooling, dice all the goodies. Don't forget to toast your almonds. This adds a peanut taste to the mix.

Step 5

Mix the chicken with the mayo.

Step 6

Toss it into the chopped goodies and stir it.

Step 7

Enjoy!