Ok no brainer…really. Just grab your favorite veggies from the fridge and add this out of the world sauce and your mouth will have a celebration! I can throw them in my little baking oven on the boat and my confectioner oven in the camper. You can even toss them on the grill. Any way you choose just "do it"! You can even throw in some chicken pieces and cook them right along with the sauce and veggies. It's that easy.
Asian Spiced Veggie Broil
April 26, 2019
: 4
: 30 min
: Easy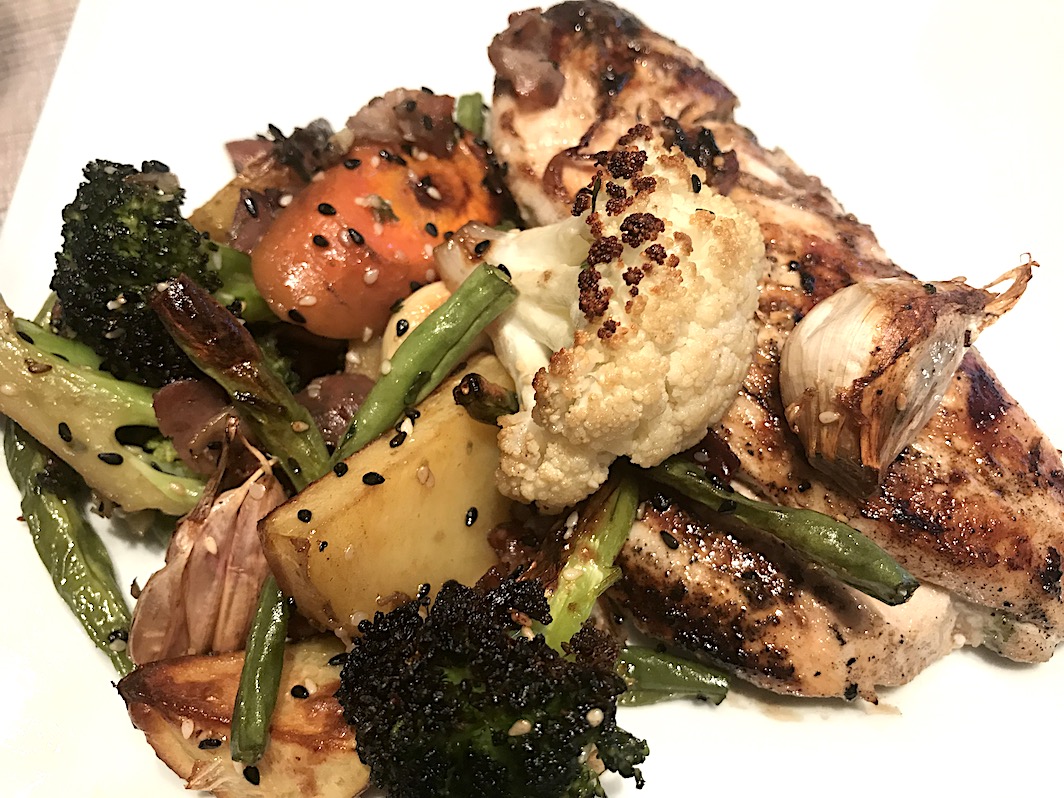 Ingredients
1/4 cups olive oil
2 Tbsp coconut amino soy
1/2 tsp Grey Poupon Mustard
1 tsp Himalayan salt
1 tsp ground pepper
1 tsp red pepper flakes
1 tsp grated fresh ginger
2 tsp mixed sesame seeds black & white
6 cups mixed veggies cut in chunks
5 strips diced bio bacon optional
Directions
Step 1

Cut your veggies and meat if using, into bite-size pieces. I used a colorful blend! Little carrots and green beans, broccoli, cauliflower. I used a whole garlic bulb!

Step 2

Place them in a bowl and add your bacon if using. Give it a stir.

Step 3

Place the olive oil, coconut amino soy, mustard, salt, pepper, red pepper flakes, and fresh ginger in a jar and shake it to death. Pour it over the veggies and stir.

Step 4

Broil for 15-20 minutes. Turning occasionally. While this is baking, toast your sesame seeds in a toaster oven. Watch them, they burn quickly. You can also do this in a frying pan and keep flipping them so they don't burn.

Step 5

When the veggies are done, sprinkle the top with the toasted sesame seeds.