I LOVE berries. I can recall eating a warm berry pie from the 7/11 store several times a week on my way to San Dieguito High School in Encinitas CA. It was so tart and the crust was just yummy but full of fat and bad sugar.  I had to reinvent this taste in a new and healthy nutritious recipe. I did it! And it is so good with homemade coconut vanilla bean ice cream or my Coconut Whipped Cream dolloped on top. Check it out! I hope you enjoy it as much as me and it stirs up some warm feeling inside!
VERRY BERRY COBBLER
June 20, 2017
: 8
: 20 min
: 45 min
: 1 hr 5 min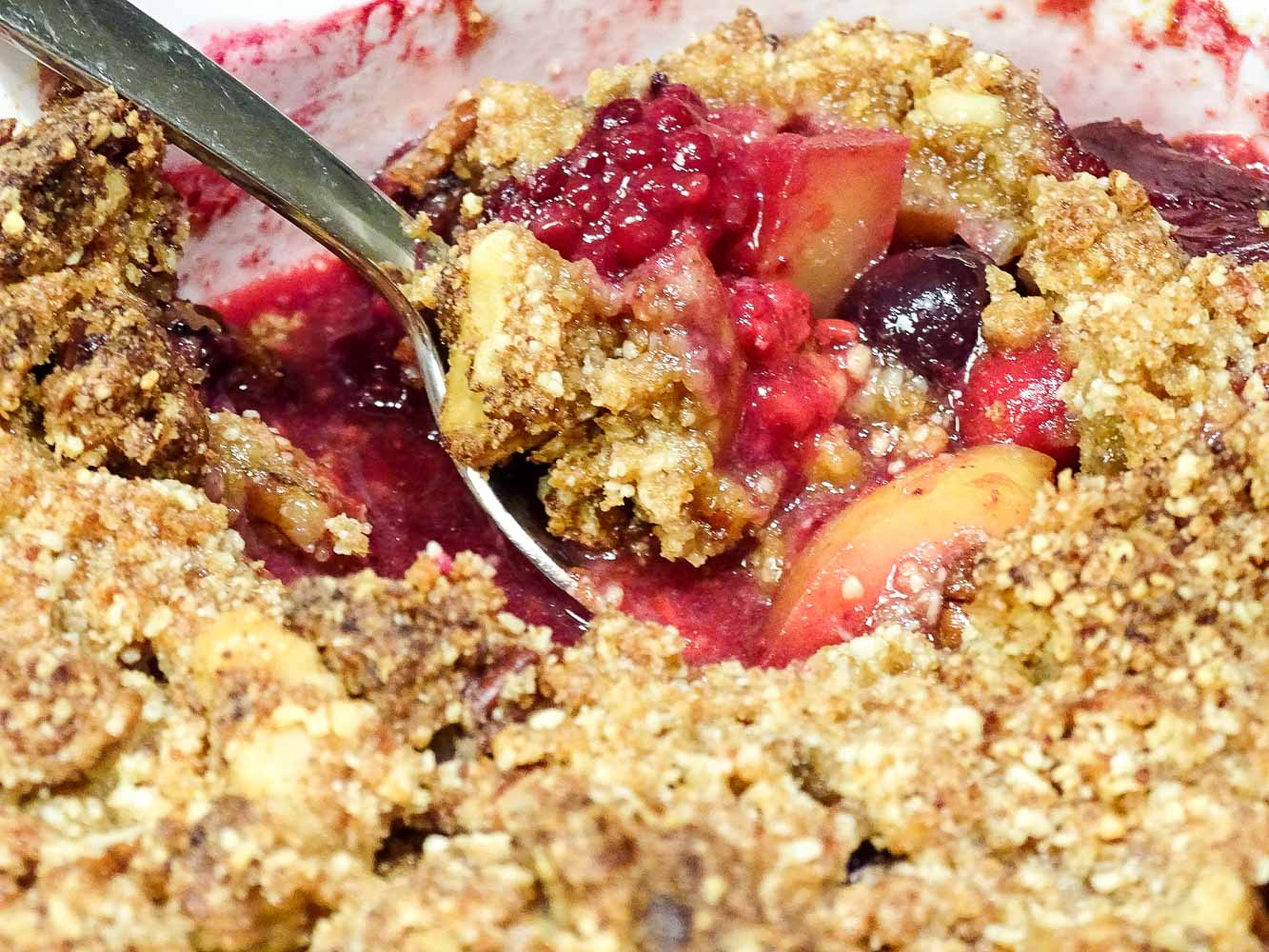 Ingredients
Berry Filling
4 apples red, green, yellow diced I like to mix the colors!
1 basket fresh raspberries washed
1 basket fresh blackberries washed sliced sticks the size of the green beans
1 basket fresh blueberries washed
1 cup fresh cranberries washed
1/4 cups fresh juice orange or apple juice
1/2 lemon squeezed juice only
1 tsp vanilla
1/4 tsp ground nutmeg
Crumble Topping
1 cup gluten free flour or 1/2 cup each: almond and cassava flour
1/2 cup coconut sugar
1/2 cup firm butter or ghee
1/2 tsp Chinese Five Spice
1/4 tsp ground cinnamon
1/4 tsp ground cardamon
1/2 cups walnuts chopped
Directions
Step 1

Berry Filling

Step 2

Preheat your oven to 375 degrees. My baking sheet is oval and about 10X8.

Step 3

Wash all the berries and apple mix them in a bowl with the fresh juice of your choice, lemon juice, vanilla, and nutmeg. Give them a swirl and place them in your baking pan, even the juice!

Step 4

Cobbler Topping

Step 5

Mix the seasonings with the gluten-free flour with a fork. Then add the walnuts.

Step 6

Slice the butter or ghee and press it with the fork into the mixture. Clean off the fork and use your hands to combine the butter or ghee. It should look like the size of peas.

Step 7

Sprinkle the topping over the prepared berry mixture.

Step 8

Pop it in the oven for 45 minutes or when you see the top golden and the juice from the berries bubbling up to the edge!

Step 9

If you can wait, let it cool for 30 minutes but if not that's ok., just watch your tongue. Then dollop a scoop of fresh Coconut Whipped Cream or some homemade coconut milk ice cream of your choice.