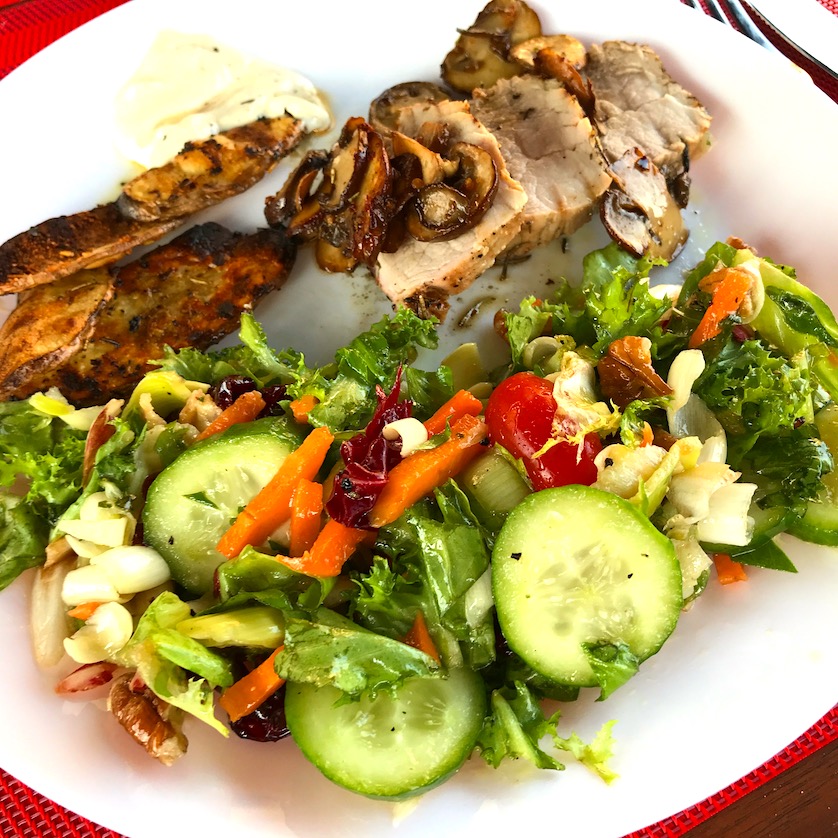 We'd just grilled a large pork loin with sauteed mushrooms, grilled potatoes, and a lovely salad. Two-thirds of this delicious piece of meat was leftover.
I slid it into the fridge and figured we'd slice it up with our morning eggs. However…my mind started ticking, and I started creating. The next evening I sliced this bad boy into strips and created the most outrageous soup with one power-packed interesting ingredient that set my tastebuds dancing. It's called Sambal Oelek. You know me and "HOT" well, you can temper this to your liking, but this little sauce I found is a jewel, and I've even used it to marinade my flank steaks. You'll find it in the Asian section of your grocery store or an Asian market.  Its origins come from Indonesia, where it is used as a condiment for seasoning, marinating, and making soups. It comes in red chilies and green. I used the red (I've got plans for the green). You've got to pick this treasure of an ingredient up. I'm sure you'll find a million uses for this amazing paste. This recipe was the easiest and tastiest I've ever made. You can use leftover chicken, pork, beef, or shrimp. If using fresh meat, saute it first or go meatless for a yummy vegetarian dish… Go with the rice noodles, or make a batch of zucchini noodles. Either way, the taste is seriously radical. Check this out! Oh, by the way, I suggest you taste before adding 1/2 cup to your soup. If you're not into hot, you can add 1 tablespoon at a time of the Sambal Oelek until you find the right temperature for you.
SAMBAL OELEK ASIAN SOUP
October 2, 2018
: 2
: 15 min
: 15 min
: 30 min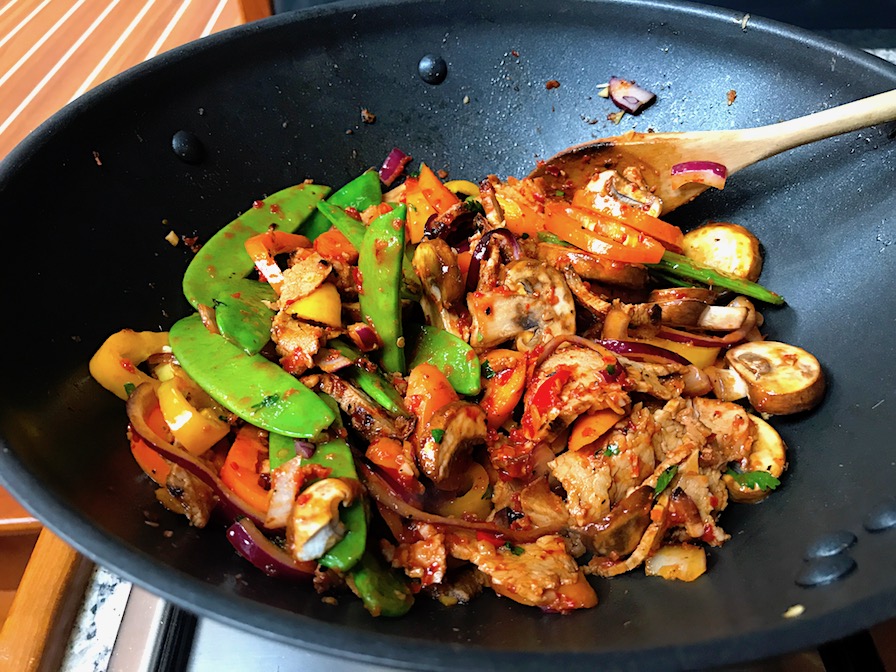 Ingredients
1 Tbsp ghee
1 1/2 cups pork, chicken or beef or leave it out for a vegetarian meal
1 cup snow peas or more
1/2 cup sliced carrots or more
4 fresh green onions diced or purple onion diced
1 small orange, yellow, red diced
1 cup mushrooms diced
1/3 cup cilantro diced and divided
2 cloves garlic optional
1 tbsp red curry paste optional
2 cups bio chicken broth
2-5 tsp Sambal Oelek or more or less. It's hot!
1/2 package rice noodles or zucchini noodles
Directions
Step 1

Slice up your meat into thin pieces.

Step 2

Prep your veggies. You can use whatever you have on hand. I wished I had green onions but all I had was purple. Next time… be creative and add something new…give it a try!

Step 3

Heat your Wok with the ghee (if you don't have one, a frying pan is fine) and saute your meat in the ghee. Add the carrots since they take a little longer to cook. Cook for about 5 minutes on medium.

Step 4

Add your chosen veggies, half the diced cilantro, and 1/2 cup of Sambal Oelek. Stir in your crushed garlic and red chile (if using).

Step 5

Give it a stir and add your 2 cups of bio chicken broth. let it simmer on low for 5 minutes while you make the rice noodles according to the package.

Step 6

Place the noodles on top and serve with sprinkles of cilantro over the top.

Step 7

We ate the whole bowl and wished we'd made more, so you might want to double this if it is going to be your main course!