I love going to the farmer's market in Germany. The produce is always fresh, and so many unique veggies. On this trip, I found the biggest purple carrots I've ever seen. I love that deep dark purple, and then when you slice them, bright colors appear on the inside. I also found yellow and orange. I thought the combo might turn an odd color. I got this brilliant idea to create a simple soup and, in the end, separate the yellow and orange carrots to make a creamy, mellow yellow coconut swirl. It's a dish to impress, for sure! If you're not separating the colored carrots, then go ahead and swirl the two separate soups together. The yummy flavors still jump out. We ate this amazing soup in several different ways. The first time we dined on this soup, we diced fresh cilantro on top. The next time we added slivered almonds. One night we toasted pumpkin seeds and added a drizzle of pumpkin oil swirled in. It's endless and such an easy recipe.
I usually don't peel the carrots or potatoes. I figure they are close to the earth and absorb all the nutrients, especially if they are raised Bio! It's up to you…peel or don't peel?  I do peel my potatoes for soups when I want them super thick and creamy. Using potatoes is really an option if you're not avoiding carbs. Here we go! Check out these amazing carrots!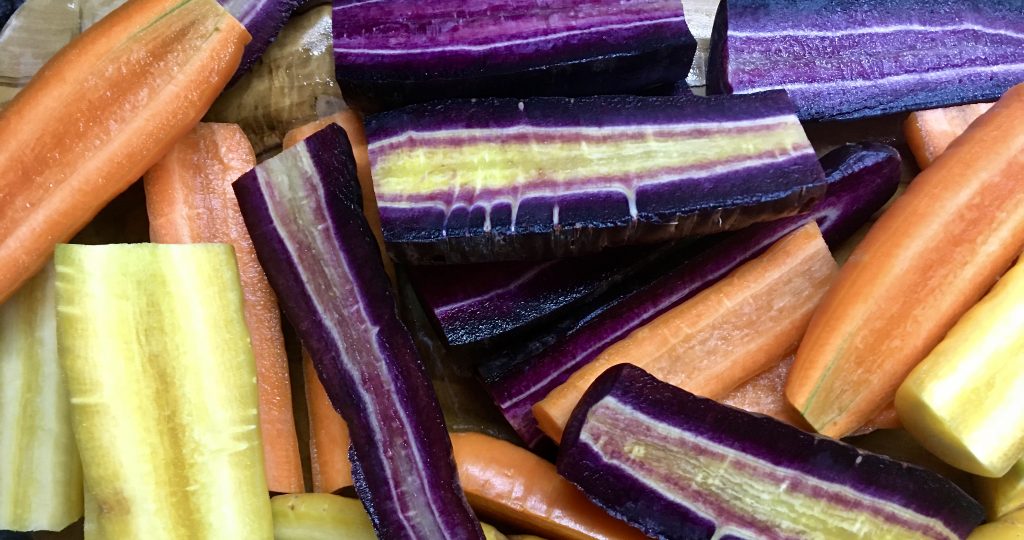 Let's get on this. I know you can do it
Curried Carrot Soup
February 19, 2020
: 6
: 15 min
: 30 min
: Easy
Ingredients
2 large purple carrots
2 large yellow carrots
2 large orange carrots
2 small potatoes
Left-over water from steaming reserved
4 cups of vegetable broth or chicken broth (reserve ½ cup for the mellow yellow sauce)
2 cloves of garlic diced
1 small purple onion diced
2 Tbsp chopped cilantro
1 tsp apple cider vinegar
2 Tsp curry-separated
1 tsp Himalayan salt
1 cup coconut cream milk
¼ tsp cardamom
¼ tsp cumin
1 tsp of freshly grated ginger (or ¼ tsp of the ground)
Directions
Step 1

Steam your cleaned carrots and potatoes in a steamer and reserve the liquid.

Step 2

Once they are soft, separate the yellow and orange carrots and place them into a medium saucepan.

Step 3

Place the purple carrots and potatoes in another saucepan along with the reserved water from steaming and the vegetable broth. Add the garlic, purple onions, diced cilantro, and vinegar, 1 tsp curry (your choice…hot or mild), and salt. Simmer while you create the creamy, mellow yellow coconut cream sauce.

Step 4

In the medium saucepan with the yellow and orange carrots, add ½ cup of reserved veggie broth, coconut milk, cardamom, cumin, curry, and ginger. A little salt as well! Simmer on low while you puree the purple carrots and potatoes.

Step 5

Puree the carrots in the medium saucepan with the purple carrots and potatoes and seasonings. I use my immersion blender. You can also put them in the blender.

Step 6

Puree the carrots in the saucepan with the yellow and orange carrots and the coconut cream milk and seasonings. Simmer a bit!

Step 7

Serve this delicious soup by placing a cup full of hot purple carrot soup in a bowl and swirling in the mellow yellow coconut cream pureed yellow and orange carrots.

Step 8

Top this dish off with sliced almonds, or diced cilantro or diced walnuts or pumpkin seeds and swirl in a dash of pumpkin oil. Or just let it be!

Step 9

When you finish this dish, combine the two saucepans and store them in the fridge or freezer. If you want to, you can store it in the fridge or freeze them separately.