One of the hardest things for me on this eating adventure is avoiding grains. I try to stay away from them but sometimes…you just got to have a bite of pasta. All my recipes that call for pasta I use gluten-free but they do contain rice and some corn! I limit how much I eat and try to keep it down to once or twice a month. The same goes for rice. Usually, I use zucchini noodles or cauliflower rice.
This one recipe I created while we were traveling. We stayed in an AirB&B and there was no spiral for the zucchini so I choose gluten-free pasta. Seasonings were taken care of by my amazing gift from my mother. She found it at Trader Joes years ago. It's a case of 20 different seasonings and is my must-have travel companion! Plus this recipe is a stovetop dish, no oven necessary. Most hotels have a small kitchenette so dig in my friends even when you travel!
Asparagus Chicken Pasta
June 12, 2019
: 15 min
: 20 min
: 35 min
: Easy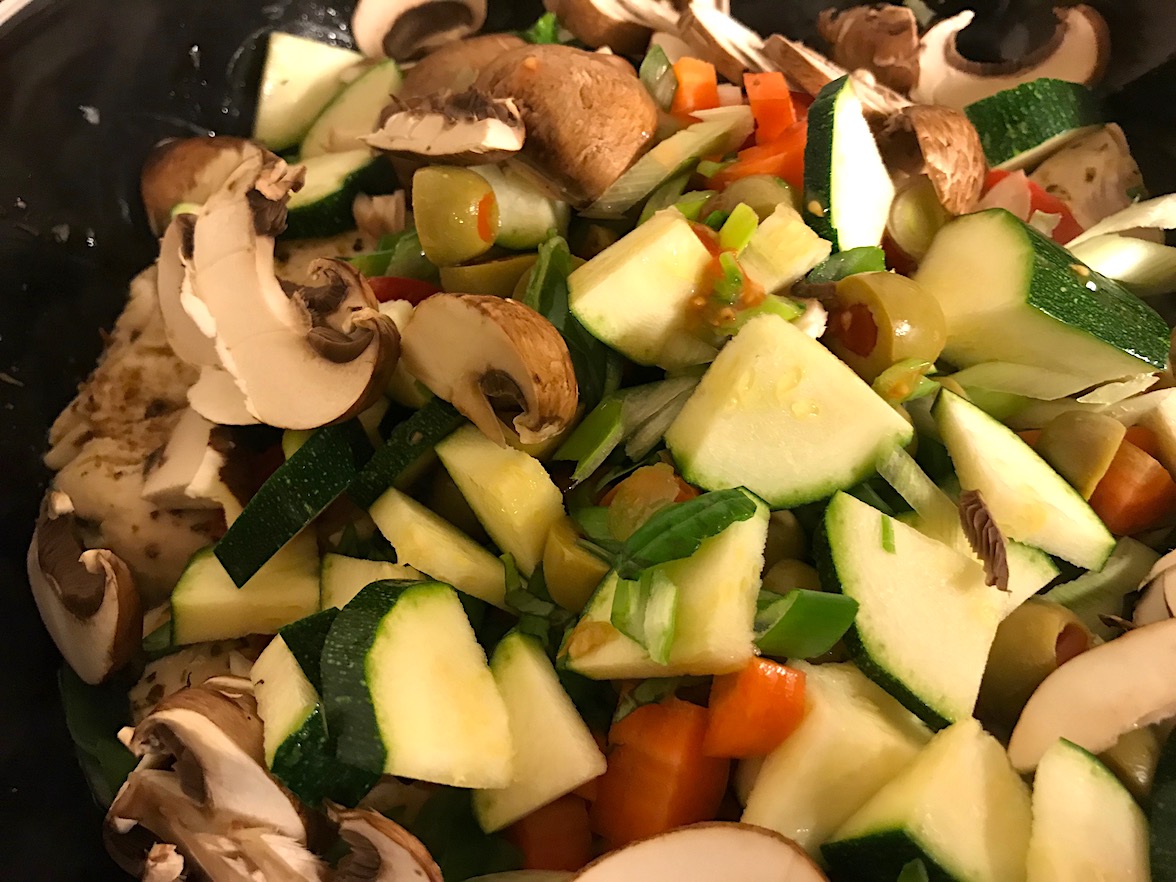 Ingredients
4 servings gluten-free pasta or zucchini noodles
1 batch green asparagus
4 Tbsp olive oil
1 tsp red pepper flakes
2 tsp Italian seasoning
2-4 sprigs fresh basil chopped
1 cloves garlic diced
1-2 green onions sliced
1/4 cup olives black or green or both
2 small carrots sliced
3-4 small tomatoes sliced
4-5 fresh mushrooms sliced
1 medium zucchini sliced
1-3 tsp Sambal Oelek or hot sauce
2 large Chicken Breast sliced 1
Directions
Step 1

If you're using gluten-free pasta, begin boiling the water now. Gluten-free pasta takes 7-10 minutes to cook in boiling water so, get that going while you begin the dish. See note below if using Zucchini noodles. Gather all your ingredients. Clean and wash them.

Step 2

Dice the meat and veggies. I happened to find a fresh zucchini and added that to the mix on the way. Seriously, use whatever veggies you have on hand.

Step 3

In a medium saucepan, place the olive oil, red pepper flakes, and Italian seasoning. Simmer on low until combined about 2-3 minutes.

Step 4

Add the diced garlic. Give it a toss.

Step 5

Add the diced basil. Give this a toss.

Step 6

Turn heat to medium stir for a minute and then add the chicken.

Step 7

Simmer the chicken until the outside is white. About 5 minutes.

Step 8

After 5 minutes, add the Sambal Oelek to the chicken.

Step 9

Squeeze in the juice from a whole lime.

Step 10

Place the prepared diced veggies on top of the chicken. Hold off on the asparagus…

Step 11

Stir mixing the veggies and chicken until well mixed.

Step 12

Add the asparagus on the top and cover with a lid. Cook for 7-10 minutes while you boil the pasta.

Step 13

When the pasta is done, drain it and plate up your dish taking the asparagus first.

Step 14

Then add a generous helping of the chicken, veggies, and sauce. Add salt and pepper and a bit of parmesan if using cheese.

Step 15

If you've made too much or want to keep seconds warm, place the remaining asparagus inside the extra drained pasta and cover with a lid to stay warm.