This is the simplest mock cheese and is so tasty. I use it on everything from pizza to zucchini noodles. It's amazing for dips as well. Top off your casserole with this Italian-flavored mock cheese, and no one will know but you!
There's one catch with this recipe. Your cashews need to rest in filtered water for 4-6 hours. Overnight is better. You might want to double this recipe because you can freeze it, plus it's great to have on hand. I use my super easy homemade B & B Pesto and Bella Italian Seasoning in this recipe, but you can use your own pesto or store-bought recipe.
I use this Cashew Cheese to make my One Pot Pasta dish using zucchini noodles or gluten-free pasta. It has become a weekly staple on the boat since it's an easy recipe. I made a batch of the Cashew Cheese and froze it in individual serving sizes to have it on hand for this simple one-pot meal!
You can even sweeten it by making a batch of my Chai Cashew Butter. It takes a sweet turn to top off your gluten-free bread, pancakes, or waffles!
Cashew Cheese
June 12, 2019
: 1/2 cup
: 5 hr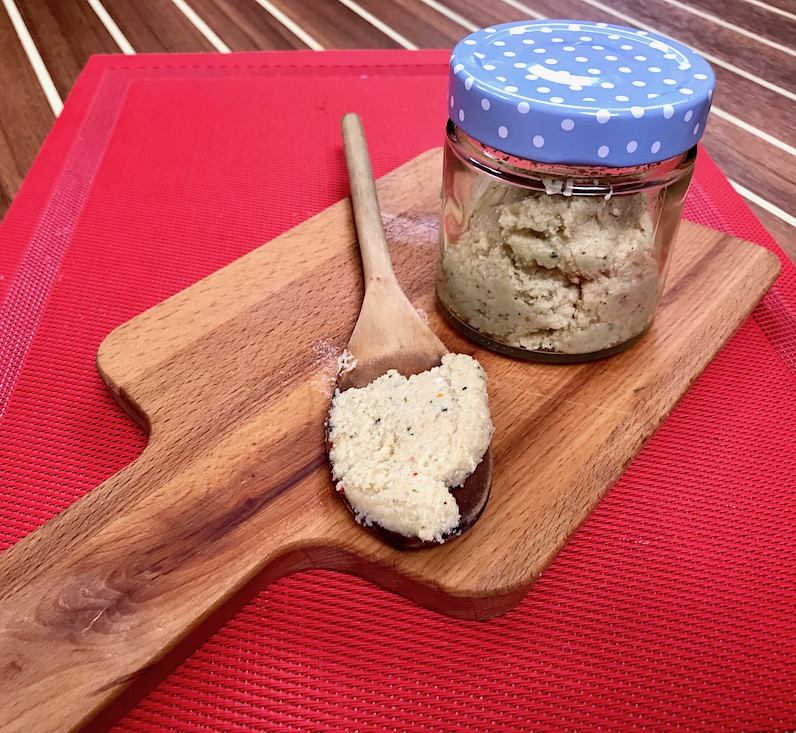 Ingredients
3 cups cashews covered in water for 4-6 hours
1-2 cloves garlic diced - optional
1-2 Tbsp pesto green or red
3 Tbsp olive oil
1 1/2 Tbsp Brewers Yeast optional
1 1/2 tsp Italian seasoning or to taste
3/4 tsp red pepper flakes
3 Tbsp cashew water reserved from soaking
Himalayan salt & fresh pepper to taste
Directions
Step 1

Place your cashews in a bowl of filtered water. Leave for 4-6 hours or more. Reserve a quarter cup of the water just in case you need it to thin out the cheese if it is too thick while blending. Place the soaked cashews in a food processor or a tall narrow mixing cup. I use the one that came with my immersion blender.

Step 2

Add the pesto, salt, pepper, red pepper flakes, garlic, Italian seasoning, and Brewers Yeast if using. I always make my own pesto and Italian seasoning but you can use store-bought or your recipe.

Step 3

Blend in your blender, food processor, or as I did in an immersion blender. Check for taste along the way

Step 4

You might need a bit more salt or red peppers!

Step 5

Slowly add the olive oil as you blend. If it is too thick, add a teaspoon or two of the reserved water from the soaked cashews until you have the right consistency. It should be similar to firm goat cheese…

Step 6

You can use this yummy "cheese" on pizza or veggies. It is amazing in my One Pot Pasta dish.

Step 7

Store in the fridge for up to a week and in the freezer for three months!