We've been traveling in the Netherlands for a month now and very few places have gluten-free sweets in their bakeries. We happened upon a little shop that sold homemade Ontbijtkoek which basically translates to Breakfast Bread. It is very famous here and apparently was a staple for the merchants who drove their ships through the rivers exchanging goods. It is said that it lasted longer than normal bread!
While admiring the shop and all the goodies in the window I noticed a sign that indicated they also sold gluten-free Ontbijtkoek. Well, sign me up! We enjoyed a nice cup of coffee and this delicious authentic breakfast bread. This was so moist and even was soft and moist the next day which doesn't always happen with gluten-free baked goods. I knew I had to create it so I could enjoy it while traveling. I did it and actually had a test kitchen…our next door boaters! All gave a thumbs up and so here you go!
I don't have a mixer on board so I made this with my immersion blender. If you use a mixer I'm sure it will be much faster. I also experimented with my Garam Masala. I love integrating the amazing spices of India. It worked well in this yummy bread. You can also use Allspice if you don't have any masala. I decided to bake two small round loaves so I could share with our neighbors or freeze one in my small boat freezer for later. No luck, both were gone in two days. You can also bake this in a 5×8 sheet pan or make muffins. Anyway, you bake it, it will be delicious.
Netherland Spiced Bread
June 13, 2019
: 8
: 1 hr 15 min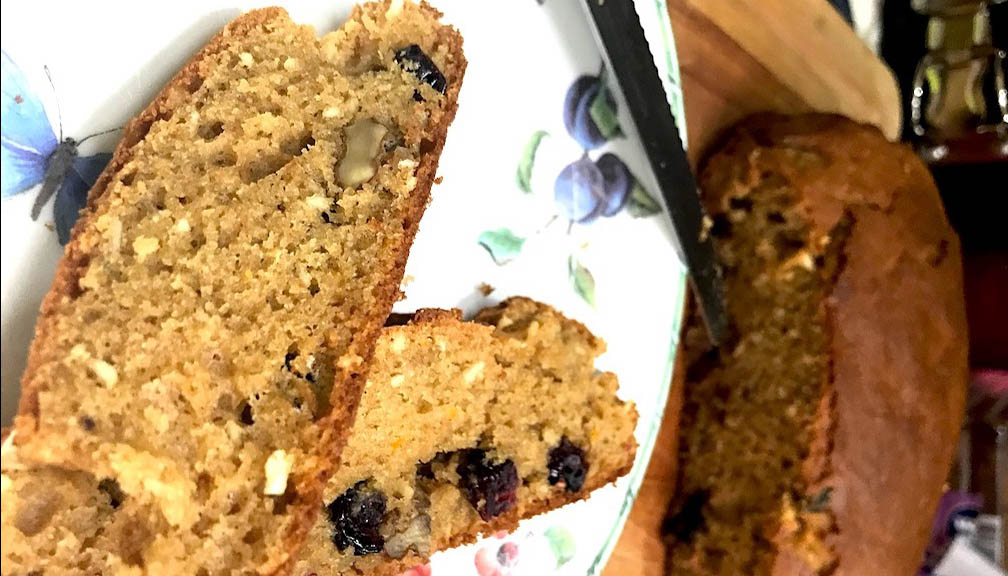 Ingredients
Wet Ingredients
1/2 cups full coconut cream milk, not the milk, cream
1 tsp apple cider vinegar
6 Tbsp ghee
3/4 cup coconut sugar
1 tsp vanilla
3 medium organic eggs
1/2 cup dairy-free yogurt coconut or almond yogurt
Dry Ingredients
1/2 cups almond flour
1/2 cup gluten-free flour mix I use Bob's Red Mill
1 cup cassava flour
1/2 tsp xanthan gum or agar
1 tsp baking powder
1/2 tsp baking soda
1 tsp Himalayan salt
1 tsp Garam Masala or allspice
1/4 cup fresh or dried cranberries
1/4 cup walnuts chopped roughly
1/4 cups dried coconut flakes optional - no sugar
;Turn on oven to 350 degrees. Place the teaspoon of vinegar in the 1/2 cup of coconut cream milk. Stir and set aside.;In a large mixing bowl beat together the ghee and coconut sugar and vanilla until well incorporated. Add the eggs one at a time and continue beating until fluffy.;In a separate bowl mix the almond flour, gluten-free 1-1 flour, and cassava flour with a fork or whisk. Add the xanthan gum, baking powder, baking soda, salt, and Garam Masala. Whisk until well incorporated.;Your coconut cream milk should be fuzzy and basically is "buttermilk". Alternate adding the flour mixture, dairy-free yogurt, and "buttermilk" to your egg and sugar mixture. Beat until smooth and fluffy.;Add the coconut flakes. Remember raw, no sugar!;Add the cranberries.;Add the nuts and stir until well combined.;I used an 8 inch round cake pan lined in baking paper. I only have a toaster oven so I had to bake it twice.;Trim the edges of the paper and pour in the batter.;Bake for 40- 50 minutes and check the center with a knife to make sure it is cooked through.;Let it cool (if you can wait) and then slice.;It's delicious with a bit of butter slathered over the top. You can also warm it back up in a toaster oven.[/lt_recipe