This is the best thing on the planet! Ok, Well almost. Cooking onboard the boat can be really HOT so we try to keep our cooking for the grill. When supplies get low I always have a can of organic tuna on board and man do I make it sing!
Boring right? No way. This one is delicious. When, and if I ever do find fresh jalapeños along the canals this is one of my favorite dishes to whip up as a meal, appetizer, or even lunch. It's full of flavor, crunchy with a big bite. I use a 5oz can but grab a 12 oz size and my Foolproof Mayo With a Zing. I'm sure it will be gone before you know it.
I enjoy devouring the delicious tuna with sliced veggies but I was so excited when I found gluten-free pita pockets at Aldi.  They are really good and no gluten, milk, or eggs! These are perfect for this Jalapeño Tuna and with my Herb Hummus!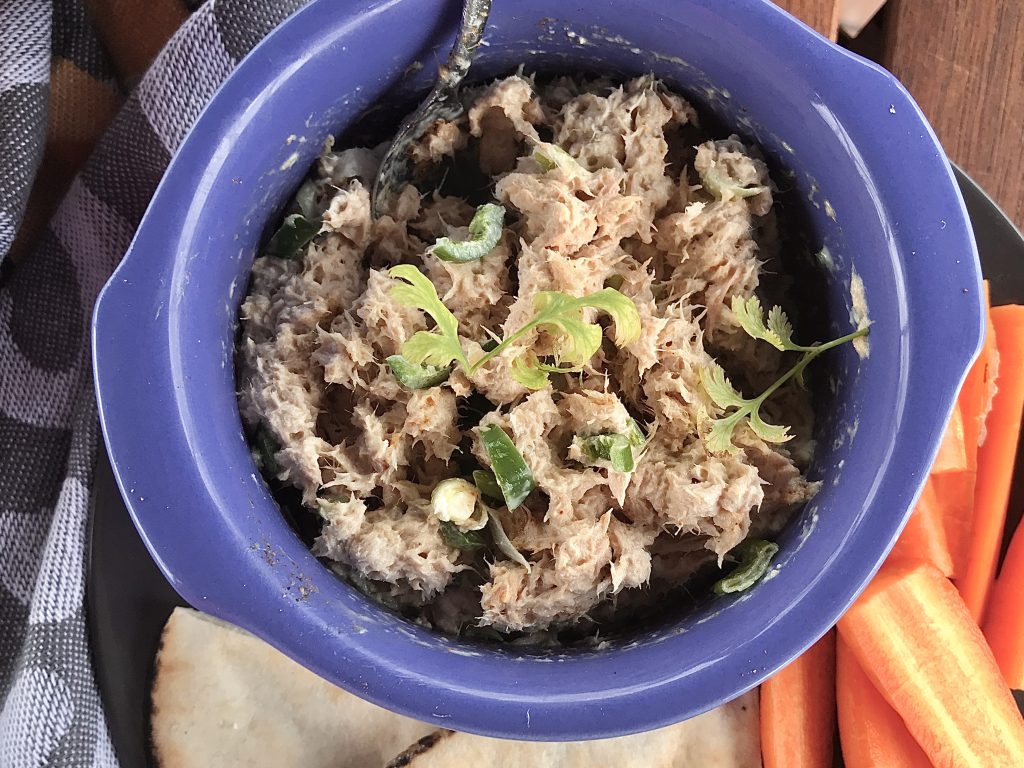 Jalapeño Tuna
August 16, 2020
: 2 persons
: 15 min
: Easy
Ingredients
1-2 diced jalapeños
5 oz can of organic tuna drained
1/2 cup of Foolproof Mayo
2 jalapeños diced seeds removed
1/4 cup diced cilantro
2 Tbsp of diced green onions
5-6 diced green olives
1 tsp of Mexican seasoning
2 Tbsp of fresh lime juice
Directions
Step 1

In a medium bowl mix all the ingredients together. 

Step 2

Slice up some carrots, cucumbers, and zucchini.