This is such an easy dip to make. I start with dried chickpeas and soak them overnight. Then I rinse them and boil the entire bag for 2 hours or more. I end up with 4 containers that I froze. Each batch was about a cup and a half. Be sure to fill your freezing containers 2/3 full of the chickpeas and add some of the water you used to boil them into the container. You'll need the liquid when you make my Herb Hummus. You can also use organically canned and reserve the liquid but they tend to be firm and you might have to boil them to get them very soft.
Here are my 2 tips that make remarkable smooth hummus!
Boil your own dried chickpeas. Make sure you boil them until they almost fall apart. This helps when you blend the hummus to get a nice smooth consistency.
Save the liquid. This is used to get the thickness you like. You won't use it all but I've read several recipes where you can substitute this liquid for an egg!
Ok, those are my two tips that guaranteed a nice smooth texture to your creation. Now let's make this Herb Hummus speak! Truly, give it a voice. I took this one to France. Take it to Italy, Mexico, India, anywhere. With a few ingredient changes to this recipe, you can hear it speak in different languages!.
France: This Herb Hummus is made using my Herb de Provence Oil, which you will need. To make the oil check out the recipe: Herb de Provence Oil!
Italy: add 1 tablespoon of my B & B Pesto while pureeing the chickpeas then pour another 2 or 3 tablespoons on top of your finished humus. Check it out…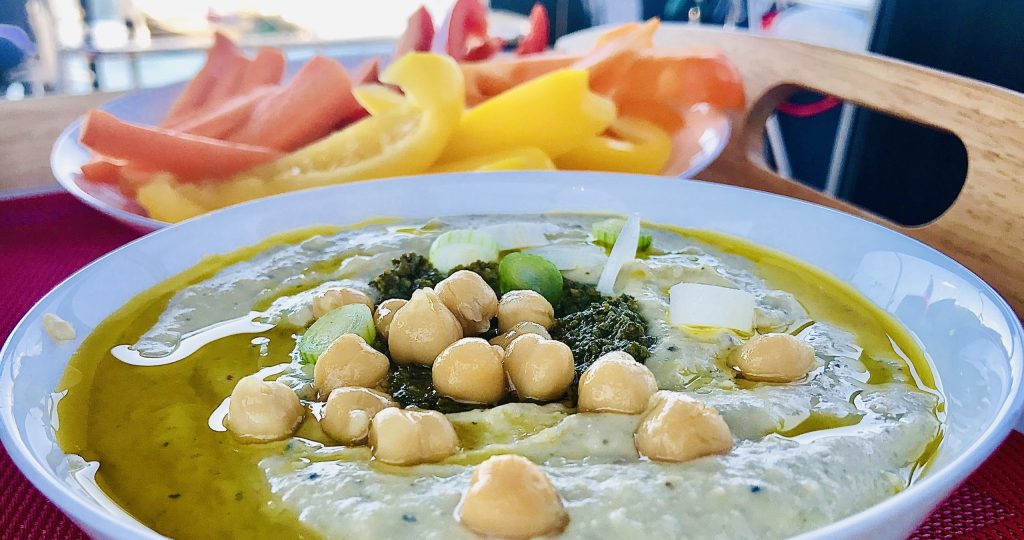 Mexico: add 1 tablespoon of my Pico de Gallo while pureeing the chickpeas then pour another 2 or 3 tablespoons on top of your finished hummus plus a little olive oil.
Asian: add 1 tablespoon of Sambal Oelek while pureeing the chickpeas then pour another 2 or 3 tablespoons on top with a drizzle of olive oil.
India: Whip up my Spicy Pumpkin Hummus using almond butter instead of tahini, add a few shakes of curry and top it off with diced cilantro, 1 tablespoon of coconut cream milk mixed with1 tsp curry, and 2 tablespoons of olive oil. Drizzle over the top.
Today we are letting this recipe yell FRANCE! Slice up those veggies and eat away! No matter how you mix the flavors this stuff is delicious!

A Tribute to the Chef: Hummus
Apparently, there are a lot of controversies as to who and where specifically this delicious recipe came about but one thing is for sure it originated in the middle-east. The earliest known written recipes for a dish resembling hummus bi tahina are recorded in cookbooks written in Ciro in the 13th century. It is a dish shared by Egyptians, Greek, and Turkish. A cold puree of chickpeas with vinegar and pickled lemons with herbs, spices, and oil, but no tahini or garlic, appears to be used in some areas while in other locations, a puree of chickpeas and tahini called hummus kasa appear. These were based on pureed chickpeas and tahini, and acidulated with vinegar (not lemon), but they also contained many spices, herbs, and nuts, and no garlic. It was/is also served by rolling it out and letting it sit overnight, which gives it a very different texture apparently. Now you know!
Hummus
July 9, 2020
: 2 cups
: 20 min
Ingredients
1- 1/2 cup cooked chickpeas (reserve the liquid)
1/2 juice from the lemon
2 Tbsp tahini
2 cloves of garlic diced
3 Tbsp olive oil or 3 more if you're not using the Herb de Provence oil
4 Tbsp of Herb de Provence Oil
Himalayan salt and pepper to taste
Directions
Step 1

Make the Herb de Provence Oil. You can use store-bought dry ingredients but fresh is best.

Step 2

Place The chickpeas, lemon juice, tahini, garlic, olive oil, and 1 tablespoon of Herb de Provence into a food processor. I use the attachment that came with my immersion blender.

Step 3

Process until well blended. You might have to stop and scrape the sides of your processor a couple of times.

Step 4

Check consistency and if too thick, add a tablespoon at a time of the reserved chickpea liquid to create the consistency you desire.

Step 5

Place in a serving bowl and swirl the last 3 tablespoons of Herb de Provence over the top.