Yes, I do eat potatoes and yes, I do eat pretty much the same food groups each dinner. But the key to jazzing up your meals is the spice and sauce. I find that I can change the flavor of any dish just by creating and adding a sauce or seasoning to my veggies, meat, and potatoes.
My daughter asked me to make a post about my french fries! I said what, you're kidding? If you don't know how to make french fries or chips then I'm betting your not even reading my website but spending time at drive-throughs or you don't have kids! Seriously they are so easy and even though I have an air fryer I still prefer my potato chips or sweet potato chips on the grill. 
I season them according to our meal with any of my homemade seasoning. Try seasoning your next batch with my favorite, Rub-A-Dub-Dub Rib Rub! I also use Old Bay when I'm eating fish! The seasonings are really endless!
It's all about the Mayo…
These are so easy and delicious but as my daughter said, "it's all in the mayo mom!" In Germany, chips are sold with mayonnaise, curry sauce or catsup! Being married to a German, I'm hooked on mayo as my choice of condiment. 
After reading so many Bio, Organic, and "healthy choice" mayo labels I gave up. Still not sure how they can sell them as "healthily". So I decided to make a recipe of my own. Wooo what trials and tribulations. But after many eggs and wasted oils…I got it! Seriously. Easy and just amazing flavor. You have to follow the directions exactly. use a narrow jar that just fits the head of your immersion blender and you're set to go!
So head here first and make my Foolproof Mayo With A Zing and my Rub-a-dub-dub Rib Rub. Then come on back and get these chips on the grill!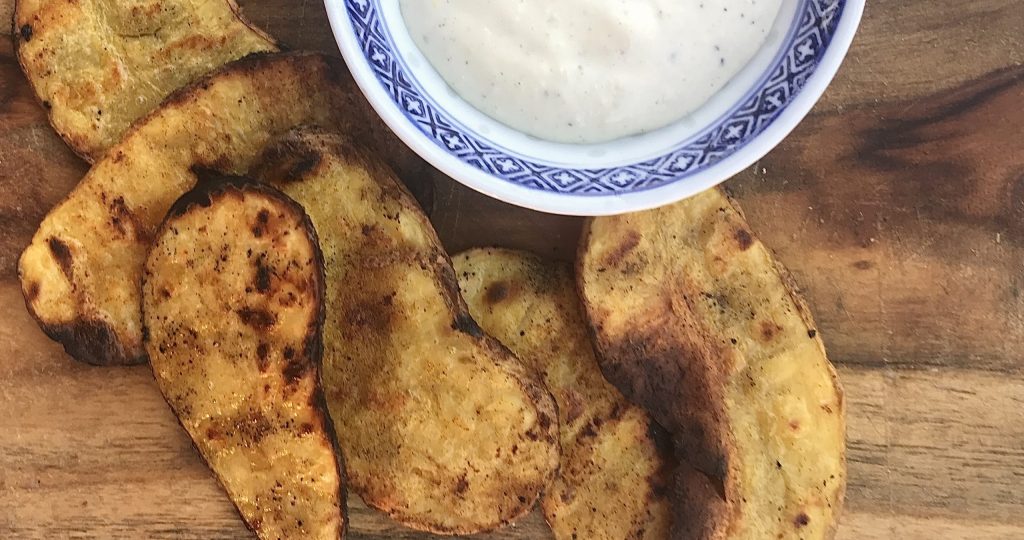 Grilled French Fries & Mayo with a Zing
August 17, 2020
: 15 min
: 20 min
: 45 min
Ingredients
4 large size potatoes
2 teaspoons of barbecue seasoning (or your choice)
3-4 Tbsp ghee or avocado oil
Directions
Step 1

Turn your grill to medium

Step 2

Slice the potatoes lengthwise as thin as you can.

Step 3

As you slice them, place slender chips on a paper towel to absorb a little moisture.

Step 4

Use a plate with a lip and put your oil on the plate lather each chip with the oil.

Step 5

Right before you grill, the chips sprinkle both sides with Rib Rub.

Step 6

Depending on your grill, cook on medium for 7-10 minutes on each side. Keep an eye on them so they don't burn!

Step 7

Serve with Foolproof Mayo with a Zing