Traveling to France has been so fun and learning about interesting foods especially. One of the most delicious sausages is Merguez. It's similar to Chorizo. But they are usually made with ground lamb (sometimes beef or both) and spicy Harissa seasoning to give it power. These stuffed zucchini boats are easy to make and can be vegan or vegetarian by omitting the meat and or cheese. Just stuff them with your favorite sauteed veggies and add a teaspoon of Harissa seasoning (traditional hot seasoning used throughout middle-eastern countries). These are considered Keto-friendly but can remain Paleo by omitting the cheese. I rarely eat cheese, but when I do, it is goat cheese or almond!
Tribute to the Chef:
By the end of the 20th century, Merguez became one of France's most popular sausages and served in many restaurants. It's not a surprise since the North African countries were French colonies 150 years ago. North Africans are the largest minority group in France, so it's no wonder these delicious sausages are popular in France. These morals originated from the region of Maghreb.  Many middle-easterners and Europeans enjoy this delicious sausage as well. From Morocco to Tunisia to Algeria, these lamb-filled spicy sausages are a popular grilled dish. We found them in Germany at the local butcher store. You might be lucky and find them in your local meat market. You won't be sorry! So now you know!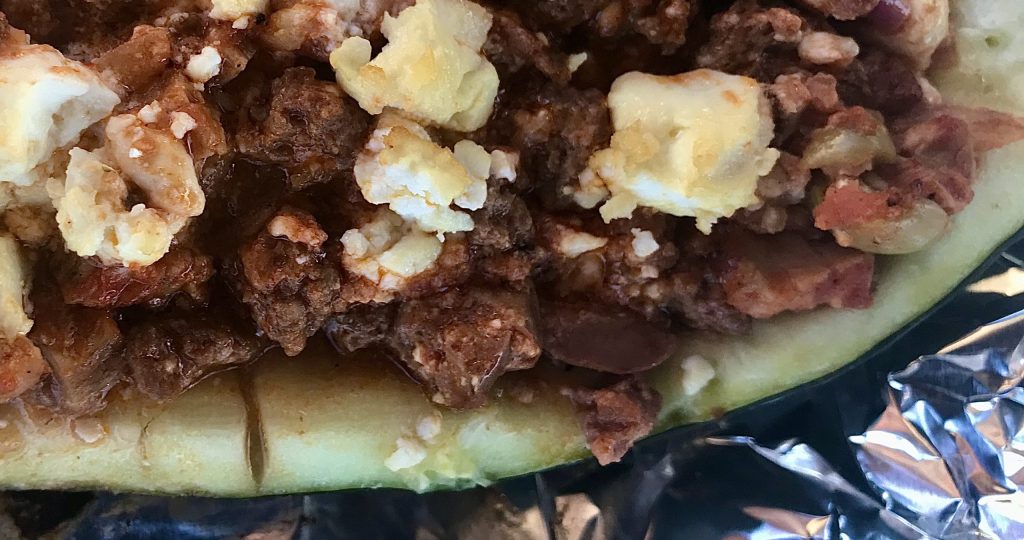 Grilled Merguez Zucchini Boats
August 16, 2020
: 4 persons
: 20 min
: 40 min
: Easy
Ingredients
4 medium zucchini
1/2 cup soft goat cheese (or dairy-free): divided in half
1/4 cup diced fresh basil
10 cherry tomatoes
1/2 red onion diced
2 clove garlic diced (or more!)
1/2 tsp red pepper flakes
1 tsp Italian seasoning
1 egg beaten (optional but holds it together nicely)
1 tsp Himalayan salt
Pepper to taste
3 cooked Marquez sausages: casing removed (see options)
Directions
Step 1

Options: if not using Merguez you will need to add a teaspoon of Harissa seasoning to 1/2 pound sautéd ground beef, pork, or Italian sausage casing removed. Or sauté a cup of diced veggies of choice, adding a teaspoon of Harissa seasoning.

Step 2

Clean and slice the zucchini lengthwise. With a spoon, scrape the seeds, and a bit of the flesh out leave 1/4" thick walls and bottom. Use what you scrapped out in your eggs in the morning!

Step 3

Sprinkle the insides of the 4 boats with salt and set them on a paper towel as you prepare the filling. This will remove much of the liquid from the zucchini.

Step 4

Dice the tomatoes and place them on a paper towel to absorb the extra liquid.

Step 5

In a medium bowl, place 1/4 cup of the goat cheese, basil, tomatoes, onions, garlic, red pepper flakes, Italian seasoning, beaten egg, Himalayan salt, and pepper. Give it a stir. Add your cooked ground meat from the Merguez or sautéd veggies and mix.

Step 6

Pat dry each zucchini boat and fill in with a mound of the stuffing. Save the 1/4 cup of cheese for topping off each boat after cooking.

Step 7

Grilling:

Step 8

Make a foil boat for each stuffed zucchini leaving the top open. Place on a hot grill and close the lid—Cook for 15 to 20 minutes. Serve with a dollop of remaining cheese on top.

Step 9

Oven-Baked:

Step 10

Place zucchini boats on a baking rack (so liquid can drip) and bake for 15 -20 minutes in a preheated oven at 375 degrees. You can turn the oven on broil for the last 3-5 minutes to give the top a nice browning. Serve with remaining cheese on top.