Ok, I admit, while we are traveling on the boat we tend to eat the same type of meals over and over again. Dinner usually consists of, meat, some veggies, and maybe potatoes or sweet potatoes. Yes, it can get boring but I've found several ways to jazz up my meats, salads, and veggies by using different spices and savory sauces. This sauce is easy and delicious. It goes well with my Mango & Apple Chutney and/or my Tandoori Chicken recipe. Both are easy to whip up and you can buy store-bought Spicy Pickled Lime Chutney as a side or use my recipe if you have 6 months…it needs to ferment but you get a large gallon than last for a year.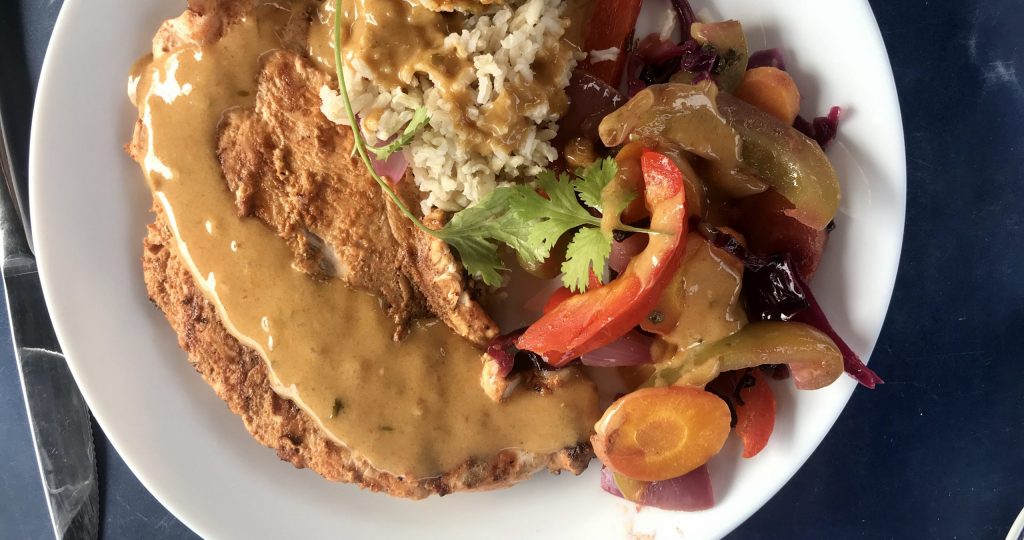 I don't own a tandoor cooker but like many people today use a hot grill. The marinades and seasoning can vary widely but I have found an organic tandoori seasoning I love at Aldi! Yep, seriously and it is amazing! I use it with my Creamy Dairy-Free Yogurt in this recipe.
Tribute to the Chef: Tandoori
The word tandoori is considered a way of cooking using a special grilling oven. Also, the combo of ingredients used to tenderize the meat in the tandoor varies depending on where you live in Asia. The tandoor stove has been around for more than 5000 years thanks to the Mughals and not just limited to India. This type of cooking was used in West and Central Asia as well. Portable Tandoor cookers became more popular later. I read somewhere it became very popular by a ruler at the time who had fallen in love with it and had his servants carry a tandoor with them when he traveled. Apparently, it impressed his guest. Another influential person who promoted the use of the tandoor cooking style was Guru Nanak Dev. He was the founder of the Sikh religion. Apparently, he promoted the use of the tandoor to help overcome caste barriers by having a communal oven to create equality among the various communities, plus one article said it provided a place for the ladies to chat! Today the tandoor ovens are commonplace through all of Asia and the middle east. Many use a hot grill in place of a tandoor and add the tried and true seasoning and marinades to create the same flavorful dishes handed down. Well, now you know!
Ok, here we go, very simple and use what's in your fridge. This recipe reveals what was in mine! It served 2 generous portions. Double or triple it if you have a crew. Plus leftovers are amazing with eggs in the morning! Check out our Taj Breakfast Eggs recipe.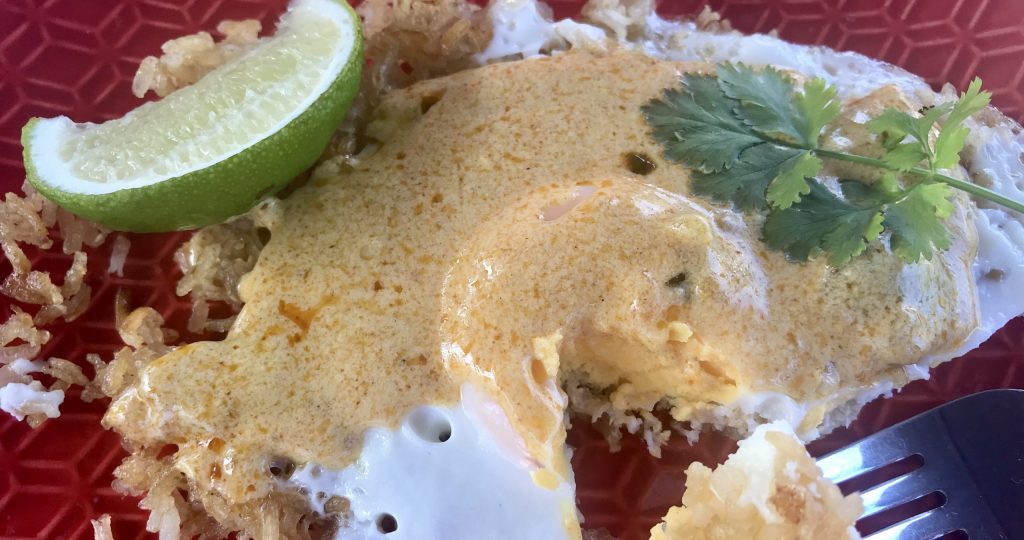 Grilled Tandoori Vegetables & Sauce
July 15, 2020
: 2 Person
: 15 min
: 15 min
: 30 min
: Easy
Ingredients
1/2 each red, green bell peppers cut in strips
1 purple onion quartered
1 cup purple cabbage sliced thin
1 carrot sliced in rings
2 Tbsp olive oil
1 cup coconut cream milk
1 lime, juiced
1/4 cup diced cilantro divided
1/4 cup coconut yogurt (or almond, cashew, or real)
Himalayan salt
2 -1/2 Tbsp of tandoori seasoning (divided)
1/2 Tsp of Sambal Oelek or similar hot sauce
1 tablespoon potato, arrowroot or tapioca flour for thickening (optional)
Directions
Step 1

Clean and prep your veggies.

Step 2

In a medium saucepan place the coconut cream milk, lime juice, half the cilantro, salt to taste, 2 tablespoons of tandoori seasoning, and Sambal Oelek. Stir over medium heat until it comes to a low boil. Lower the heat and simmer while you make your foil-wrapped veggies for the grill.

Step 3

Tear off a 2 ft long piece foil and place your veggies at one end. Sprinkle with oil, 1/2 tablespoon of the tandoori seasoning, last bit of diced cilantro, and roll the foil around the veggies twice and seal the edges so nothing falls out. Place on the grill for 7 minutes flipping the packet for another 7 minutes. Now back to the sauce…

Step 4

If you want a thicker sauce, use the potato, arrowroot, or tapioca flour by stirring it into a small dish with 3 tablespoons of cold water. Slowly add it to your sauce a little at a time until you get the consistency you desire for your sauce. 

Step 5

When ready to serve remove from the heat and slowly stir in the 1/4 cup of yogurt. Serve warm over freshly grilled veggies (and/or grilled meat) with a side of Pickled Lime Chutney…ummm.