I love Caesar salads, but I've never ventured to make it.  The thought of working with anchovies didn't appeal to me. After watching a video on Bon Appetite's site, I thought, "I can do this,"…but, of course, I had to do it my way! Add the parmesan cheese to the recipe instead of the nutritional yeast if you're eating cheese. Either way, this one is a keeper. I'm not one to dive into anchovies, but this recipe just calls for that hint of the sea flavor and makes the difference. Plus, topped off with gluten-free homemade seasoned croutons just makes the crowning touch! 
Tribute to the Chef:
You will be surprised to know where this delicious recipe originated. I was for sure. Like most people, I just assumed it originated in Italy. This is partially true; however, the real known Chef, Cardini, immigrated from Italy in 1910 and opened a restaurant in Sacramento. To escape the restrictions of prohibition, Cardini and his family moved to Tijuana in the 1920s and opened his current restaurant, (Cesare) Caesars Restaurant & Bar 1927. It's changed hands, but today's owners still preserve its history and still consider it the home of the legendary dressing. The salad dressing, which drew movie stars such as Clark Gable and Chef like Julia Childs, still draws a crowd. If you'd like to read the whole story, check it out by clicking here. So now you know!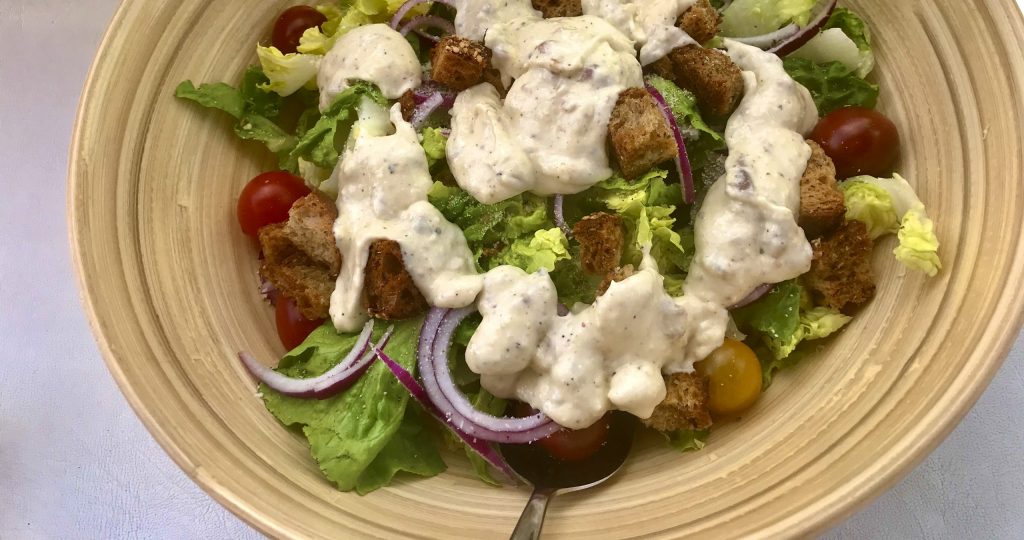 I whipped up some gluten-free croutons with my left-over Gluten-free Farm Loaf Bread. Slice in squares, then sprinkle with olive oil and seasoning. Pop them in the toaster oven until brown; there you have it! You're going to need my Foolproof Mayo With Zing.  So take 2 minutes and make it. Really that's all it takes 2 minutes… ok, 3 if this is your first time!. Of course, you can use your organic mayo, but you have to add my ZING to it! To find out what that ZING is head-on over, check out the ingredients for my Foolproof Mayo here.
Caesar Salad Dressing
July 28, 2020
: 1 cup
: 15 min
: Easy
Ingredients
1 cup of Foolproof Mayo or your favorite in a jar
6 anchovies
2 pressed garlic cloves
Juice from 1/2 a lemon
1/4 cup olive oil more or less
1 Tbsp of nutritional yeast OR 1/4 cup Parmesan cheese
1/2 tsp of Himalayan salt
Lots of fresh ground pepper!
Directions
Step 1

On a chopping board, mash together the anchovies and the garlic until you get a smooth paste. I use the back of the spoon.

Step 2

In your cup of mayo, mix in the lemon juice, nutritional yeast, or parmesan cheese, and slowly add the olive oil. You may not need it all. Stir until well combined. Add more olive oil if you want a thinner dressing.

Step 3

Place the garlic and anchovy paste in the mayo jar and secure the lid. Shake well. Tada! Delicious & simple.