I've wanted to make this for years! I just love having comfort food in the cold days and since I see no sun in sight this was the weekend for experimenting.  I think I should change the name of my site to "From Stove to Plate". Seriously, most of the time I get these brainstorms before going to bed. Then the next day I think of flavors, herbs, and combinations. By evening I'm ready to roll.
So, folks, this is my version of Sheppard's Pie with a twist! It came together, "From Stove to Plate" and my taste tester was so impressed he had three servings (ok, like I have a whole group of testers, not! But Lutz is not shy to critique…trust me). Go for! It's so dang simple and quick. You can choose your own spices and add your signature to this yummy dish. Make it the day before and place in the fridge and heat it up after soccer or ballet lessons. You can make it, freeze it and then set in the fridge in the morning and place in the oven in the evening to brown up the taters and serve it piping hot! Like I said…just do it!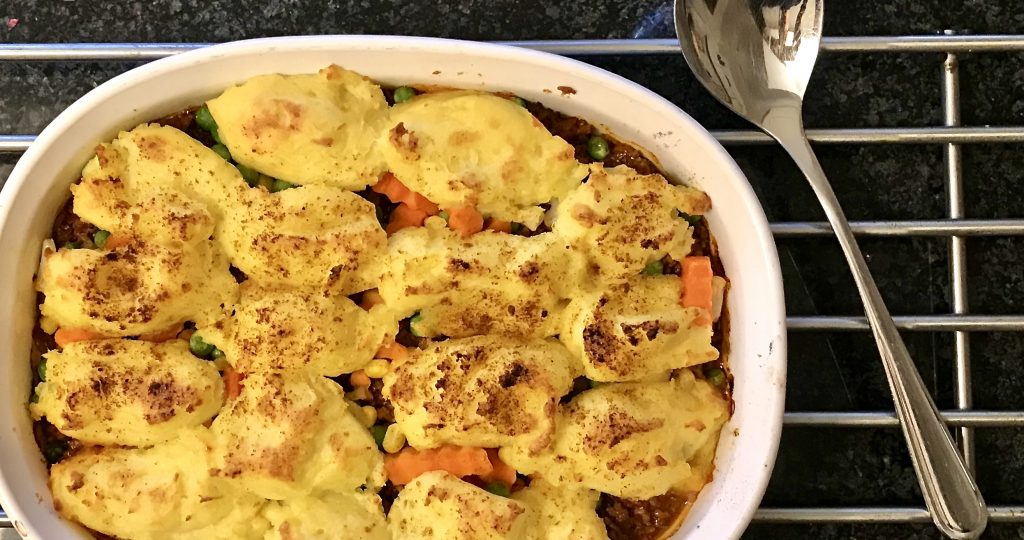 Spicy Shepard's Pie
February 28, 2020
: 4
: 20 min
: 15 min
: 35 min
: Easy
Ingredients
1 pound of bio ground beef or lamb
1 Tbsp olive oil or ghee
½ onion diced
2 garlic cloves diced
1 Dash of nutmeg
1 tsp of smoky paprika. Save a dash for the top!
Himalayan salt and ground pepper to taste
2 Tbsp of coconut amino soy
2 Tbsp of organic tomato paste
1/3 cup of water
1 Tbsp of hot sauce (or more to taste)
1 cup of mixed peas, carrots, and any veggies you like cooked tender. Or fresh frozen-thawed.
6 medium peeled potatoes
2 Tbsp of bio butter
2-3 Tbsp of non-dairy milk
Directions
Step 1

Turn the oven to 350 degrees and lightly grease a 10" by 2″ deep baking dish with olive oil.

Step 2

Peel and boil potatoes for 20 minutes or until tender.

Step 3

While potatoes are boiling sauté onion, garlic, nutmeg, smoky paprika, and salt and pepper in the ghee or olive oil. Cook for 5 minutes.

Step 4

Add ground beef or lamb and cook for 5-7 minutes over medium heat until meat is done. You might have to add a bit of oil if using lamb.

Step 5

Add coconut amino soy, tomato paste, water, and hot sauce. You can omit the tomato paste and water and use 1/2 cup of tomato sauce if you don't have tomato paste. Give it a stir and simmer for 2 minutes while you drain the potatoes. (this is the filling).

Step 6

Mash the potatoes with a potato masher along with the butter and dairy-free milk. Add a bit of salt and pepper.

Step 7

Place the filling in your prepared pan and use a spoon to scoop dollops of potato over the top of the filling. Sprinkle with a dash of smoky paprika.

Step 8

Place in the oven for 15 minutes. Turn the oven to broil and slightly brown the top of the potatoes.

Step 9

Tada! Serve warm and enjoy.