I was so excited to get home from Italy and make this yummy Bruschetta with those small fresh tomatoes still on the vine. They smell so delicious and taste so sweet. We were having guests for dinner so this was the perfect time to experiment. I made a batch of my Century Bread and created small rolls. Cooked them in the oven then sliced them in half. Load them with olive oil and then scrape a garlic clove over the top of each one. I bought a ciabatta for the guest and did the same procedure. I ate one piece of my gluten-free Bruschetta and they consumed my gluten-free along with the ciabatta Bruschetta. I imagine I could have used all gluten-free bread and they would never have known the difference. Next time!
Homemade Fresh Bruschetta
April 26, 2019
: 25 min
: Easy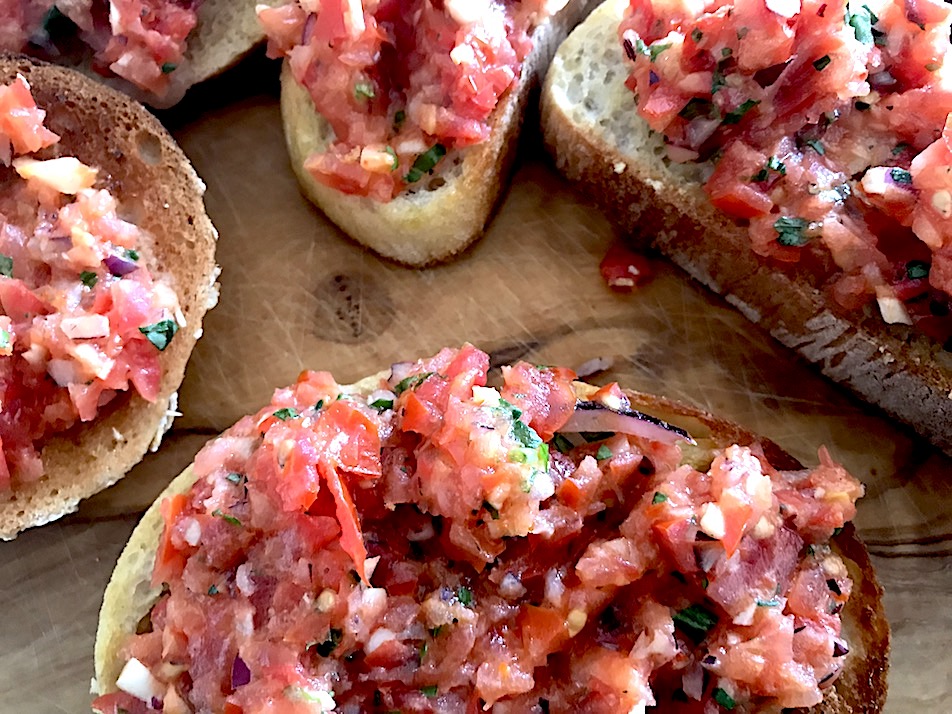 Ingredients
6 small tomatoes about 1 1/2 inch round
2 cloves garlic 1 diced
1/2 small red onion diced
6-10 leaves fresh basil diced
1 tsp Himalayan salt
1/2 tsp red pepper flakes optional
8-10 slices bread gluten-free!
2 TBSP organic olive oil
grated parmesan Optional
Directions
Step 1

Place your sliced bread on a cookie sheet.

Step 2

Turn on the broiler and toast on both sides.

Step 3

While the bread is toasting gather all your supplies. You'll need a little bowl to pour your olive oil into for covering the toast with olive oil.

Step 4

I literally use a paintbrush or cooking brush to bast the tops of each piece of bread.

Step 5

Make sure you cover each piece liberally. It's best to use really good olive oil so the taste comes through.

Step 6

Splay the bottom of one of your garlic cloves and rub it over each piece of toast.

Step 7

Place the diced red onion, tomatoes, 1 diced garlic clove, basil, oil, and salt in a small food processor or dicer. I like the color of the purple onion in the Bruschetta. It adds color! If you don't have one use white.

Step 8

I used the attachment that came with my immersion blender. Just pulse it. You want some big chunks of tomatoes for sure

Step 9

Spread a huge spoonful of the mixture over each piece of bread.

Step 10

If you're using cheese, sprinkle a little on top of each piece. Slide the tray back in the broiler for 5 minutes.

Step 11

Enjoy warm!