This turned out to be one of the most delicious and outrageous soups I've made. Outrageous because it's cactus!!!!! I was in Borrego and happened to have had a hot bowl at Keslye's Restaurant. I knew I had to figure this one out. It was so delicious and just hit the spot on the cold fall nights in Borrego.
I happened to be in town when the community garden was open to the public. They grew everything from cactus to kale. I received a kind welcome and invited to slice off a few paddles fresh from the plant.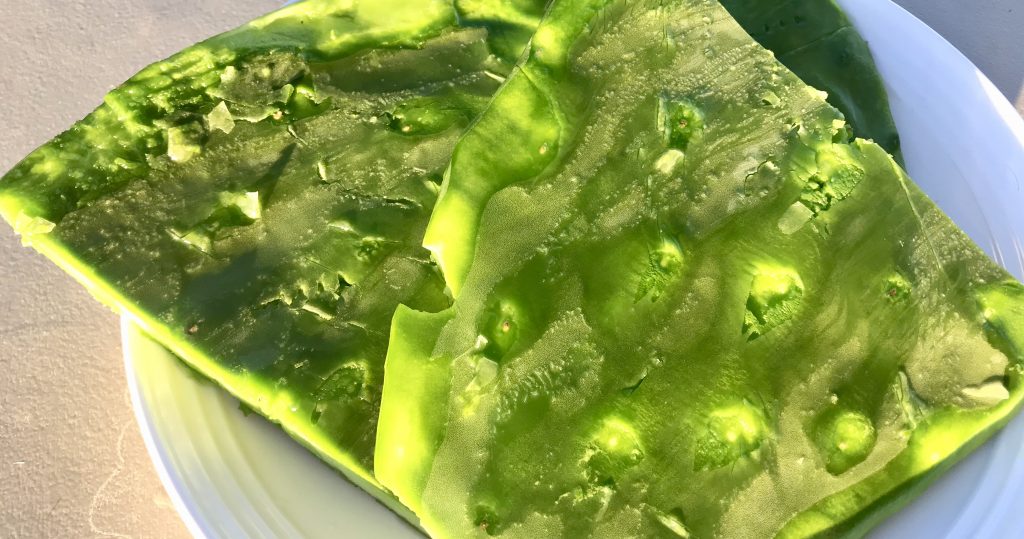 At home, in preparation, I used a knife to scrape off the nettles and partial skin. Lutz fired up the grill, and we roasted them two to three minutes on each side, topped them with goat cheese (optional), salt, and pepper. AMAZING!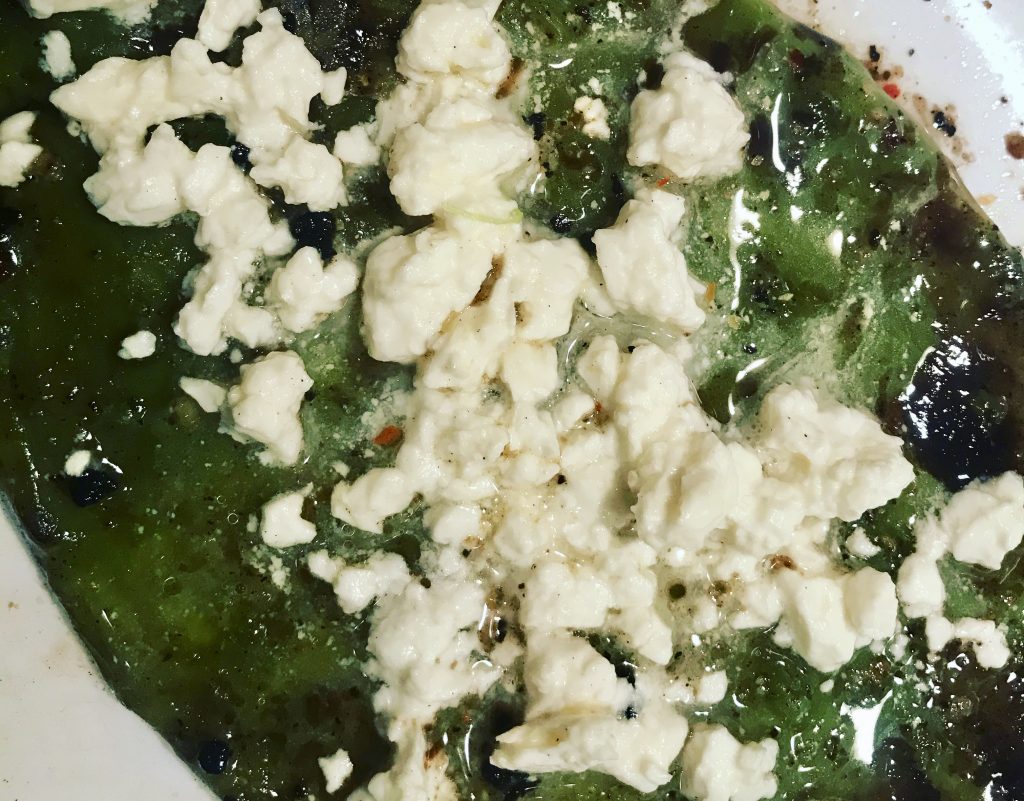 I grilled the rest and began my cooking creation. Simple and easy. Just simmer all the ingredients together for an hour on low with a lid, then use your blender or immersion blender and whip it up until creamy. I topped it off with a bit of cilantro, diced red bell peppers, jalapenos, and a splash of fresh lime to give it a cheery holiday flare. Plus, you can leave off the cheese if you're vegan and use almond cheese or cashew cheese! Follow along below and jazz up your seasonal soup menu this year. It was my first experience eating these tender paddles, and I was not disappointed.
If you're living in Germany and want to try this amazing soup, you can order them online and get them in two days. Here is who I order all my Mexican ingredients from, plus the site is in German and English: MEX-AL
Roasted Napolis Soup
January 16, 2020
: 4 cups
: 20 min
: 1 hr
: 1 hr 20 min
: medium
Ingredients
2 large cactus paddles
1/2 red onion
1/2 cup cilantro
1/2 jalapeño
1/4 tsp turmeric
1/4 tsp cumin
1/2 tsp chili powder
2 cloves garlic
2 small tomatillos or 3 oz green Chili Verde Sauce
1 can 14.5 oz chicken broth
1 small can 5.4 coconut CREAM
Juice from 1 lime
Salt to taste
Directions
Step 1

You can buy the cactus already cleaned and cooked. If you're in a hurry, this will save you time having to roast the paddles first. Use two 8 oz jars/cans.

Step 2

If you have fresh paddles, clean all paddles with a serrated knife to remove all thorns. Rub with olive oil and place on medium-high heated grill for two minutes on each side.

Step 3

When the skin blisters and a fork can enter them with ease, remove, and cool.

Step 4

Slice into 2X2 inch pieces.

Step 5

Place the cactus and the remaining ingredients in a large saucepan and simmer on low for 1 hour.

Step 6

Use your immersion blender or standing mixer and blend until smooth and creamy

Step 7

Garnish with cilantro, diced red peppers, diced jalapenos, and a splash of lime juice.