Ok, well, I just got home from the boat and had 10 days of no bread and decided to make a batch of Eincorn bread for my husband first, and then I'd whip up a batch of my Bread Machine Grain-Free Cassava Century Bread. Lutz's bread had just finished, and I assembled all the ingredients for my bread and layered them in the baking pan. I placed the bread pan in my bread machine, and it wouldn't WORK; it had died! So I quickly poured all the layered ingredients from the bread machine pan into my mixer with a bread hook attachment. I didn't even take pictures until the end, fearing it would not work! This was a blessing in disguise. For one thing, it came out better than cooking it in my bread machine and quicker. Plus, I get a new bread machine!!!!
I tweaked a few things from the original bread machine recipe, but it tasted amazing! Soft in the middle and crunchy outside. I used dry coconut milk powder and a little more water.
Even the next day, it was like a fresh loaf! I just sliced a piece this morning, and it is still soft and moist in the middle and crunchy on the outside. So delicious!
Check out the tip below if you don't have dry almond or coconut milk.
OVEN-BAKED GRAIN FREE CENTURY BREAD!
May 16, 2018
: 1 loaf
: 15 min
: 50 min
: 1 hr 35 min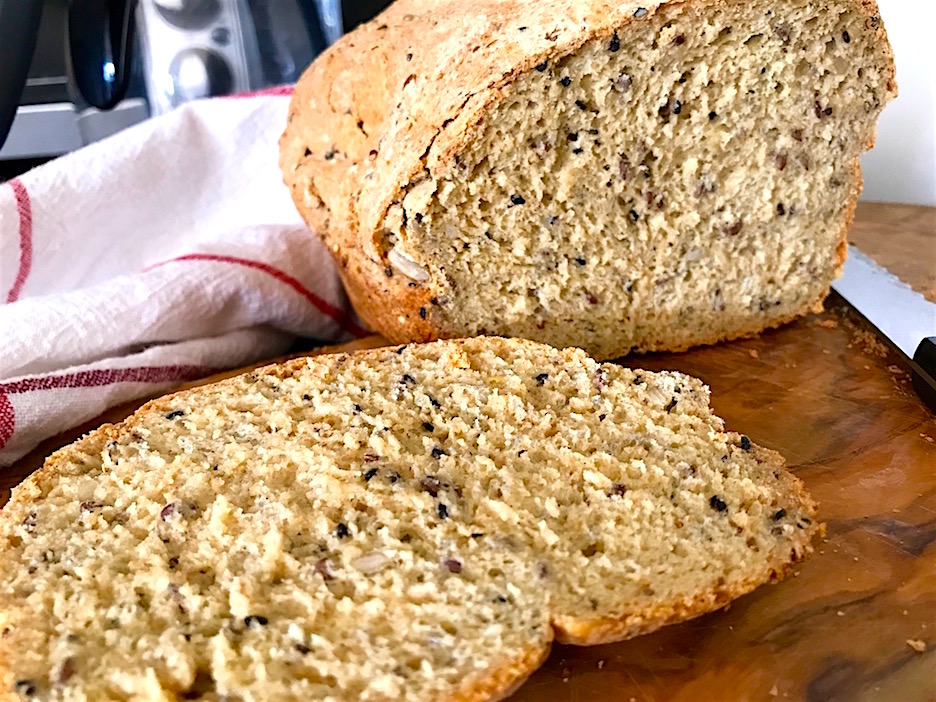 Ingredients
Wet Ingredients
3 medium eggs beaten
1 tsp cider vinegar
1/2 cup melted ghee or olive oil or melted coconut oil or butter
1 1/3 cups water 110 degrees-see tip below*
1 Tsp honey or maple syrup, molasses
Dry Ingredients
1/3 cup dry coconut milk powder or almond milk powder (Tip below)*
1 1/2 cup cassava flour
1/2 cup potato flour or tapioca flour
1/2 cup arrowroot flour
1/2 cup flax seed flour
1/4 cup mixed seeds chia, sesame, sunflower, hemp, flax etc.
1 1/2 tsp phylum powder or xanthan gum
2 tsp Himalayan salt I use 2 tsp
2 Tsp Active Dry Yeast
Directions
Step 1

Place your oven on 200 degrees. Turn it off after 10 minutes and leave the oven light on. This is for raising the dough. Rub a loaf pan or baking dish with butter or ghee.

Step 2

In your mixer, attach the bread hook. In the mixing bowl, add all the dry ingredients: flour, phylum, salt, seeds, almond or coconut milk powder (see tip below*) , and yeast. Whisk with a fork or turn your mixer on low. Be careful this stuff flies away from the bowl. Whisk slowly.

Step 3

In another small bowl, mix the wet ingredients: beaten eggs, vinegar, oil, warm water, and honey. Whisk until well blended. Don't forget to turn off your oven…

Step 4

While the mixer is slowly mixing the dry ingredients, slowly pour the wet ingredients into the dry. Once all is mixed well. Turn the mixer to medium-high and beat for 4-6 minutes.

Step 5

Grease your hands with olive oil or butter and lift the sticky dough into the prepared loaf pan or baking dish. Smooth the top and sides. Cover with a light kitchen towel and set it in the warmed oven with the light on for 30 minutes.

Step 6

After 30 minutes, carefully remove the kitchen towel from the bread and turn the oven to 375 degrees. Set your timer for 45 minutes. Check for doneness by sliding a knife into the center of the loaf. If it comes out clean, remove it from the oven. The top should be brown and hard when you give it a tap.

Step 7

When done, remove it from the pan and set the loaf on a rack. Cool for 20 minutes. Cut and taste the best gluten-free bread of the CENTURY!

Step 8

Tip: If you don't have dry coconut or almond milk powder, simply replace the 1 1/2 cups of warm water with 1 1/2 almond or coconut milk and OMIT the dry milk powder.