This recipe is really easy and quick. It's also versatile. The bottom is a crunchy cookie, the center is any luscious fruit you have handy and the top is a tasty crumble. Put them together and what do you got…bib-iddy-bob-iddy-boo, an amazing dessert or healthy snack just for you.
I've made this several times with a pineapple center, apple center, rhubarb or a fresh plum center, and our favorite, mixed berries.  When it's berry season I make the center with fresh mixed berries. When they are not in season I buy a bag of fresh frozen. Aldi carries them and they also have a variety of other fresh frozen fruits to select from. One day I was stuck on the boat and used my homemade raspberry compote. I made this one with pineapple and plums. If you're in a hurry, use a jar of preserves.  Give it a try and remember…be creative. And, you'll want to start with making the filling so it can simmer away while you make the Cookie Crust and Crumble.
Now, here's the trick. You can also use this crust as cookie dough. Create the Cookie Crumble and roll into two logs. Wrap each separate in baking papers and freeze. It's there when you need it. Take them out 15 minutes before you whip this recipe up or you can slice in rings and make cookies. See versatile right!
Easy Cassava Cookie Crumble
June 26, 2019
: 8
: 20 min
: 20 min
: 40 min
: Easy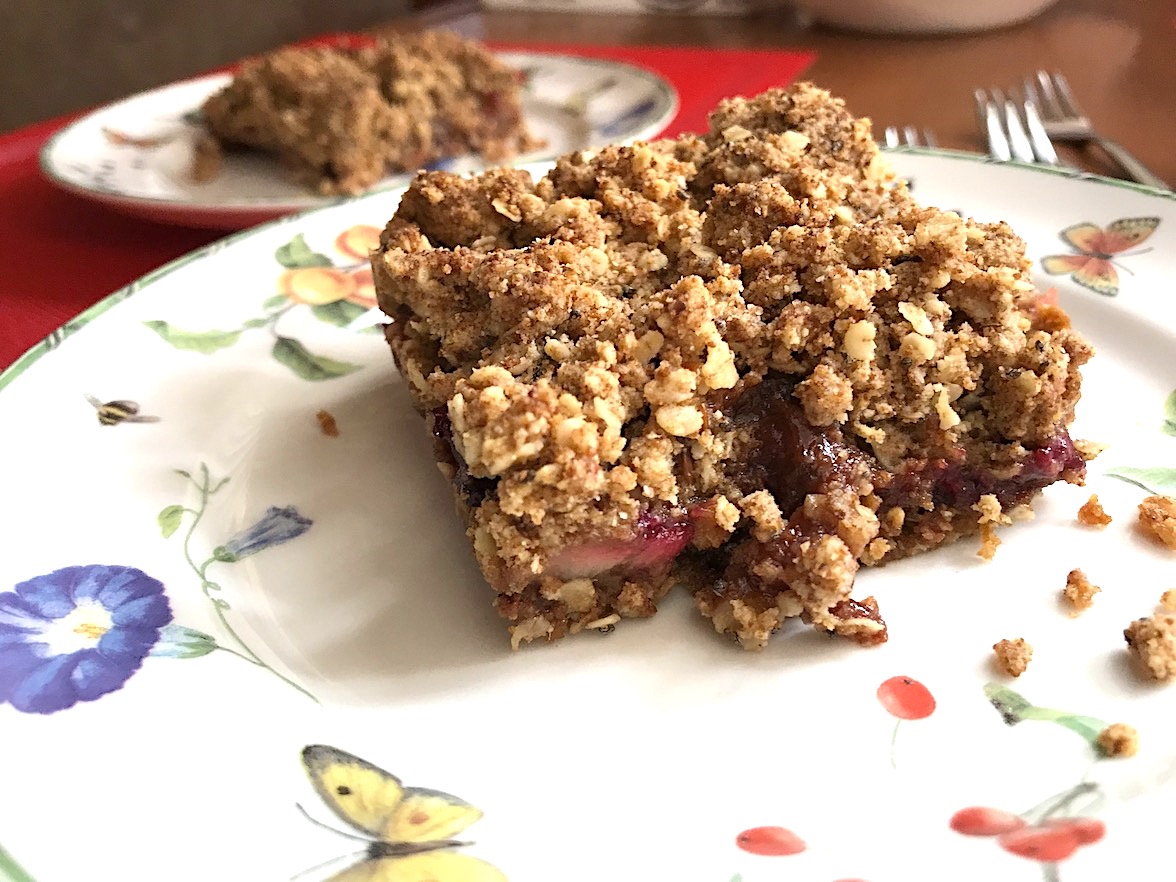 Ingredients
Fruit Filling
2 cups fresh fruit I used pineapple and plums
1/2 cup 100% maple syrup Or coconut sugar
1 Tbsp fresh lemon juice
1 tsp homemade vanilla Or store bought
1/4 tsp cardamom or allspice
1 pinch Himalayan salt
Cookie and Crumble
3/4 cup cassava flour
3/4 cup almond flour
1/2 cups gluten-free oatmeal or increase each: cassava and almond flour to 1 cup each
3/4 cup coconut sugar
1/2 tsp Himalayan salt
1/2 tsp ground cardamon
dash ground nutmeg
dash ground cinnamon
3/4 cup Ghee or butter Melted - cooled
1/2 cup chopped walnuts or pecans
Directions
Step 1

Filling

Step 2

Wash your 2 cups of selected fruit and place in a small saucepan.

Step 3

Once I used rhubarb from the farm! Today I used pineapple and plums.

Step 4

Add 1/2 cup of 100% maple syrup or coconut sugar. Add the lemon juice, vanilla, and cardamom or allspice. Simmer without a lid on low for 20 minutes or until thick. Remember to give it a stir now and then. When done remove from burner and set to cool. You can also use a jar of preserves!

Step 5

Cookie and Crumble

Step 6

Preheat your oven to 375 degrees. Place the cassava flour, almond flour, oatmeal, coconut sugar, salt, cardamom, nutmeg, cinnamon, in your mixing bowl. Turn it on low and whisk until well combined. Stir in the nuts.

Step 7

You can do it by hand as well. I don't have a mixer on the boat so I usually do everything by hand!

Step 8

Add your vanilla to the cooled ghee or butter. Slowly add the cooled melted ghee or butter.

Step 9

Mix into lumps the size of almonds. Divide the dough in half. Place half in the fridge. This will be the crumble topping.

Step 10

Line an 8 x 6 baking with baking paper.

Step 11

Press the other half into your lined pan. You can see my dough has been rolled. I make several of these and freeze them. When I have fresh seasonal fruit like rhubarb I create a compote and tada…my crust is in the freeze and all I have to do is let it thaw for an hour. I make another batch and use half for my crumble and freeze the other half for a future Cookie Crumble Crust. Or you can slice the frozen rolled dough into rings and bake like cookies.

Step 12

Bake the cookie crust in your oven until golden brown. About 15 to 18 minutes. Remove when it is toasty brown and let cool completely.

Step 13

Assemble

Step 14

Spread your semi-cooled filling over the cooled cookie crust.

Step 15

Remove the crumble from the fridge and sprinkle over the top of the filling.

Step 16

Bake on 375 until the top is browned. This takes maybe 10 to 15 minutes.

Step 17

Top this luscious dish with some dairy-free ice cream of Coconut whipped cream. It's a dynamic dessert for sure!