This was my side dish for our family Christmas dinner this year and since the invention of this amazing side dish, I have decided I'm not going to wait a year to enjoy it again. So easy to make and just the right tang! The pumpkin seeds with cranberries really set off the flavors. For a vegan or vegetarian dish just leave out the bacon.
Mustard Pumpkin Seed Brussel Sprouts
January 9, 2019
: 10
: 20 min
: 30 min
: 50 min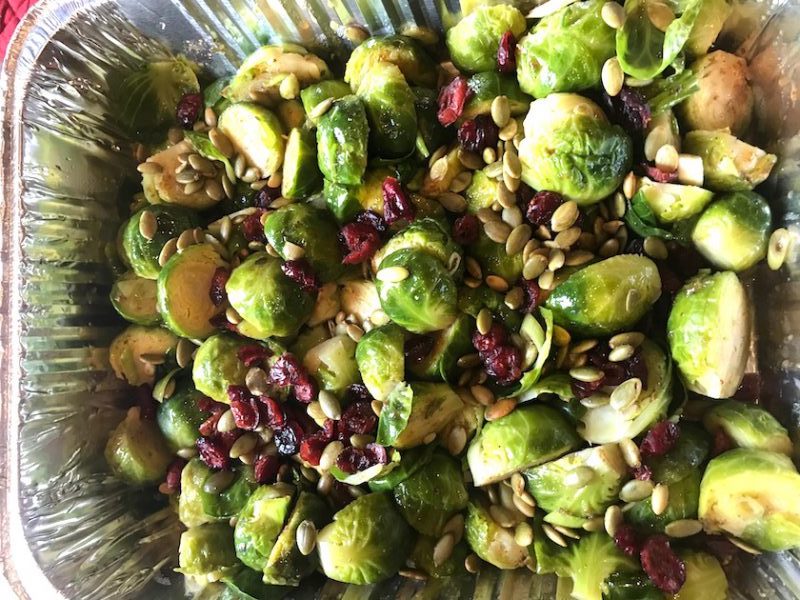 Ingredients
1-2 pounds Brussel sprouts washed and slightly steamed
1/2 package organic bacon diced-if using organic, add a tsp of avocado oil
1/4 cup of bacon grease from the fried bacon
2 diced green onions
1/4 cup balsamic vinegar
1 Tbsp Dijon Mustard
1 clove of chopped garlic
1 tsp honey
Himalayan salt & fresh pepper
1/4 cup organic cranberries
1/4 cup pumpkin seeds
1/4 cup grated parmesan (optional)
Directions
Step 1

Wash and cut the Brussel sprouts in half. Steam them in a large saucepan until slightly tender.

Step 2

Meanwhile, fry your bacon and retain 1/4 cup of the grease. Don't forget you might have to add avocado oil if you're using organic bacon. Set it aside on a paper towel to drain.

Step 3

Add the diced green onions, balsamic vinegar, mustard, garlic, and honey in a small saucepan and simmer with salt and pepper.

Step 4

Place the slightly steamed Brussel sprouts in a large baking dish.

Step 5

Sprinkle the 1/4 cup of reserved bacon grease over the top of the Brussel sprouts. Give it a good toss.

Step 6

Add the cranberries and pumpkin seeds. Give it a good toss.

Step 7

Add the drained diced bacon and toss it again!

Step 8

Drizzle the mustard sauce over the Brussel sprouts and incorporate all the goodies with another toss.

Step 9

Sprinkle the top with parmesan cheese. I served my portion without the cheese and it was just as AMAZING!

Step 10

Place under the broiler and cook until the dish is bubbling about 15 minutes.