This is by far the simplest and most elegant dessert I have ever made. It is luscious, creamy with a hint of vanilla bean and a taste of cardamon that hits the last bite as it accents the coconut cream. Truly, if I had known it was going to come out so amazing I would have taken more pictures but it was so good I had to post the final results. I'm definitely making this again and when I do I will update the pictures, but this just had to be posted! The Berry compote just topped it off so well. Give it a try too. If you want you can even use my Medieval Raspberry Compote.
Just a note…
Do not use coconut milk. This must be pure coconut CREAM milk. I buy it at the Asian store in town and it comes in a carton. You can also buy it in grocery stores but watchout…some have sugar. You can use any gelatin a but organic grass-fed is best since it is made from cows and let's face it no one needs more antibiotics in their delicate system! I also recommend if you're going to make the Berry Compote with this yummy dish, then make it first so it can simmer while you're making the Penna Cotta.
DAIRY FREE CARDAMON PANNA COTTA WITH BERRY COMPOTE
March 5, 2019
: 6
: 15 min
: 15 min
: 1 hr 30 min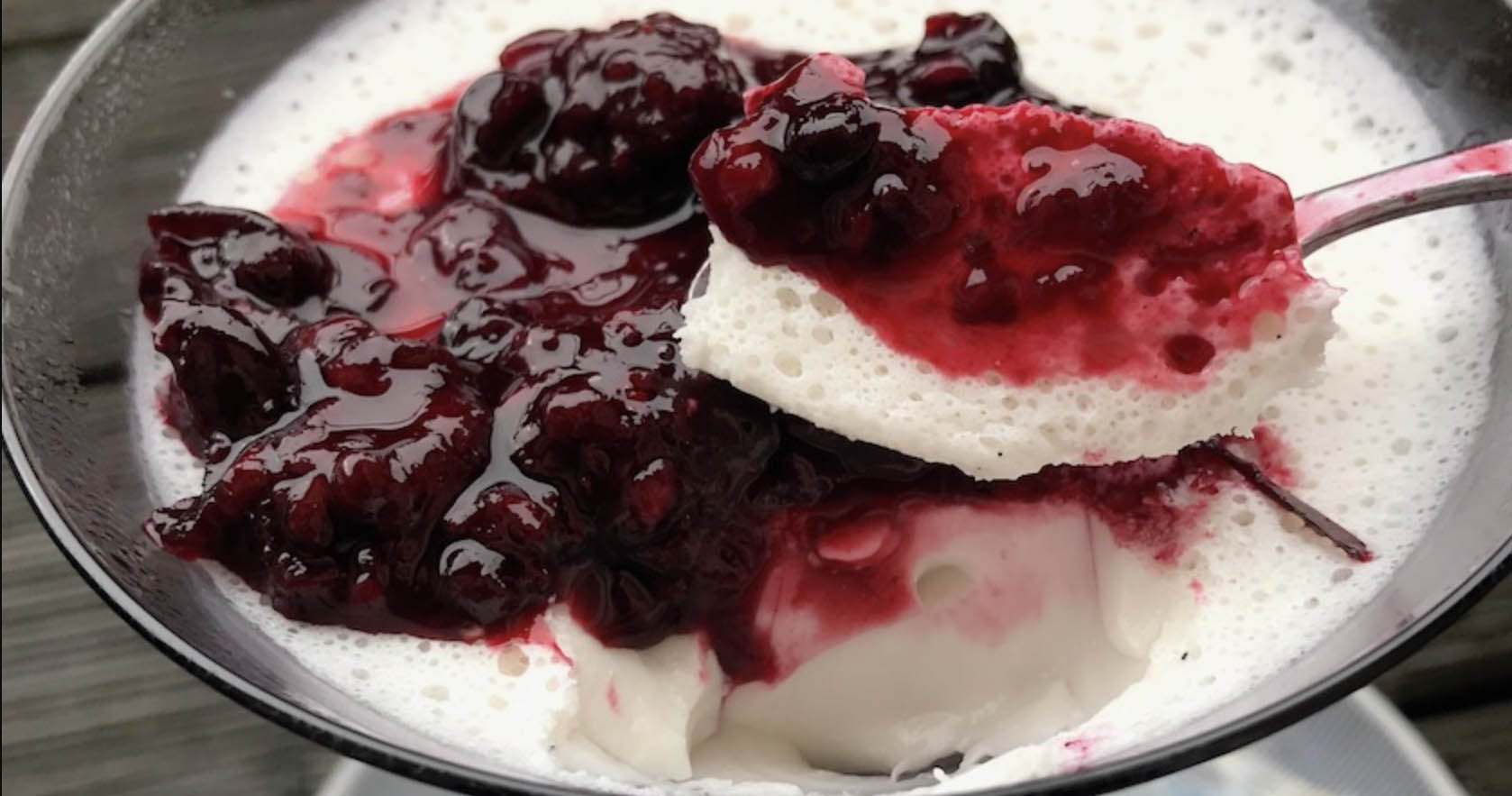 Ingredients
1 33.3 ounces coconut cream milk Asian store is the best place to get pure coconut cream milk.
6 Tbsp raw honey
2 Tbsp water to prep the gelatin
1 1/2 tsp gelatin grass-fed is best
1 pinch Himalayan salt
1 dash ground cardamon
1 dash ground nutmeg
1 vanilla bean scrapped
1 cup fresh or frozen berries
1/4 cup 100% maple syrup
1/4 tsp Himalayan salt
1 Tbsp fresh lemon juice
Directions
Step 1

Prep the gelatin by placing it in the 2 Tbsp of cold water and set aside. Rub a small amount of coconut oil into each ramekin so they panna cotta will slide out easily once set.

Step 2

In a medium saucepan place the coconut cream milk, honey, salt, cardamom, and nutmeg.

Step 3

Blend constantly using a whisk and heat until just to boiling point. Don't boil!

Step 4

Once heated turn to low. Add the prepared gelatin and whisk until it is completely integrated. Add the seeds from a vanilla bean.

Step 5

Pour into ramekins or fancy glasses. I used both! Cover and refrigerate for two hours or best overnight.

Step 6

Berry Compote – Place all the ingredients in a saucepan and simmer on low for 30 minutes. Place in refrigerator. Can be stored up to 3 weeks and used a jelly!

Step 7

Place a serving plate over the top of the ramekin and turn upside down onto the plate. They should slide out due to the slight amount of coconut oil. If they don't, set the ramekins in a shallow saucer of warm water for a few seconds then flip onto a serving plate.

Step 8

Drizzle with Berry Compote and ask for seconds!!!