I love African food and it's amazing how many different styles and seasonings exist throughout Africa. This is a northern recipe that may be closer to the Moroccan version of baked chicken with "pesto". 
I shop at Edeka because they have such a wide verity of gluten-free food and crazy spices in the ethnic section. I found this little jar of Chermoula Marok Seasoning on the shelf and thought to myself "One day, one day I will create something amazing". Well, it took me a few months to take it out of the drawer and I had to do some homework.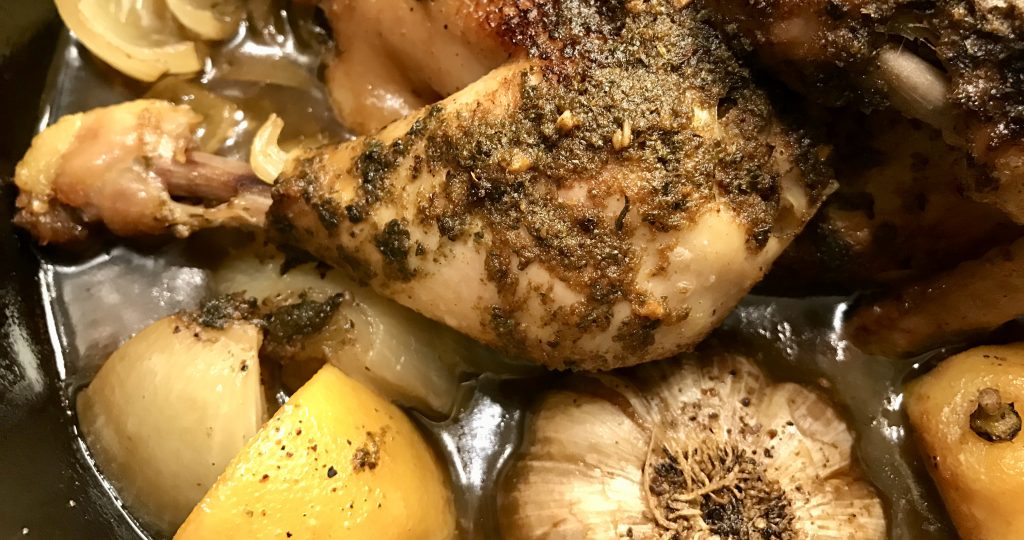 I discovered so many variations for this amazing chicken dish and ended up closing the recipe books, shutting down the computer, and just going with the flow. It was so seriously good I had to sit down right away and put it in writing before I forgot what the heck I did!
After I made this dish with my store-bought Chermoula Marok Seasoning I decided to read up on how to make this amazing spice for the next time I cooked this up. So if you have time I've included my version below. If you don't have time, head to your nearest Edeka or ethnic store and pick up a bottle as I did.
In addition, I read about side sauces used with Moroccan food and whipped up a sauce that just made this dish POP! It's usually made with Greek yogurt but I used dairy-free almond yogurt. This sauce was so easy and was the perfect side for dipping this moist juicy chicken into. Most Moroccan dishes use couscous I used quinoa instead and it was really delicious. 
I had a whole bio chicken and only used half. I didn't separate the pieces. Using pieces is fine as well. I was just too lazy to cut the bird up. I also cooked it on low in the oven in my cast iron pot with the lid on for 2 hours at 250 F. I'm sure you can whip this up in your crockpot or if you're in a hurry, cook it right on top of the stove for 45-60 minutes. If you have an Instant pot, they probably provide directions for cooking chicken. But the back oven worked perfectly for me!
Moroccan Chermoula Marok Chicken
March 2, 2020
: 4
: 20 min
: 2 hr 30 min
: 2 hr 50 min
: Easy
Ingredients
Homemade Chermoula Marok Pesto
1/2 cup of finely chopped cilantro
1/2 cup finely chopped parsley.
4 cloves of garlic diced
1 tsp cumin
1/2 tsp coriander
1/2 tsp paprika
1 Tbsp sesame seeds toasted
2 Tbsp lime juice
1/4 tsp lime zest
1/2 cup olive oil
1/2 tsp salt
1/2 tsp fresh ground pepper
Yogurt Sauce
1 cup dairy-free yogurt
2 Tbsp of olive oil
2 garlic cloves diced
1 tsp cumin
1/4 cup diced cilantro leave
1 tbsp lime juice
1 tsp paprika
1/4 tsp cayenne pepper
1/4 tsp honey
1/2 tsp ground black pepper
1/2 tsp Himalayan salt
Chermoula Marok Chicken
1/2 of a Bio Chicken
1 lemon cut in quarters
1 large onion cut in quarters
1 whole garlic bud cut horizontally so you have 2 halves.
Himalayan salt and pepper
1 Tbsp ghee
2 cups cooked couscous or quinoa
Directions
Step 1

Chermoula Marok Pesto

Step 2

If you're using the store-bought jar as I did, place 3 heaping spoons full into a small jar with 1/2 cup of olive oil and shake. Let it rest. Or use my homemade recipe I provided

Step 3

To make your homemade Chermoula Marok Pesto add all the ingredients listed into a small jar and shake well. Let it rest while you make the Yogurt Sauce.

Step 4

Yogurt Sauce

Step 5

Make your side yogurt dish by placing all the ingredients in a serving dish and combine with a spoon. Place it in the fridge and set it out a half hour before you are ready to sever. It's best if it's room temperature.

Step 6

Chermoula Marok Chicken

Step 7

Turn your oven to 250 F

Step 8

In a dutch oven pot melt the ghee on medium-high.

Step 9

Wash and rub dry your chicken. Salt and pepper both sides.

Step 10

Fry the chicken on both sides until golden brown. Careful it does spit! You'll need to use the lid half-cocked to cover the cast iron pot.

Step 11

Once browned on both sides, turn off heat off.

Step 12

With the bone side down, add the lemon, onion, and garlic to the pot. Make sure the cut side of the garlic is face down in the pot.

Step 13

Take half of your Chermoula Marok Pesto and spoon it over the chicken.

Step 14

Put the lid on and cook for 2 hours on 250 F in the oven. If cooking on the stovetop cook on medium-low with the lid on for 40-60 minutes. If using a crockpot, place on low for 6-8 hours.

Step 15

After 2 hours in the oven, remove the lid and spoon the remaining Chermoula Marok Pesto over the chicken. Leave the lid off. Cook for an additional 30 minutes. At this time remember to take out your Yogurt Sauce to come to room temperature.

Step 16

After the 30 minutes remove the chicken from the oven and let it sit while you prepare the plates.

Step 17

Heat up your quinoa.

Step 18

Place a 1/2 cup layer of quinoa on each serving plate, then a nice moist piece of chicken accompanied with aromatic pieces of cooked garlic, lemon, and onion. The chicken will just fall apart from the bone so you won't need a knife. You can add a drizzle of the juice from the bottom of the cast iron pot over the quinoa if you like.

Step 19

Now, top it off with your room temperature Yogurt Sauce and enjoy!
Like I always say…Just do it!