These meatballs were so easy to make, and I actually made them the day before. I fried them to seal them up, then put them in the fridge for the next evenings' barbecue (you can cook them on the grill right away if you choose).
The next evening I just popped them on a skewer stick and cooked them for 15 minutes alongside my Asian seasoned Veggie Pockets and ta-da; a great meal is cooked in 15-20 minutes with no clean-up except the plates and silverware. Oh yeah, I did make a deliciously Spicy Tangy Orange Sauce from the leavings and broth left from searing the meatballs to dip these savory meatballs in and to smother my cauliflower rice! This was a hit with my hubby and so easy to calculate timing on the grill.
Here are a few pointers before you start:
Make sure you double the foil for the veggie pockets and seal the ends tight so they don't leak when you flip them.
Don't close up the Veggie Pockets until you add a tablespoon of the Spicy Tangy Sauce to each pocket. It helps them steam and gives them an amazing flavor.
If you're going to grill your meatballs and not sear them, add one tablespoon of olive oil and one tablespoon of warm water to the Spicy Tangy Orange Sauce recipe instead of the remains of the seared and strained meatball leavings/broth.
Soak your wooden skewers in water for 2 minutes before you put your meatballs on them. This keeps the sticks from burning on the grill.
Timing is everything! Determine the time for each Veggie Pocket (10-20 minutes). The meatballs take 15 minutes. Go from there! I like making the Meatballs and Pockets the day before. It makes cooking a breeze especially if you're having company. You can spend your time with friends and family instead of in the kitchen. Plus it's on the table in less than 30 minutes.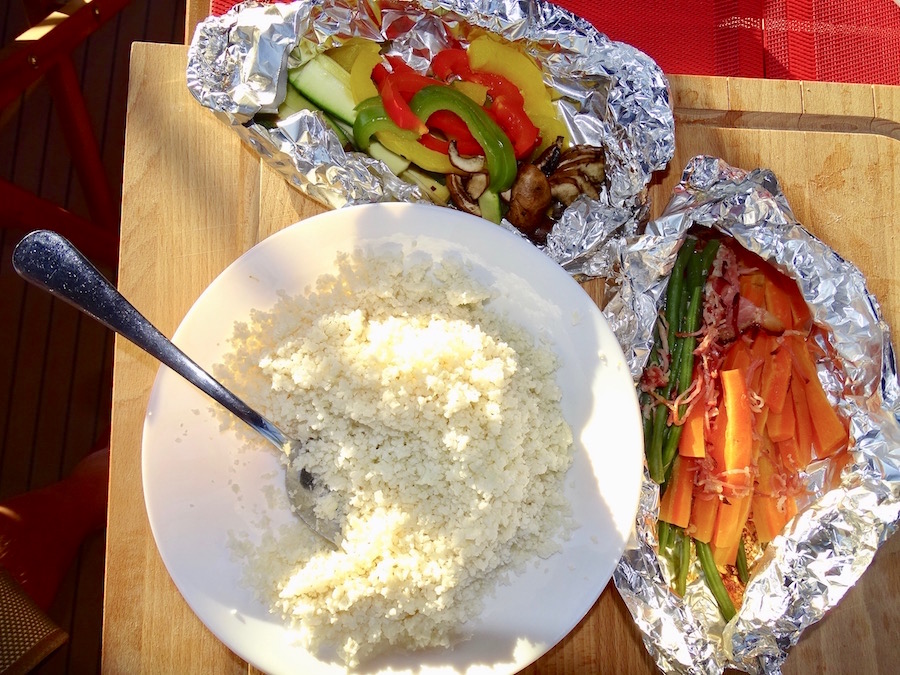 GRILLED ASIAN MEATBALLS & VEGGIE POCKET
June 24, 2017
: 2
: 30 min
: 20 min
: 50 min
Ingredients
Asian Meatballs
1/4 cup ghee
1 lbs organic ground beef
1/2 onion diced
1 garlic clove diced
1/2 tsp Chinese Five Spice
1 tsp fresh ginger grated
1 Tsp coconut amino soy
1 tsp himalayan salt
1/4 tsp ground pepper
1/2 tsp ground chili or to taste
1/2 tsp chili flakes or to taste
Veggie Pockets
Green beans cleaned & trimmed
Carrot sticks cleaned sliced into sticks
1 Tbsp smokey bacon optional
6 fresh mushrooms cleaned and sliced
1/2 each red, yellow, green Bell pepper cleaned and sliced
1/2 medium zucchini cleaned sliced in sticks
1 tsp toasted sesame seeds optional for topping
himalayan salt
fresh round pepper
olive oil
2 Tbsp Spicy Tangy Orange Sauce Recipe below
Spicy Tangy Orange Sauce
beef broth left over from sealing meat balls
1 orange juiced & strained or 1/2 cup orange juice
1/4 cup coconut amino soy
1 tsp honey
1 tsp fresh ginger grated
1 red chili pepper de-seeded sliced in rings
dash Chinese Five Spice
himalayan salt
fresh ground pepper
Directions
Step 1

Asian Meatballs

Step 2

Heat the grill to medium high while you prep the veggies and make the meatballs.

Step 3

Mix all the ingredients for the meatballs in a medium bowl. Roll into personal size meatballs (about 12). Heat the ghee on high. Fry the meatballs in the hot ghee to sear them. Set seared meatballs on a paper towel to drain.

Step 4

Once they are all fried, set aside or store in the fridge until ready to grill. Turn them occasionally until done. Add a bit of warm water to the pan and scrape it around to release the leavings then strain the remaining ghee and beef broth that is left in the frying pan. Reserve this broth to make the spicy, tangy orange sauce. If you choose to place the skewered meatballs directly on the grill and not sear, you can omit this last step and add a tablespoon of olive oil to the sauce instead. Grill skewered meatballs on the grill for 15 minutes turning ocasionally

Step 5

Veggie Pockets

Step 6

Depending on the veggies you choose, I suggest separating them by cooking time and make separate packets so the veggies will be done to perfection. I made a pocket for my mushrooms, peppers, and zucchini since they'll only need 10 minutes on the grill (5 minutes on both sides). Sprinkle this pocket with a bit of olive oil. Don't seal it up yet! Be sure to add a Tbsp of the Spicy Tangy Orange sauce over each pocket.

Step 7

The other pocket, I used carrots and green beans with bacon. They take 20 minutes. Add a dash of Himalayan salt and fresh ground pepper and the sauce. Don't forget to double the foil on each pocket, so they don't leak when you flip them.

Step 8

Spicy Tangy Orange Sauce

Step 9

In a frying pan, place all the ingredients for the sauce except the red chili pepper. Heat on low until well blended.

Step 10

Drizzle a bit of the sauce over the zucchini, mushroom, and bell pepper pocket. Sprinkle with toasted sesame seeds if using over the tops of the veggies before sealing. Make sure when you seal the ends, they are tight so the juice doesn't leak on the grill.

Step 11

I figured out how to get all the seeds out of hot red chilis without touching them and burning the heck out of my eyes. I usually freeze my chilis this way

Step 12

I always have them on hand. I snip off the end attached to the vine and roll it back and forth between my thumb and pointer finger over the sink until all the seeds fall out. Then I slice in circles. Use the orange skin with some soap to make sure all the red chili is removed from your fingers.

Step 13

Slice the chili and add to the remaining sauce. Serve it warm alongside your grilled veggies and Asian Meatballs. We like this dish with cauliflower rice!