This is so delicious and inspired by Lutz's 97-year-old mom. Every time we visit her she has this amazing spread of goodies, one of which is a "Rhubarba Kocken". Every time she serves this, I am immediately transformed back in time. Why?… My Great-grandmother Mawmaw was from Kentucky and would make rhubarb pie which is the same thing but we call it pie, Germans call it Kocken. This pie is tattooed on my brain as the most predominant memory of my great-grandparents. It was the centerpiece of each visit and holiday meal (along with gooseberry pie which Lutz's mom also makes…another recipe to come). So, of course, when we visit Lutz's 97-year-old mother and there sits her "Rhubarba Kocken," my memory and all my senses float back to good times and yummy warm smells.
Unfortunately, I have to decline since it is made with gluten. So I got to thinking…I can make my own. I figured I'd use my Cassava Butter Cookie recipe for the crust, my Ginger Rhubarb Sauce for the filling and top it off with a cassava crumble! My recipe has a tang to it and just the right twist. It was just a matter of putting them all together.
Ta-da! This was so easy since I had the cookie crust in the freezer, I had just made a batch of rhubarb sauce for my Cassava Blueberry Pancakes and had plenty of cassava flour, spices, and ghee to mix up a crumble for the top.You can use store-bought cookie dough or pie crust or any filling. You can even create your own crumble. But this was so easy to put together. It is amazingly quick when all the parts are pre-made.
Top it off with some Coconut Whipped Cream, How can you go wrong? One bite and my memories are filled with two very special people that have walked in my world. Hope this recipe ignites some fond memories of your childhood and great cooks who have influenced you.
Rhubarb Crumble
June 24, 2017
: 8 slices
: 30 min
: Easy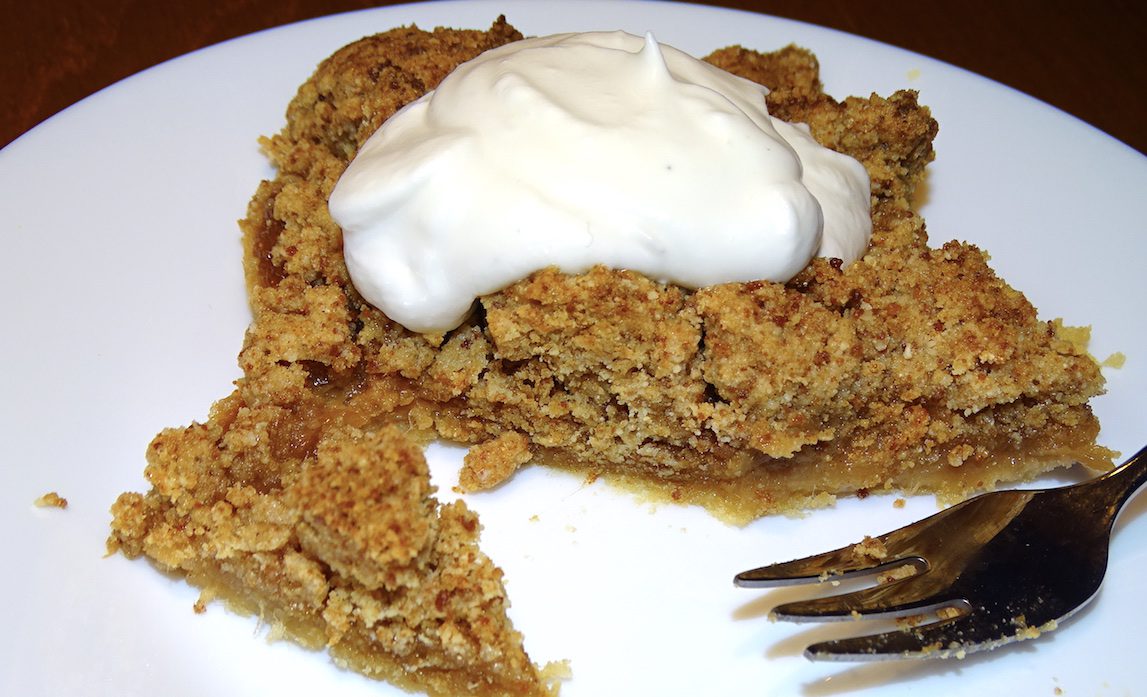 Ingredients
Cake:
1 Cassava Butter Cookie or store bought
3/4 cup Ginger Rhubab Sauce
Crumble:
1 cup cassava flour
1/4 tsp salt
1 dash ground cardamon
1 dash ground cinnamon
1 dash ground nutmeg
1 tsp homemade vanilla or store bought
1/2 cup ghee or organic butter
Directions
Step 1

Heat oven to 375 degrees. Press the cookie dough into an 8 X 8 (or thereabouts) baking dish or pie plate.

Step 2

Bake for 14 minutes until browned. Set aside to cook. Once cooled spread the Ginger Rhubarb Sauce over the cooled crust.

Step 3

Start Crumble topping: Make sure the ghee or the butter are cold. You can set it in the fridge while you mix the dry ingredients for the crumble.

Step 4

Whisk the cassava flour, salt, cinnamon and nutmeg in a medium bowl. Cut the ghee or butter into the dry ingredients.

Step 5

Halfway through, sprinkle the vanilla into the mixture. Then use your hands to continue mixing until the crumble is the size of pistachios and all the cassava flour is pressed into the ghee or butter.

Step 6

Sprinkle on top of the rhubarb filling and bake at 375 degrees or until the top browns.

Step 7

Serve warm with some Coconut Whipped Cream and taste the history!
Rhubarb Crumble Image Gallery
---
[envira-gallery id="5605″]