This recipe is the craziest recipe yet. Seriously…dang easy and so versatile. I've made several variations, and now my mom is sold and has created a peach cream pie and a raspberry cream pie. The possibilities are endless.
Don't you remember eating Dreamsicle ice cream? Remember the sound of the music from the truck coming around the corner, grabbing your piggy bank change, and running outside, fearing you'd miss him? Don't fear anymore. I've got a pie to replace your ice cream truck favorite with the same yummy flavor and so easy to make.
All you need is your food processor (I only had my smoothie blender, folks. That was tricky…), a crust, and an 8″ springform pan. I have a crust recipe I make, but I bet you all have your own tried and true crust. If not, pick up a gluten-free one, or you could also use my Cassava Cookie recipe with a teaspoon of maple syrup instead of 1/3 cup. I also have a Basic Versatile Pie Crust that you can adapt for savory dishes or dessert dishes.
You can create your own "fruitsicle" pie by adjusting the sweetness and selecting seasonal fresh fruit. You can also make your crust using a different cookie recipe on my site. The cooking time is for an 8″ round springform pan, and it took 50 minutes. If you use a 12X8 1/2 glass rectangle pan, you will need about 35-40 minutes. Test if it's done by shaking the pan gently and tapping the top. If it springs back and wabbles just a bit, it's done! If not, give it a few more minutes. Stop dreaming…get started.
Dreamsicle Pie
August 8, 2019
: 6
: 15 min
: 50 min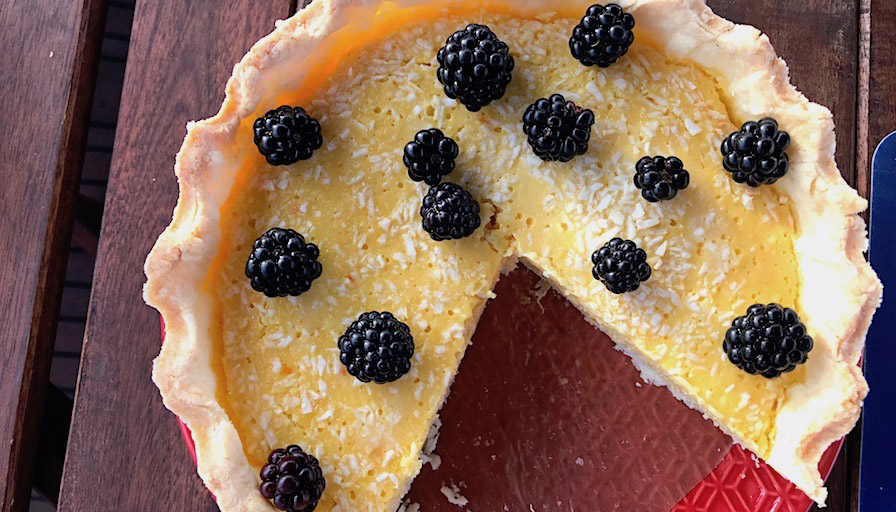 Ingredients
1 medium orange Blood orange are outrageous for this!
2/3 cup birch tree sugar or organic
1/4 cup coconut cream milk, not coconut milk!
1 pinch Himalayan salt
1 tsp vanilla
4 large eggs
1/2 cup melted organic butter or ghee
1/4 cup raw shredded coconut no sugar!
1 gluten-free crust
Directions
Step 1

Turn oven on to 350 degrees. Line your springboard pan with baking paper. Use the pan as a tracer to cut a circle out of your pie dough and place it on the bottom of your pan.

Step 2

Press the leftover pie crust up the sides. Pinch the top of the crust around the edges.

Step 3

Melt the organic butter or ghee and let it cool.

Step 4

Cut the orange in pieces and remove the seeds. Place the orange in your food processor, skin, and all.

Step 5

Add 1/2 cup of birch tree sugar. I tried liquid agave once, and the top browned. I might try maple syrup or honey one day, but for now, this sugar works, and so does organic raw sugar but try to find fine ground sugar, or during blending, make sure they dissolve really good.

Step 6

Add the vanilla. I make homemade, but store-bought is fine, or I scrape vanilla bean seeds into it.

Step 7

Add the eggs, coconut, and coconut cream milk. Mix for about 3 minutes to make sure the sugar is dissolved.

Step 8

Pour in the cooled melted butter or ghee. Now beat this babe like crazy. Here is where I do the taste test to make sure the sugar matches the fruit. Adjust if you have to. Just make sure you blend this for at least 4 minutes to dissolve the sugar.

Step 9

Pour it into the pie crust! My coconut floated to the top, but it's still amazing.

Step 10

Cook for 50-60 minutes. It should spring back when you tap the top and be somewhat firm! Let it cool for at least an hour. Or keep it in the fridge for later. You can eat it cold or at room temperature. Enjoy with coconut whipped cream, berries, or both!

Step 11

Simply divine!
https://thecookncoach.com/wp-content/uploads/2019/09/Dreamsicle-Pie-sliced.jpg