Ok, this one is a winner…truly a 5 star. We travel so much and the one smell I can't get enough of is the aroma of the warm cinnamon buns in the airport. They get me every time. It wasn't until my cousin Amy asked me to come up with a gluten-free recipe that I even considered entertaining the thought of ever tasting these delicious treats in my home or mouth again. Her idea was an orange cinnamon bun and I set to work!
I was a little scared to use all my special gluten-free flours to experiment making these and then having the whole thing flop.. BUT, now with confidence, I can say,  Amy's Orange Buns came out wonderful! Thanks, Amy for this great idea which helps me stroll by those airport buns knowing I have a healthy, tasty, amazing recipe of my own! Enjoy these babies with a cup of your favorite tea during this beautiful fall season…or actually, anytime you get the urge!
I was so impressed with how this dough came out that I created a couple of other recipes with it (and a few tweaks). Savory Breakfast Rolls and Dinner or Hamburger Rolls. Check these recipes out as well. Yummy breakfast treats that freeze and heats up nicely!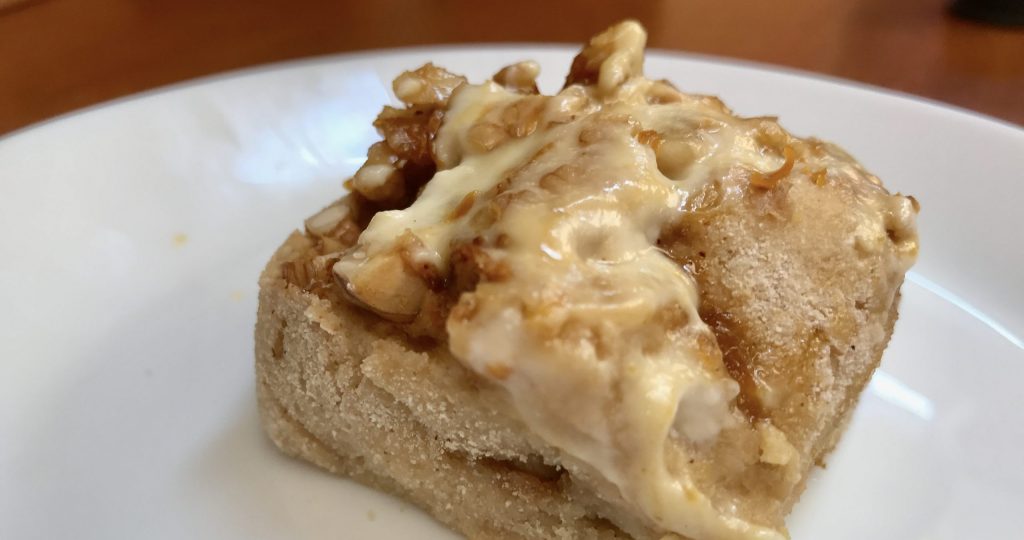 Amy's Orange Buns
September 24, 2018
: 8-10
: 1 hr 30 min
: 30 min
: 2 hr
: Medium
Ingredients
Dough:
1 1/2 cups cassava flour
1/2 cup almond flour
1/2 cup potato FLOUR (not starch. If you don't have it use an additional 1/2 cup almond flour)
1/4 cup arrowroot or cornstarch
1/4 cup tapioca starch
2 1/2 tsp of active dry yeast
2 1/2 tsp baking powder
1 tsp Himalayan salt
1 tbsp phylum husk
1/2 tsp allspice
Wet Ingredients:
2 eggs (1 is for brushing the top of your the rolls before cooking. (This is optional)
2 Tbsp honey
1/2 cup melted ghee or coconut oil
2 cups warm water (100 degrees)
1/4 cup dairy-free milk (almond, cashew, coconut, etc.)
Filling:
2 Tbsp orange zest (remove from oranges before you juice them)
3/4 cup fresh orange juice (2 oranges juiced)
1 1/2 cups maple syrup
1/2 tsp Himalayan salt
1/2 tsp cinnamon
3/4 cups chopped walnuts or pecans
1/4 cup raisins or cranberries
Topping:
1/4 cup ghee or organic butter
1/2 cup birch tree sugar or coconut sugar (use your smoothie machine or coffee grinder to beat the sugar until powdered)
Directions
Step 1

Turn stove to on to the lowest temperature with the light on (150F or 50C). You'll be putting your dough in here to rise later. You can bake these in an 8×8 oiled baking dish, placed so each roll is touching. This helps them to rise higher. If far apart they tend to spread. Or you can also use oiled 6-8 cupcakes or baking rings. The number will depend on how thick you slice the final roll.

Step 2

Dough:

Step 3

Place all the dry dough ingredients in a standing mixer and make sure you have the removable lid on. This stuff flies!

Step 4

Turn the mixer on low and allow the dry ingredients to mix for 3-5 minutes.

Step 5

Wet Ingredients:

Step 6

Meanwhile heat your water to 100 degrees F. It should be warm to the touch. Add oil/ghee, honey, and 1/4 cup of dairy-free milk to the warm water and mix well.

Step 7

Have your egg on hand!

Step 8

Mix and Rise:

Step 9

Once the liquid has reached 100 degrees, slowly pour a half of the warm water mixture into the standing mixer with the dry ingredients. beat for a minute.

Step 10

Add the egg. Turn the mixer to medium.

Step 11

Add the last half of the water mixture and beat well.

Step 12

The dough should be pretty sticky yet pull together into a fluffy ball. Better less liquid than more! I used all of it.

Step 13

Turn off your oven and leave the oven light on.

Step 14

Scoop out the dough into a buttered/oiled bowl and cover with plastic wrap.

Step 15

Place the dough in the warm oven for 1 hour. Make the filling while you wait!

Step 16

Filling:

Step 17

In a medium saucepan, add the zest, orange juice, maple syrup, salt, and ground cinnamon. Heat on medium-high for 5 to 6 minutes staring continuously so it doesn't burn.

Step 18

After it thickens to a glaze, add the nuts and raisins. You'll be spreading this over the dough so make sure it has a bit of liquid so you can spread it. You can always add a little more maple syrup.

Step 19

Set aside and check your dough!

Step 20

Assembling & Bake:

Step 21

Once the dough has doubled in size, remove the bowl from the oven and turn up the oven to 375 degrees or 180c.

Step 22

Dump the dough on a large sheet of oiled plastic wrap.

Step 23

Use a little oil on your hands and pat the dough out a bit.

Step 24

Place another sheet of plastic wrap over the top and press the dough out into a rectangle using your hands and fist to about 1/4 inches thick. If the dough is too sticky add more cassava flour so you can manipulate it.

Step 25

Turn the plastic wrap so the longest side of the rectangle is near your belly. Remove the top piece of plastic wrap.

Step 26

Spread the filling over the entire rectangle.

Step 27

Roll the rectangle away from you until you have a long rolled 10 inches long.

Step 28

Slice into 1 1/2 to 2 inch thick circles.

Step 29

Place in the oiled baking pan or cupcake holders.

Step 30

Beat the second egg and brush the tops and sides of each roll (optional).

Step 31

Bake for 40-50 minutes.

Step 32

Topping:

Step 33

Remove from the oven and spread the topping over the warm rolls.