Well, golly molly I did it. These are crazy good and perfect each time. I love this dough so much that I updated my Amy's Orange Cinnamon Buns and created a new recipe, Savory Breakfast Rolls. Both are so delicious and the dough is moist the next day. I even doubled the recipe and made a batch of each! After they cooled I froze them and when I want on I take it out and pop it in the toaster! So great for sandwiches, rolls for dinner and if made a bit bigger they make the best hamburger buns in the world…nothing falls off and they don't crack and crumble!
I miss hamburger buns that stay together when you eat a burger! I usually end up getting store-bought gluten-free buns when we do grill them. I hate doing this because heaven knows what's inside. I usually can't read the labels because they're in another language or they are too complicated to pronounce. So I've been experimenting with several of my bread recipes to create the perfect hamburger bun that doesn't fall apart when you take a bite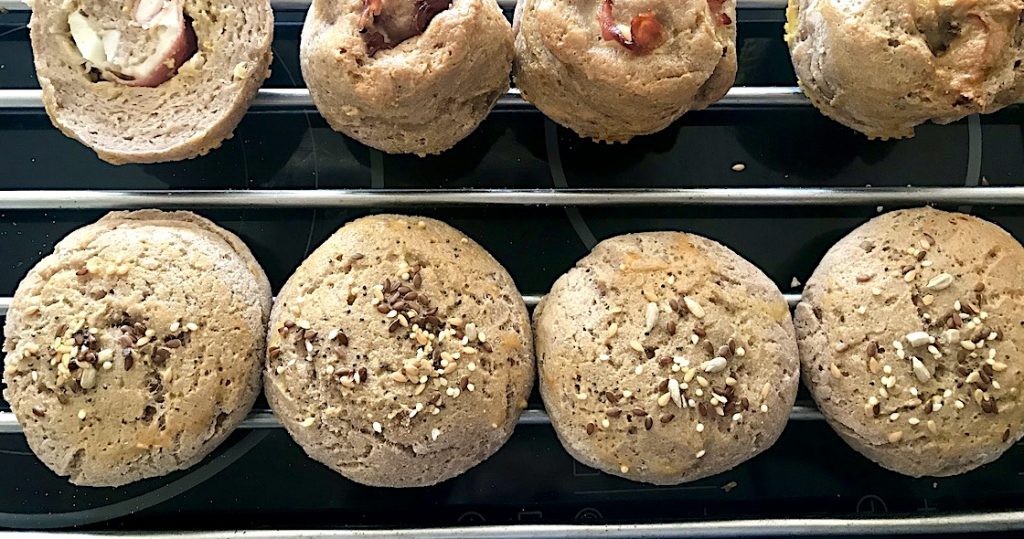 Dinner Or Hamburger Rolls
May 3, 2020
: 6-8
: 1 hr 30 min
: 30 min
: 2 hr
Ingredients
Dry Ingredients:
1 cup cassava flour
1/2 cup almond flour
1/2 cup potato FLOUR (not starch. If you don't have it use an additional 1/2 cup almond flour)
1/4 cup arrowroot
1/4 cup tapioca starch
2 1/2 tsp of active dry yeast
2 1/2 tsp baking powder
1 tsp Himalayan salt
1 tbsp phylum husk
1 Tbsp mixed seeds (Sprinkle on tops after you egg wash before cooking: This is optional)
Wet Ingredients:
2 eggs (1 is for brushing the top of your rolls during cooking. This is optional)
1 Tbsp honey
1/2 cup melted ghee or olive oil
2 cups warm water (100 degrees)
1/2 cup dairy-free milk (almond, cashew, coconut, etc.)
Directions
Step 1

Turn stove to 75 degrees or 50c. You can bake these on a baking paper-lined cookie sheet or in a bun formed baking pan. If you have rings that will work as well. I just baked them directly on the lined cookie sheet.

Step 2

Dry Ingredients:

Step 3

Place all the dry ingredients in a standing mixer on low and make sure you have the removable lid on. This stuff flies!

Step 4

Turn the mixer on low and allow the dry ingredients to mix for 3-5 minutes.

Step 5

Wet Ingredients:

Step 6

Meanwhile heat your water, oil/ghee, honey, and 1/2 cup of dairy-free milk to 100 degrees.

Step 7

Have your egg on hand!

Step 8

Mix and Let Rise:

Step 9

Slowly pour a third of the warm water mixture into the standing mixer with the dry ingredients.

Step 10

Add the egg. Turn the mixer to medium.

Step 11

Add another third of the water mixture and beat well.

Step 12

Add the last of the water mixture slowly…you may not need it all. The dough should be pretty sticky yet pull together. Better less than more! I used it all.

Step 13

Turn off your oven and leave the oven light on.

Step 14

Scoop out the dough into a buttered/oiled bowl and cover with plastic wrap.

Step 15

Place this in the warm oven for 1 hour.

Step 16

Once it doubles in size, remove the bowl and turn up the oven to 350 degrees.

Step 17

Dump the dough on a large sheet of oiled plastic wrap.

Step 18

Use a little oil on your hands and pat the dough out a bit to release some of the air.

Step 19

For dinner rolls use about 1/3 cup of dough for hamburger rolls use about 2/3 cup of dough. Roll the dough with oiled hands into a ball. Place them on the baking pan and gently tap the top about 1/4 inch to flatten just a little.

Step 20

Beat the second egg and brush the tops of each roll. Sprinkle with the seeds.

Step 21

Bake for 30-40 minutes until done

Step 22

Let cool before slicing.
.