Lutz's mom introduced me to this feel-good soup, and it is one of the soups for special occasions. It is a broth with special dumplings. They use the morrow in beef bones (organic is best) along with an egg, bread crumbs, and seasonings. I've created a gluten-free version, and of course, I added my own twist.  You can use any gluten-free rolls, even my Dinner or Hamburger Rolls.
As I was researching this soup, I found so many versions. The dumplings are used in German wedding soups along with combinations of various herbs and veggies. This soup broth can be made with my homemade Beef Bone Broth or store-bought. I spiced it up a bit with a little garlic, lemon, nutmeg, and coconut amino soy.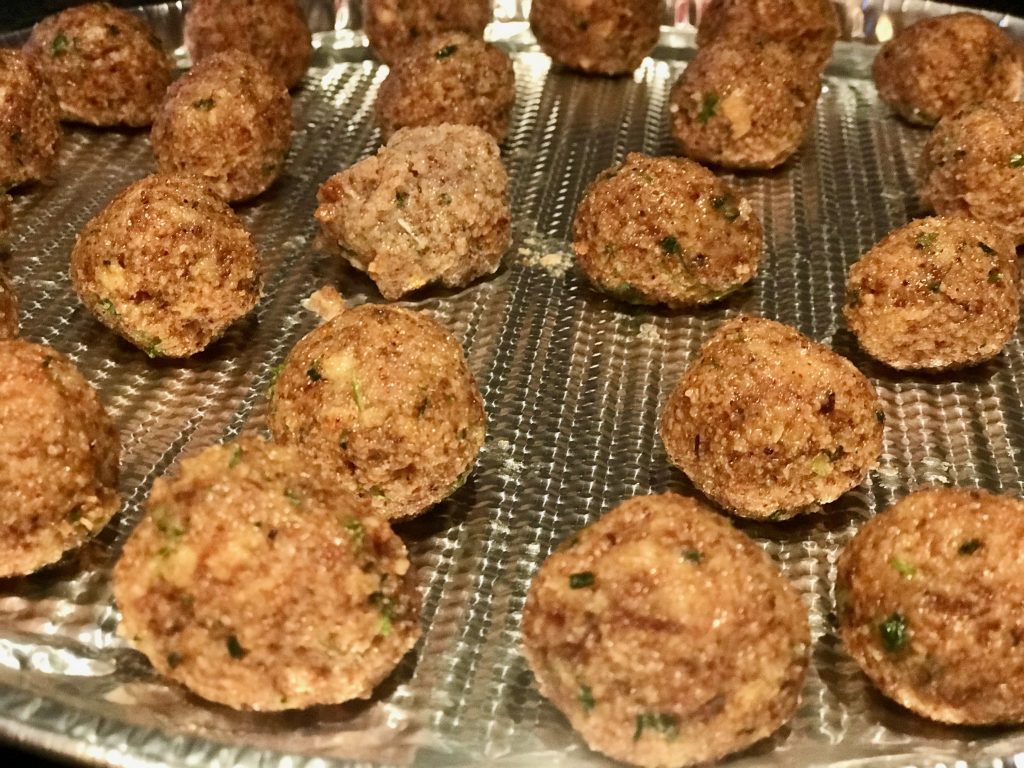 This soup is wonderful for a light lunch or mid-day snack. It fits perfectly as an appetizer for those holiday meals and festive occasions. You can make the dumplings in advance and freeze them for when you get the craving. I was able to create 28 dumplings. I froze half for my next batch of this delicious soup.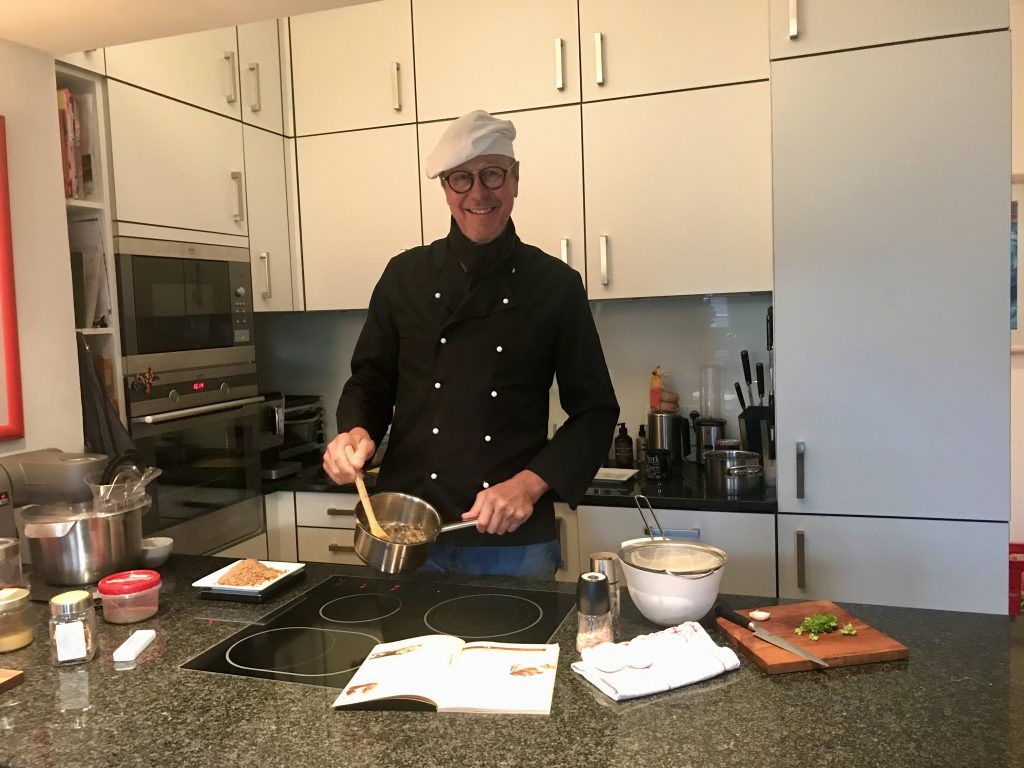 It's effortless to make and one the whole family can help create. Since we're on a soup roll in this house during the holiday, I had a Sous-chef help me out, and he passed the test!
Thank you, Lutz, for your help!
German Markklößchen Soup
November 20, 2020
: 4-6
: 30 min
: 30 min
: 1 hr
: Easy
Ingredients
3 beef bone with the morrow
6-8 cups of organic beef broth
2 garlic cloves
3 Tbsp of parsley
1 Tbsp chives
1 tsp nutmeg divided
1 tsp lemon juice
1 Tbsp coconut amino soy
1 medium carrot sliced into 1/4 inch pieces
1 green onion sliced (save the ends for garnish)
Himalayan salt
Pepper
4-6 gluten-free rolls sliced and toasted or 3/4 cup -1 or more cups gluten-free bread crumbs
2 eggs
Directions
Step 1

Use a knife and cut the marrow out of the center of the bones. Place the marrow in a small saucepan and simmer until melted. Pour the melted morrow and lumps through a strainer into a medium-size mixing bowl. Use the back of a wooden spoon to press the marrow through the strainer into the bowl as well. Set in the refrigerator to cool down.

Step 2

Pour the broth into a large saucepan and let it simmer.

Step 3

Dice the 2 garlic cloves and place half in the broth. Set aside the other half for the dumplings

Step 4

Dice the parsley and place 1 tablespoon in the broth. Set aside the other 2 tablespoons for the dumplings.

Step 5

Dice the chives and place half in the broth. Set aside the other half for the dumplings.

Step 6

Add to the broth: lemon juice, amino soy, sliced carrots, white and light green parts of the green onion, 1/4 tsp of nutmeg, salt, and pepper. Let the soup simmer while you finish the dumplings.

Step 7

Break the toasted gluten-free rolls into pieces and place them in a smoothie blender or small food processor. Pulse until you have small bread crumbs. This should be close to 1 cup or more. I added 3/4 cup and had to add more to the dumplings. You might not need it all. It really depends on the size of your rolls. You can always freeze extra bread crumbs for other uses, so I suggest toasting all 6 rolls, and what you don't use, you will have ready for another recipe.

Step 8

Beat 2 eggs in a small bowl and set aside.

Step 9

Remove the morrow from the fridge and add the set-aside garlic, parsley, chives, and 1/4 teaspoon of nutmeg. Mix well.

Step 10

Begin mixing in the bread crumbs until the mixture is stiff, and you can form a cherry size ball by rolling the dumpling dough between your palms. Place them on a cookie sheet as you roll them up. 

Step 11

If you are planning on eating them all, you can add them to your simmering soup. Continue simmering the soup for 10 minutes. The dumplings will float to the top after 5 minutes but keep cooking for a total of 10 minutes. If you're eating only half of the dumplings, I suggest simmering the remaining in water for 10 minutes, then set them on the cookie sheet to cool before freezing.

Step 12

Taste the soup to make sure you have enough salt and pepper. Serve warm with a few rings of green onion on the top.