My mom, Peggy, has always been my inspiration for creative cooking. It was not uncommon to come home from school to see something cooking on the stove and a new aroma filtering through the house. I recall a week-long marathon of Julia Childs' French dinners. Fondue was my favorite. At eight years old, I was thrilled to stab hard, crusty bread with long forks and then dip them into a pool of melted cheese. Yum, those were the dairy days. 
Today, at 90 years old, she is still going strong and cooking away. My mom must have every cookbook in the world but rarely follows the recipes. Well, actually, she "says" she follows the recipes. Still, I testify as a first-hand witness that she leaves the page with flamboyant ideas, and "voila"…it always tastes amazingly great except the liver as spaghetti. Sorry, Mom, not my cup of tea. 
I asked her to contribute one of her favorite soups, and she happened to have a batch made and sent me the picture and the recipe. As I said, she rarely follows a recipe but tends to add her touches here and there, so I've done my best to recapture the recipe for this delicious creamy-looking soup. I've even saved some leftover veggies in the freezer to make it myself. Now to find the Chantel mushrooms in Germany!
I hope you enjoy this and "leave the page" to add your touches. The vegetables are wide open and can be left whole, semi-pureed, or for a completely "off the page experience," pureed the soup until this creamy and add the mushrooms on top! You choose and get your creative juices flowing.
Serving suggestions:
Serve over: rice, quinoa, noodles, or plain!
Top off with Diced basil, grated parmesan or dairy-free cheese, sour cream, coconut yogurt, and fresh cream, or eat it plain!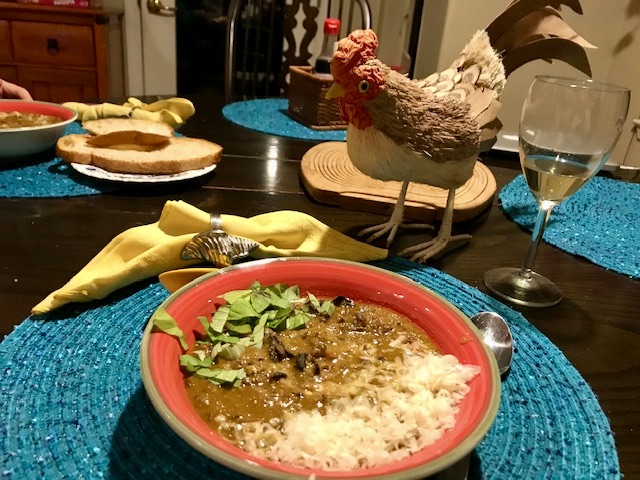 Savory Creamy Veggie Soup with Black Chanterelle Mushrooms
November 20, 2020
: 1 hr 15 min
: Easy
Ingredients
2 medium carrots sliced in 2-inch long pieces
2 stalks of celery sliced in 2-inch pieces
6 medium tomatoes cut in 1/2
1 medium onion cut in 1/2
1 Tbsp olive oil
2 garlic cloves diced
2 tsp of grated ginger
6 cups beef or veggie broth
6 leaves of winter greens diced (chard, spinach, kale, etc.)
2 tsp Himalayan salt
1-1/2 tsp ground pepper
1 tsp Herb de Provence
1 tsp diced basil
1 cup black chanterelle mushrooms
1/2 cup dry red wine
Directions
Step 1

Rinse the mushrooms and soak in 1/2 cup dry red wine. Set aside.

Step 2

Turn the oven to broil.

Step 3

Place carrots, celery, tomatoes, and onions, in a bowl and coat with olive oil. Spread them out on a cookie sheet. Place oiled veggies under the broiler and roast them. You can also leave them whole and use your grill. Roast for 6-8 minutes. Turn them over and roast the other side for 6-8 minutes. They should have a few charred areas. Keep your eye on them. They will burn quickly.

Step 4

Place roasted veggies, broth, garlic, ginger, greens, salt, pepper, Herb de Provence, and diced basil into a large cooking pot. Cook on high for about 5 minutes until simmering. Turn the stove on low and continue cooking for 40 minutes with the lid cracked.

Step 5

Taste and add more salt and pepper if needed.

Step 6

Puree to your liking or leave as is.

Step 7

Stir in the wine and the soaked mushrooms. Cook for 4-6 minutes until mushrooms and wine are incorporated.

Step 8

Serve over your choice of rice, quinoa, or eat it plain. Top with diced basil, parmesan (or dairy-free cheese), a dollop of sour cream, yogurt, or cream.