Ok, this one is a winner…truly a 5 star. We travel so much and the one smell I can't get enough of is the aroma of the warm cinnamon buns in the airport. They get me every time. It wasn't until my cousin Amy asked me to come up with a gluten-free recipe that I even considered entertaining the thought of ever tasting or smelling this delicious treat in my home or mouth again. Her idea was an orange cinnamon bun and I set to work!
I was a little scared to use all my special gluten-free flours to make 12 rolls and have the whole thing flop, so I made a whole batch of the dough and divided it into two. I figured I could salvage the other half of the dough and create something new if all else failed. BUT, now with confidence, I can say, make the entire batch into these AMAZING Amy Orange Buns! Thanks, Amy for this great idea which helps me stroll by those airport buns knowing I have a healthy, tasty, amazing recipe of my own! Enjoy these babies with a cup of your favorite tea during this beautiful fall season…or actually, anytime you get the urge!
Although the pictures in this recipe show 9 small buns, the ingredients are for 12 buns. If you only want to make half the recipe, divide the dough before rising and keep it in the fridge for 5 to 6 days. Divide the filling in two and store in a jar in the fridge as well. When you get the urge, pull out the dough and set in a warm place for 45 minutes to let it get fluffy.  I usually turn the oven to 100 for 10 minutes, turn it off and leave the light on, then place the dough in the oven to rise a bit. Take out your jar of filling and set in hot water or warm up on the stove and lather that dough with butter and coconut sugar then follow the recipe for creating your second batch of yummy goodness! Check the tip below for making the best warm gluten-free bread with the other half of the dough!
Amy's Orange Buns
September 24, 2018
: 12
: 30 min
: 30 min
: 1 hr 45 min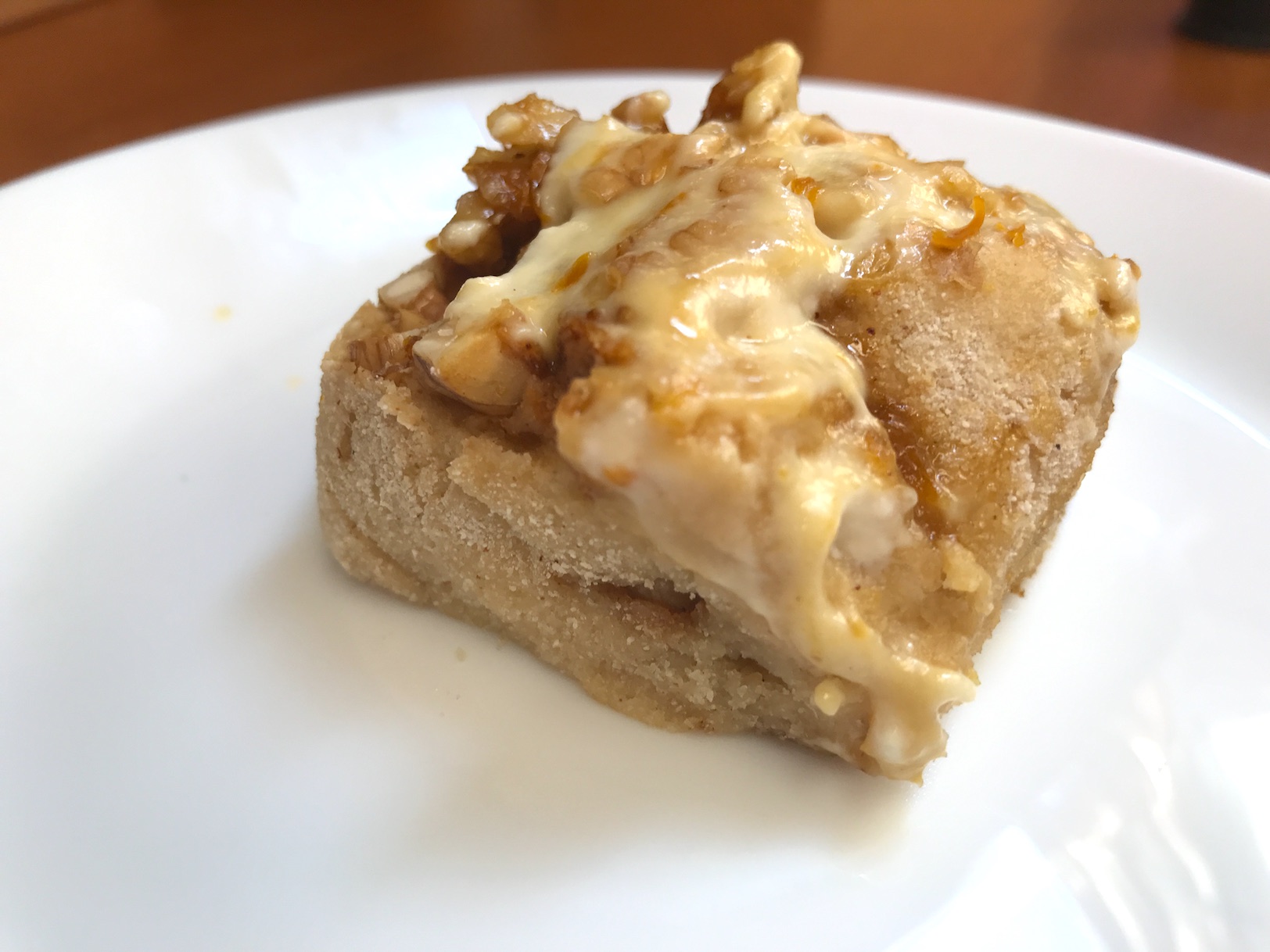 Ingredients
Dough
1 1/2 cup cassava flour
1 cup blanched Almond Flour
1/4 cup potato flour
1/4 cup arrowroot flour
1 1/2 Tbsp ground psyllium husk
1 tsp himalayan salt
2 1/2 tsp baking powder
2 1/2 tsp Active Dry Yeast
pinch cloves
pinch cardamom
pinch nutmeg
2 cups filtered water heated to 100 degrees
2 Tbsp honey
1/4 cups coconut oil
1 Bio large egg beaten
Filling
2 large oranges you'll need the zest and juice from both!
3/4 cups fresh orange juice
2 Tbsp orange zest
1 1/2 cups 100% maple syrup
1/2 tsp himalayan salt
1/2 tsp ground cinnamon
3/4 cup walnuts chopped
1/4 cup raisins or cranberries optional
3/4 cup ghee or organic butter
1/2 cup coconut sugar optional: place the coconut sugar in a coffee grinder and it will become powdered coconut sugar!
Directions
Step 1

Dough

Step 2

In your mixer add all the dry ingredients for your dough (I didn't have a mixer on board the boat so I did it all by hand!): cassava flour, blanched almond flour, potato flour, arrowroot flour, ground psyllium husk, Himalayan salt, baking powder, and, active dry yeast. Whisk on low until all is incorporated.

Step 3

In a medium bowl, mix the hot water, honey, coconut oil. Slowly add the beaten egg.

Step 4

Turn mixer on and drizzle in the warm water mixture and crank up your mixer to give it a good beating (3 minutes or so) or as I did, dump on a potato floured surface and knead it for 5 minutes,

Step 5

Place the sticky dough in a bowl smeared with coconut oil. Cover with a plastic bag.

Step 6

Place it in the sun or in your warmed over with just the light on for 45 minutes. Now get to work with the filling! Be careful your oven is warm NOT HOT or the plastic bag will melt.

Step 7

Filling

Step 8

Use the 2 oranges to make your….

Step 9

Zest and …

Step 10

fresh orange juice!

Step 11

In a saucepan add your, zest, orange juice, maple syrup, Himalayan salt, ground cinnamon. Heat on high until it bubbles and somewhat thickens.

Step 12

Add the nuts and cranberries or raisins if using and turn down the heat. Let it simmer while the dough finishes rising. You should have a bit of sauce left if not add a bit more maple syrup. It's easier to spread. I had to add more after I took this picture…

Step 13

Assembling

Step 14

When the dough has finished rising, set your oven to 375 degrees! Flatten out the dough with your hands into a long rectangle. Remember, gluten-free flour mixes don't get as fluffy as those with gluten so it won't double but it will rise about 1/3 higher.

Step 15

Mix the butter or ghee and coconut sugar in a bowl and rub 1/2 of it over the dough. The other half will be spread on top as they come out of the oven.

Step 16

Spread the filling evenly over the dough.

Step 17

Roll the dough lengthwise and slice into 1 1/2″ to 2″ wheels. Place in a baking sheet pan coated with ghee or butter.

Step 18

Bake for 40-45 minutes in the oven.

Step 19

Spread the saved half of the butter or ghee and coconut sugar over the top of the warm buns.

Step 20

Tip: Once, I actually made the dough and before adding the cardamon, cloves, and nutmeg I divided the dough in half. I then kneaded the spices into one half of the dough to make a half a batch of buns. I baked the other half and it made the best gluten-free bread!!!