Breakfast is one of our favorite meals and making them together has become a great source of enjoyment for both Lutz and me. He'll cut the fruit and I'll whip up some concoction and usually forget to take pictures and write the recipe down. This one is a no brainer…but so delicious since pizza is my favorite meal I try to slide it into my life in very creative ways. This breakfast just satisfies that craving. Sprinkle a bit of Belle Italian Seasoning and a bit of hard goat cheese on top or a dap of my Basil Cashew Ricotta and it's an AMAZING meal. Either way, you serve this yummy dish it just makes a super breakfast, and especially when you have a crowd. Simple and easy is my motto when we're camping or boating.
PIZZA EGG
May 16, 2018
: 2
: 15 min
: 15 min
: 30 min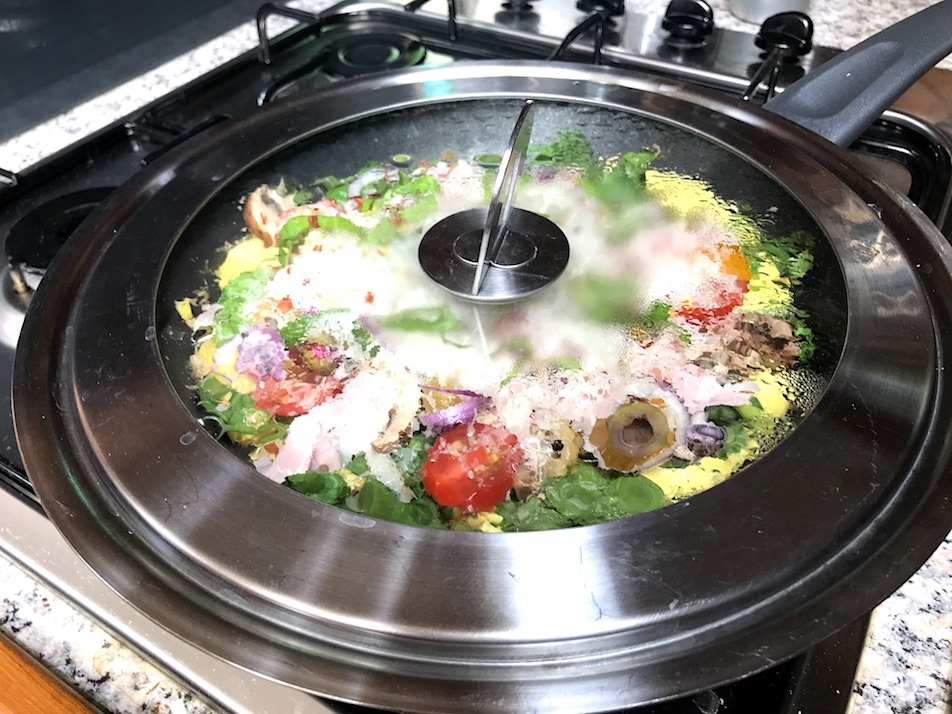 Ingredients
Egg Crust
1 tsp ghee or butter
1/4 cup diced onions or green onions
1 clove garlic diced
2-3 eggs beaten
Toppings
handful fresh spinach diced
8 black olives or green-sliced
6 mushrooms sliced
organic salami or ham optional
diced fresh basil
2 medium tomatoes sliced in rings
firm goat cheese optional or Basil Cashew Ricotta
Himalayan salt & fresh pepper
1 tsp Belle Italian Seasoning or store-bought
Directions
Step 1

Uses a large frying pan. Make sure that the eggs will spread thin so everything cooks evenly. Turn heat to medium. Add the ghee, diced onions, and garlic and sauté for 5 minutes.

Step 2

Turn heat to low and pour the beaten eggs over the onions and garlic mixture. Let this cook while you prepare the toppings.

Step 3

Layer the toppings, in the order listed, over the slow cooking eggs.

Step 4

Just layer them on and spread them evenly. Add your favorite meat or sliced avocados are delicious as well!

Step 5

In this pizza egg, I added a bit of hard cheese but this is not necessary. I've reintroduced some cheese while traveling but I tend to avoid it since I end up with sinus problems and inflammation!

Step 6

Once you've added your favorite pizza toppings cover and cook until the spinach is wilted.

Step 7

Sprinkle with Belle Italian seasoning. Slice into pizza size servings and enjoy this quick easy and delicious breakfast!