I love zucchini any way you make it but getting Lutz to eat it, well it's like him making me try kidneys. So this cool trick worked and now they are on our seasonal menu. Easy and delicious. They are the bomb with my Foolproof Mayo with a Zing. Take a hug scoop and add a tablespoon of my Herb de Provence Oil. This sauce adds the right bounce to these crispy crunchy bites of heaven!. Hey, spice the mayo up and instead of my oil, shake in a couple of dashes of Cholula hot sauce plus add a jalapeno to the fritters. They are like a duet…mayo and fritters, trust me! Just make them both you'll thank me later.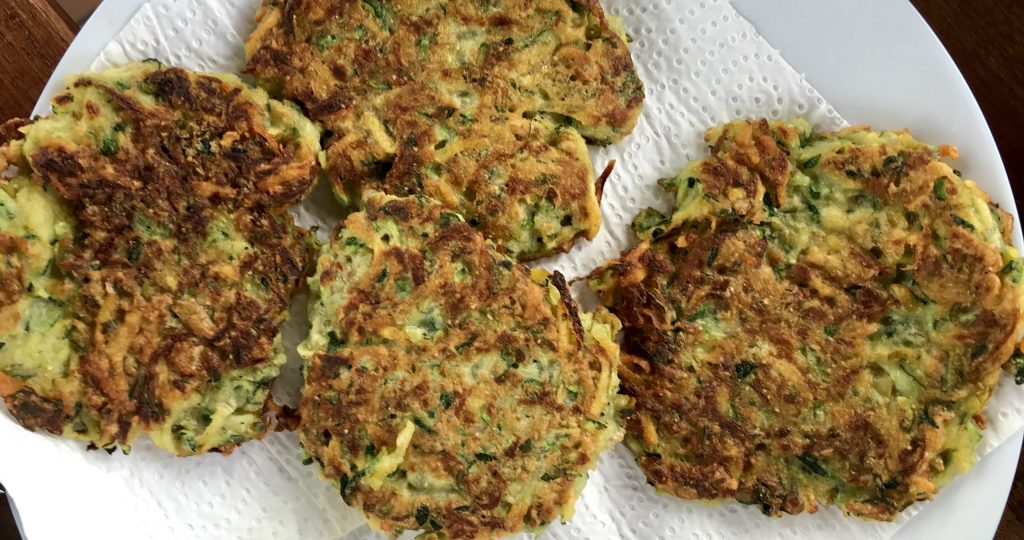 Zucchini Fritters
September 15, 2020
: 2 Person
: 10 min
: 10 min
: 20 min
: Easy
Ingredients
1 large zucchini
1 medium potato
1 clove of diced garlic
1/4 cup diced green onions
1 egg
1 tsp of seasoning: Italian, Old Bay, Herb de Provence, Mexican, etc.
1 Tbsp almond flour
Himalayan salt & fresh ground pepper to taste
2 Tbsp ghee or more for frying
Directions
Step 1

Grate the zucchini and potato and place on a few paper towels or a dishcloth. Sprinkle with salt. This will help pull the moisture from the zucchini and potatoes.

Step 2

In a medium bowl place the garlic, egg, your choice of seasoning, almond flour, and salt and pepper. Beat this all together.

Step 3

Take the grated zucchini and potato and ring them out inside the dishcloth over the sink to remove the excess water.

Step 4

Add the grated zucchini and the potato to the egg batter and mix it with a spoon thoroughly.

Step 5

Heat the ghee in a large frying pan or electric frying pan on medium-high.  Drop a droplet of water in the frying pan and if it dances like crazy your skillet is ready to fry!

Step 6

I used my hands to drop 5-6 mounds of fritter batter into the pan and pat the top down a bit. Fry for 3-5 minutes on each side. Just watch and make sure they are crunchy and golden brown before turning.

Step 7

Place cooked fritters on a plate lined with a couple of paper towels and serve right away with Foolproof Mayo and enjoy!