Ok, it is finally summer here in Germany and we are on a roll with the BBQ! We ordered some pork belly from our Bio farmer guy at the market!!!! We made some soups and then looked at the last package and said now what…? Well, this is what! The most amazing grilled Pork belly in the world. I searched the net for recipes and all of them had that dang thing on the grill for 4 to 6 hours…who has time for that? So, I got this ingenious idea. I rolled that sucker in organic rub, sliced the fatty part into squares and put it in my crock pot, then took off for the day to enjoy the sun!
Check out what I did with this luscious meal when I got home…
EASY PEASY BBQ PORK BELLY
August 1, 2016
: 4
: 15 min
: 15 min
: 8 hr 30 min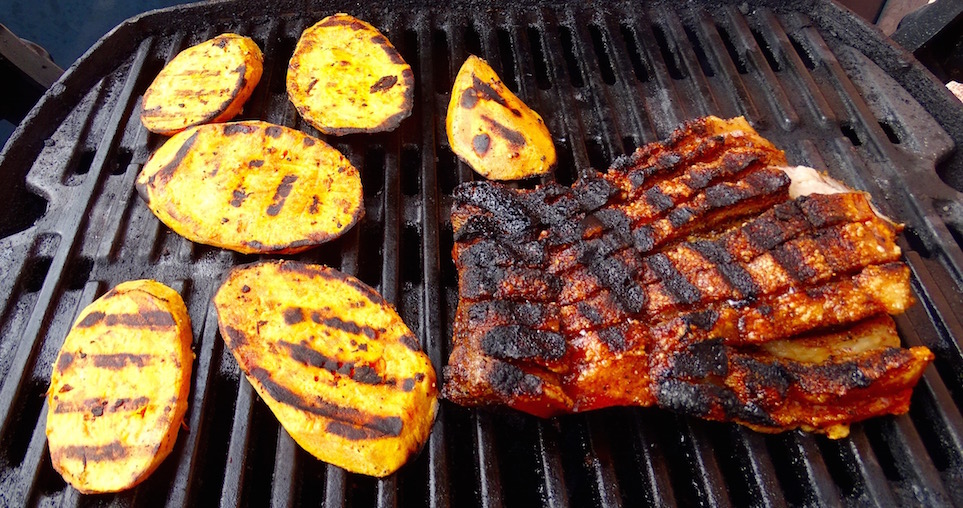 Ingredients
1 Tbsp Organic Rub I used
2-4 lbs Organic pork belly
Directions
Step 1

Rub the pork with the BQ seasoning. Slit the fatty side with a sharp knife.

Step 2

Place it in the crock pot for 8 + hours…the longer the better!

Step 3

Remove from the crockpot and place it on a hot grill with the fat side down. Grill for 6-8 minutes.

Step 4

flip and grill the other side for 3-5 minutes.

Step 5

Remove from the grill and let sit for 5 minutes…we didn't do this cause we were so anxious to try it and it was a bit difficult to cut.

Step 6

Yes, a little bit done but boy was this crunchy and delicious!

Step 7

We put this delicious Easy Peasy BQ Pork Belly along side Spicy Bacon & Red Cabbage with Grilled Roasted Garlic Walnut Sweet Potatoes topped with homemade Foolproof Mayo With a Zing + horseradish! The whole meal took 30 minutes not counting the crockpot cooking while we enjoyed the sun! Let me know what you think!