Ok, so color is the thing that makes food look inviting. I tend to agree. So, count this one colorful! I served this along side my Easy Peasy BBQ Pork Belly and Grilled Roasted Garlic Walnut Sweet Potatoes. This was so delicious, colorful and just a great compliment to the pork and Spicy Bacon Purple Cabbage! Check it out.
SPICY BACON & PURPLE CABBAGE
August 1, 2016
: 6
: 15 min
: 10 min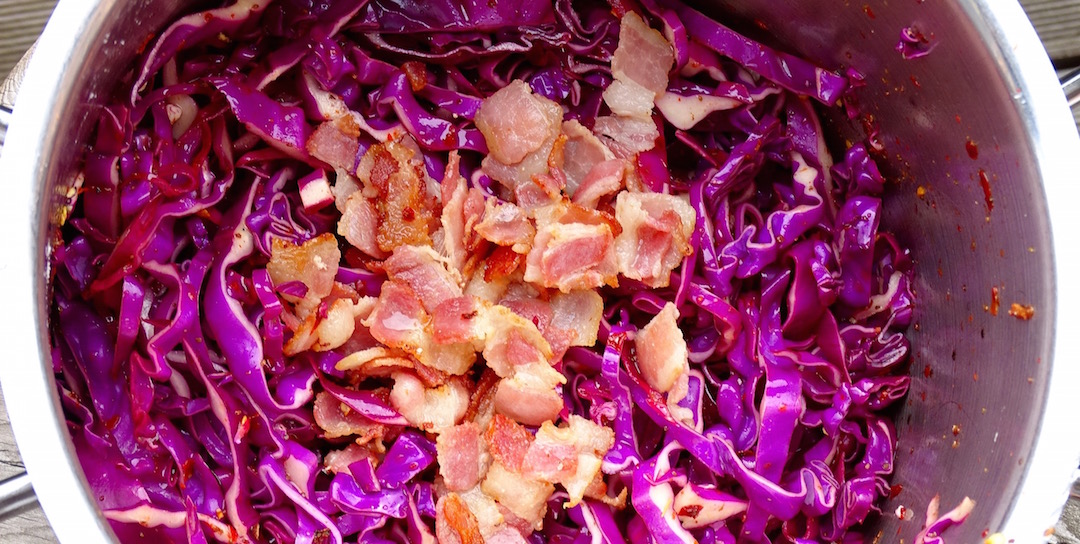 Ingredients
1 head Red Cabbage sliced thin
1/2 cup white balsamic vinegar Briggs is ok but add 1 tsp of coconut sugar
1 tsp himalayan salt
1/2 tsp ground pepper
1/2 tsp celery seeds
1/4 tsp fresh red pepper or more...
1/2 red onion diced optional
6 strips organic bacon cut in 1/4 pieces
Directions
Step 1

Slice the red cabbage thin. Set aside.

Step 2

In a frying pan, place the sliced bacon and fry until cooked and browned.

Step 3

Add the onion and cook until the onion is translucent. Add the 1/2 cup of white balsamic vinegar. Careful it will spit at you in the bacon grease.

Step 4

Add the salt, pepper, pepper flakes and celery seeds. Give it a stir.

Step 5

Place the thinly sliced cabbage into the pan toss until well coated. Remove it from the heat. Cover with a lid and let it sit until you are ready to eat. This is to be warm NOT hot.