It's time to hit the pantry and create something out of nothing. The longing for comfort food hit! I love pasta, and during this Corona Virus, I have bought a couple of boxes of gluten-free for when the urge hits and as a back-up during this lockdown. I discovered I had bought a package of gluten-free gnocchi, which was resting in my laundry room fridge un-noticed. It's made with rice, potato, and tapioca flour and no chemicals. I've made my own gluten-free gnocchi before and need to get on the ball and post it, but it's all about the sauce! I had my homemade Wild Garlic Pesto in the fridge, calling me to make a pasta dish, so what could I do? I had the gnocchi and the pesto, but I wanted some SAUCE…
I did it…seriously, this was so good, and I thought of a thousand ways to use it…on pasta and add mushrooms, on top of veggies, as a dip, over broiled or grilled potatoes, as a sauce in a casserole…the list goes on, and best of all it's perfect for those meatless dinners! I used a bit of my homemade Belle Italian Seasoning but you can use store-bought as well. This seasoning rounds out the flavors and makes this sauce so savory.
Check this out, and it's so dang simple…while you're making this, I'll get on the homemade gluten-free and grain-free gnocchi recipe. In the meantime, pick up some gluten-free pasta on your quarantine run. You can also smother a nice fresh bowl of zucchini noodles with this fake Alfredo. Better yet, head over to one of my favorite sites, Paleo Grubs, and give their gluten-free gnocchi a try.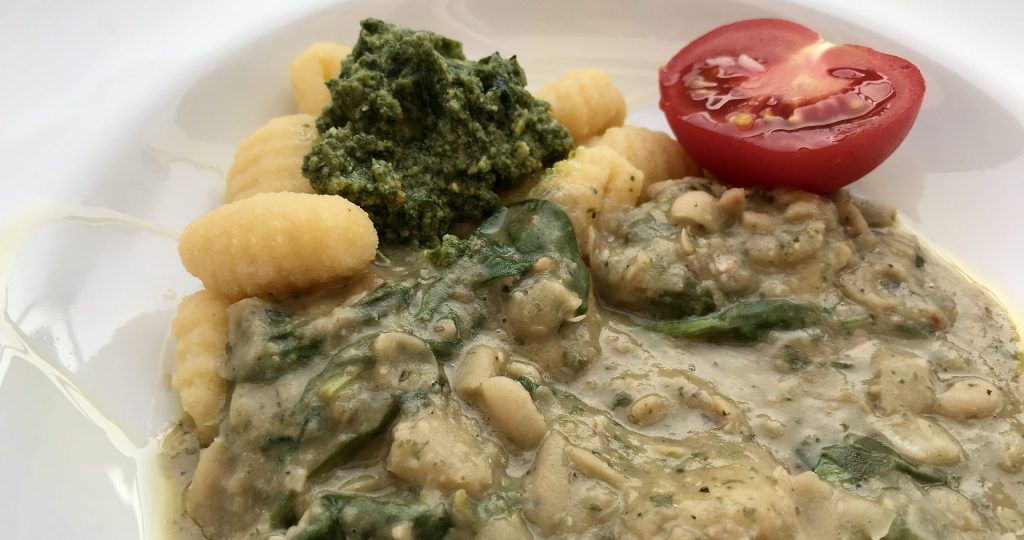 Creamy Vegan/Paleo Alfredo Sauce
April 20, 2020
: 3 cups
: 15 min
: 15 min
: 30 min
: Easy
Ingredients
1 can of white cannellini beans drained and rinsed (15.5 oz)
1/4 cup organic olive oil and more for sprinkling over the final dish
4 cloves of garlic peeled and smashed
1 tsp Himalayan salt
1/2 tsp of fresh ground pepper
1/2 tsp red pepper flakes
1/2 tsp Belle Italian Seasoning or your own brand
1 Tbsp Wild Garlic Pesto or regular pesto (option)
A handful of fresh spinach or kale
1/2 cup of Parmesan cheese (optional)
1-1 1/2 cups of pasta water
Pasta
Directions
Step 1

Start your water boiling for your pasta. You'll need a cup or more of the pasta water for the sauce, so add a bit more water than usual. Add a tablespoon of salt to the pasta water. While it's getting hot, let's get this sauce going!

Step 2

In a large saucepan over medium heat, combine the oil, smashed garlic, salt, pepper, red pepper flakes, and seasoning. Heat thoroughly and mash the garlic as you stir.

Step 3

Add the drained beans to the saucepan and mash them with the back of the spoon, so all the seasonings are combined. Keep stirring!

Step 4

Your pasta water should be boiling now, so take a cup and slowly add it to the saucepan with the mashed beans and seasoning. Keep stirring! Add more water if necessary to create the consistency of creamy Alfredo.

Step 5

Start boiling your pasta!

Step 6

Add a rounded tablespoon of Wild Garlic Pesto and a handful of spinach or kale to your sauce if you want a powerful zip for your pasta.

Step 7

If you're eating dairy, now is the time to add the grated cheese slowly to the sauce stirring continuously.

Step 8

Check the sauce and add more pasta water, and salt if necessary. Remember, the pasta water is salty!

Step 9

Drain the pasta or spiral some zucchini noodles and plate this baby up! Smother that pasta in this delicious sauce, drizzle with olive oil, and add a dollop of pesto to top it off!