This is really beautiful and versatile. You can use it for all Italian recipes and dips.  I try to use my dried plants when making this seasoning. The recipe was constructed using both ground and fresh dried herbs, so get creative and use your cooking judgment. When using fresh dried leaves or plants the ratio I depend on is: ¼ cup dried yields 1 tbsp powder. You will be blending this altogether in a coffee grinder so if you choose to use the whole leaves and peppercorns it's great but ground herbs work just as well. I suggest using the recipe increaser gadget before printing this handy seasoning. This way you can make a big batch and have it on hand.
BELLA ITALIAN SEASONING
April 3, 2016
: 8 tbsp
: 15 min
: 15 min
: 30 min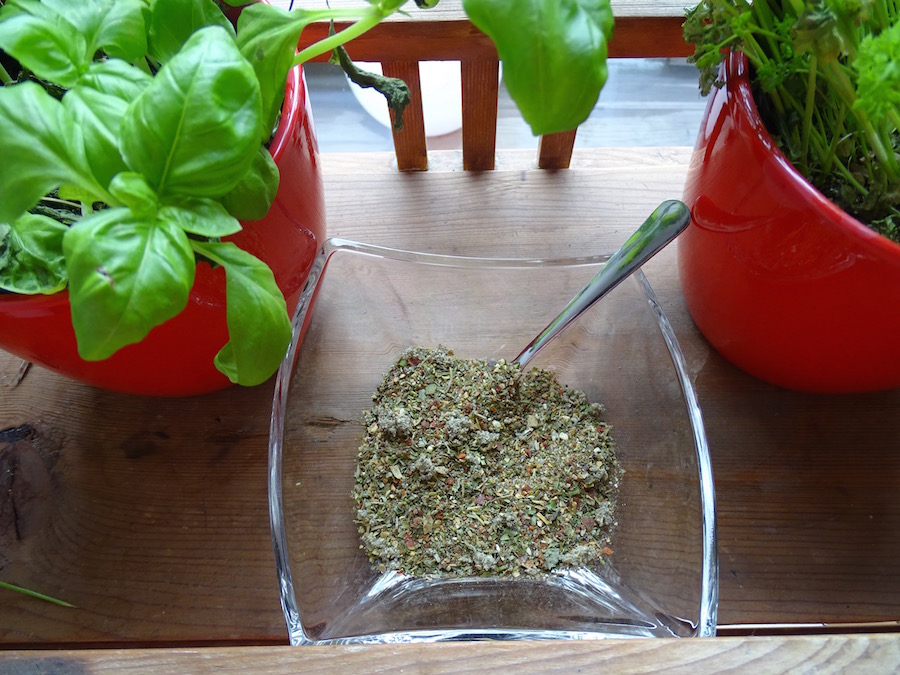 Ingredients
1 tbsp chili flakes More if you like a kick!
2 tbsp dried onion flakes
1 tbsp crushed dried basil or 1/4 cup dried leaves
1/2 tsp crushed oregano
1/2 tsp sage or 2 dried sage leaves
1 tbs crushed rosemary 1/4 cup of dried buds from the stalks
1 tsp dried garlic flakes not garlic salt.
1/4 tsp ground thyme
1/4 tsp pepper or 1/2 tsp whole peppercorns
1/4 tsp celery seeds
1/4 tsp coriander powder or 1/2 tsp of coriander seeds
1/2 tsp marjoram or 2 - 3 dried marjoram leaves
1 tbsp dried chives
1 tbsp dried parsley or 1/4 cup dried parsley leaves
2 tsp himalayan salt If desired
Directions
Step 1

I take out my coffee/herb grinder and add all the leafy herbs, kernels and seeds if using dried or whole seed products. Give it a 20 second spin.

Step 2

Then I place the rest of the ingredients into the coffee grinder and give it another 20-second spin.

Step 3

This can be stored in an airtight jar for months. It's great on homemade pizza and delicious in dips and when mixed with bio butter it is awesome on a steak. I also use it when making my Italian Bolognese from fresh tomato sauce. Try it on colored small potatoes on the grill or oven grilled.