My friend, Trudy, would bring me back a jar of this delicious chili spread when she would visit her second home in the boot of Italy. I always use it up right away and decided it couldn't be that hard to make. So I set to work. I found the most beautiful red chilis and put them in my processor with a couple cloves of garlic, a handful of salt and then broke open a can of chipotle chilis from my trip to the USA. Here is the brand on Amazon.com: La Costena. Here is the brand on Amazon.de: La Costena. You can use fresh or dried as well if you can find them in Europe. These babies are busting hot and so I only use 1/2 of a chipotle chili in the mix. You can always add more but you can't take it out! Just love the smoky flavor they bring to the creation.
I topped it off with a layer of oil olive and sealed the jar then placed it in the fridge for a few days. Holy Moly this is hot-tot-toddy and so flavorful. I use it instead of tomato sauce on my pizza crust, for Indian and Asian foods and for marinades. Add a teaspoon to my Basic Bold Tomato Sauce to give it a punch. Add a dash to my Smokey Chipotle Coleslaw or to my Foolproof Mayo to give it a dynamic flavor. It's endless and can set your ears on fire so, easy does it! I'm sure you will find a million uses for this smokey peppery spread, especially if you're one who likes your food with a kick.
Tip: I've had my jar for a month in the fridge and it is still amazing!
Chipotle Chili Spread
April 15, 2017
: 1 cup
: 15 min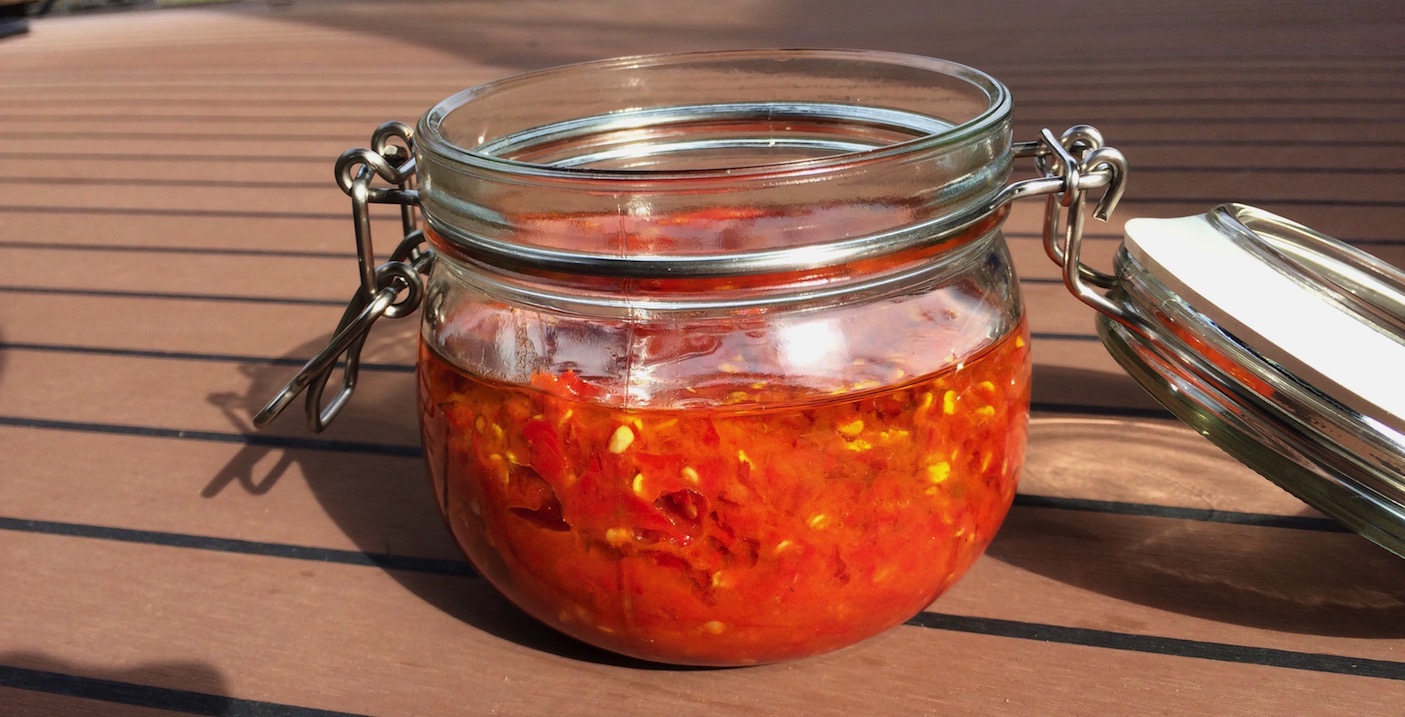 Ingredients
1/2 lbs red chilis about 500 grams
1/2 chipotle chili or 1 whole if you like it hot
1-2 cloves fresh garlic I like 3...
1 Tbsp organic Apple Cider Vinagar
2 Tbsp himalayan salt
1/2 cups olive oil plus a bit to top off the jar.
Directions
Step 1

Wash the red peppers and roughly cut in half. Keep the seeds. This is what makes it ver.y hot! Dice up the garlic.

Step 2

Place all the ingredients into your food processor and blend until smooth. I leave some chunks and the red pepper seeds are still visible.

Step 3

Place in a jar and cover the top with a layer of olive oil.

Step 4

You can use it right away but if you let it sit in the refrigerator for a couple of days it will get much hotter and the chipotle has a chance to merge with the garlic and red peppers.