Moving to Germany sixteen years ago posed a food challenge for me: I love hot and spicy, but Germany is basically bland meat and potatoes with gravy and over-cooked veggies. It has changed since I first arrived, and new restaurants pop up every day with more varieties, but in order to satisfy my hot and spicy addiction I tried visiting all the Mexican restaurants in the area. Remember, I was raised in San Diego, twenty minutes from the border. My dad and mom retired in Mexico. So Mexican food as I know it was not very well represented in the local Mexican food venues that I found in Germany, at least in our little local town. Ok, with that in mind, I had to resort to making my own Mexican food. But come on, going out for a meal is nice.
So, after giving up on the local Mexican restaurants, I decided that the next best thing to fulfill my hot and spicy addiction was hot and spicy Indian or Asian cuisine.
The two local restaurants that we visit regularly are delicious and friendly, and they don't get offended when I ask about the ingredients because of my particular eating habits and I have discovered a few mouth-watering dishes on their menus that I can enjoy without consuming dairy, soy or gluten! Of course I had to reinvent the dishes I couldn't eat but looked so yummy. This one is so good I am sure it will become a weekly staple. I figured my Twisted Chicken recipe needed company. So here is my version of "Whacked Chicken" or "Wok'd Chicken". Whether WHACKED or WOK'D it is definitely hot and spicy!
ASIAN SPICED CHICKEN
May 22, 2016
: 4
: 20 min
: 15 min
: 35 min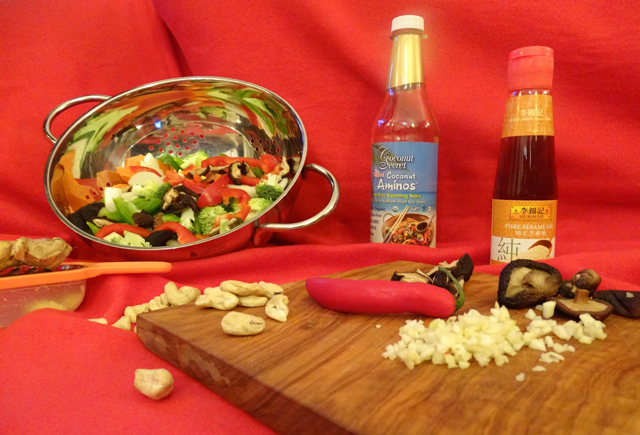 Ingredients
1 lb Chicken Breast cut in bite size pieces
1/2 cup amino soy reserve 1/4 for the end
2 tsp white rice vinegar
pinch birch tree sugar or coconut sugar honey works too
1 small head of broccoli cut in 1inches pieces
1 red bell pepper cut in 1inches pieces
1 green bell pepper cut in 1inches pieces
1 yellow bell pepper cut in 1inches pieces
1 orange bell pepper cut in 1inches pieces
1 -2 seeded red hot peppers sliced in rings
1 large onion cut in 1inches pieces
5 dried shiitake mushrooms or fresh
1/2 cup raw cashews
1 tsp 5 Chinese Spice
1 tsp fresh ginger grated
3 cloves garlic chopped
1 tsp red pepper flakes or more...
1/2 tsp Sriracha chili I use dry. Watch it, some paste have soy and sugar added plus GMO
1 tbsp Sesame seed oil or macadamia oil
Directions
Step 1

Get out your wok and season with sesame or macadamia nut oil. Turn on low while you prep.

Step 2

In a medium bowl place your dried mushrooms and cover with boiling water. Let sit while you prepare the chicken and veggies.

Step 3

In a bowl, place the amino soy, birch tree, honey or coconut sugar and cut chicken breast. Set aside.

Step 4

Wash and chop all your veggies.

Step 5

Turn your wok to high. Sear the marinaded chicken breast, You might have to do 2 shifts depending on the size of your wok.

Step 6

When the meat is seared take it out and set aside.

Step 7

Squeeze the water from the mushrooms and slice them. Reserve 2 tbsp of the soaking water.

Step 8

add more oil to the wok and turn it up to medium high. Add the nuts, garlic, ginger, pepper flakes, red hot pepper and stir so garlic does not burn.

Step 9

Once the nuts are toasted and brown add the veggies and turn up the heat to high. KEEP STIRRING… Make sure all the veggies are coated.

Step 10

Add the seared chicken to the steaming veggies.

Step 11

Shake in desired amount of 5 Chinese Spice and Sriracha chili and the 2 tbsp of reserved mushroom water.

Step 12

Cover and simmer for 15 minutes on medium/low.

Step 13

Right before you serve, add the reserved 1/4 cup of amino soy and 1 tsp of rice vinegar. Mix well.