This is one of our favorite dishes. Reminds me of home and the local fish restaurants that grill the shrimp or bring it to you in a bubbling sauce of garlic. Plus it has the taste of summer. It's easy and quick.
CHILI LIME SHRIMP
May 22, 2016
: 4
: 15 min
: 20 min
: 35 min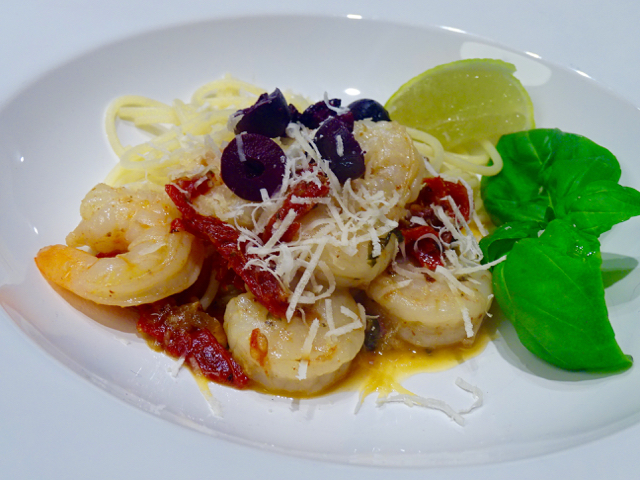 Ingredients
1 lb bio shrimp cleaned & shelled
Juice from fresh lime
1/4 cup ghee or coconut oil
4 fresh basil leaves chopped
5 sun dried tomatoes cut in strips
2-3 garlic cloves chopped
2 tbsp onion chopped
1/4 cup kalamata olives black & green
1-2 tsp red pepper flakes
1/2 tsp ground pepper
1 tsp himalayan salt
1 tsp chili pepper powder
1/4 tsp lime zest or grated lime skin
1/4 cup olive oil for the end!
Directions
Step 1

Place all the ingredients EXCEPT the shrimp and olive oil in a large frying pan.

Step 2

Simmer and stir occasionally for about 10 to 15 minutes on low. You will know when to move to the next step after the house is FILLED with a wonderful aroma. Wish I could make this an air freshener! I have left this brewing for an hour once…

Step 3

Meanwhile prepare your gluten free pasta or spiral your zucchini. A trick with the spiraled zucchini folks, put it in a bowl with a tsp of salt and toss it. This will get all the water out and your noodles won't bring that extra water to your yummy shrimp.

Step 4

You can see I added a little chili and spice to my zucchini…

Step 5

Wash the shrimp and dry them. When you are ready to cook the shrimp turn the heat up to medium high. It should sizzle a bit when you drop the shrimp in the sauce. Cook for 1-2 minutes on one side then flip them over for another 1-2 minutes on the other side. When they are pale pink they are done. Don't leave them too long you will have rubber shrimp.

Step 6

Now squeeze in the juice from ½ a lime and drizzle in the ¼ cup olive oil while you sauté for a few seconds more.

Step 7

Pour over gluten free pasta! If your are using zucchini noodles give them a squeeze and drain the water. No need to cook them. You can pour your chicken over the top or place the zucchini noodles right in the chicken sauce and give it a toss. Grate a bit of parmesan organic cheese over the top, garnish with a basil sprig and slice of lime and your ready to go!