Ok, so I had a senior moment (or should I say another senior moment). I was ordering some organic potato starch and clicked the wrong button and the next thing I knew I had received a 500 gm bag of organic potato flour. No, they are not the same. 
Potato flour is actually dried potatoes, skin and all, then ground to flour. It's tan in color and a little heavier like cassava flour. Potato starch, which is very white and light, is basically the starch taken from the white of the potato and dried. Like the white residue, you get on your cutting board after you cut your potatoes and it dries.
Ok, so my point…what do I do with half a kilo of potato flour? The internet was of no use. I found several recipes using a combo gluten-free flour that included rice flour (and I am trying to avoid grains) which only added one to two tablespoons of potato flour in their recipe. That meant by the time I finished this bag I'd be close to 90-years-old.

Back on the internet, I went! I happened to stumble upon a PERFECT recipe. Gluten-free, and dairy-free. It's a Swedish cake called Sandkaka which translates Sandcake. I did a couple of tweaks and it really was impressive. You can find more interesting cakes on this site as well, Around the world in 80 Cakes.
This is the simplest thing I've made in a while and if you were in my kitchen right now you'd flip out with this amazing smell!  I just had to try a piece and my husband was led by the smell to the kitchen asking what I was making. We actually ate a piece with fresh oranges and forgot to take the picture first…sorry. But we did get you a nice glimpse inside of the genuine Swedish cake.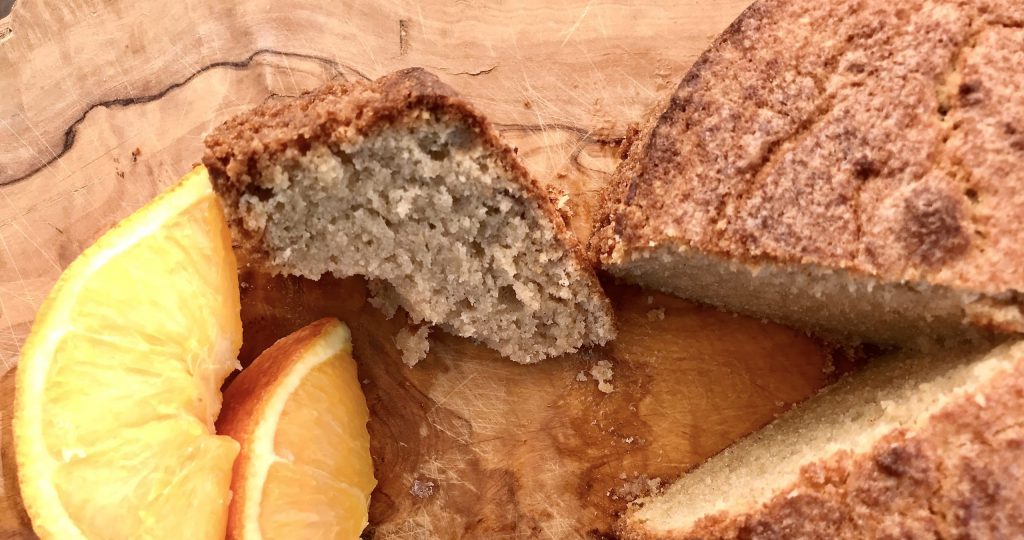 It's moist, warm buttery flavor is accented with a touch of Disaronno Italian liqueur.  There is a slightly coarse texture that makes it similar to a pound cake. Further investigation led me to my Italian cookbooks where I discovered a cake in Rachael Ray's cookbook, Everyone Loves Italian on Sunday, called Sponge Cake, simple right? Instead of potato flour, she used regular flour and added a couple more eggs. So I'm guessing every country has their own take on this delicious dessert. Serve this up with fresh berries, seasonal fruit, coconut whipped cream, or a scoop of your favorite dairy-free ice cream. It's also tasty warm and naked (so are a lot of things right?)!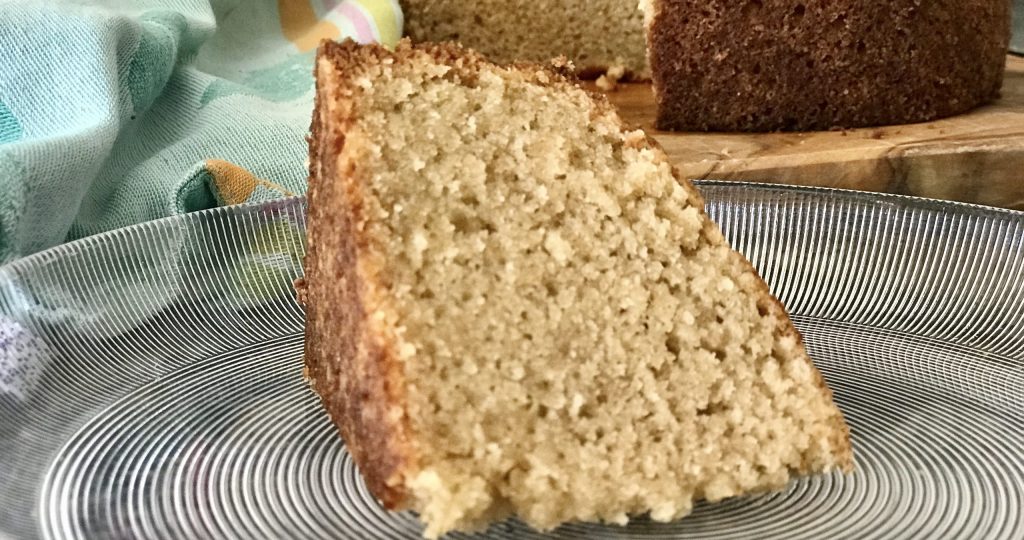 I'll continue hunting and experimenting to find more creative ways to use my huge bag of potato flour and I hope before I'm 90-years-old…hum potato gnocchi sounds good, right? Till then enjoy this Sandkaka. If you have any recipes using potato flour as the main flour, send it my way! I have plenty of flour…
A Tribute to the Chef: Poundcake, Dream Cake, or Sandcake
After some long searching, I discovered that the Sandcake is what the danish refer to as pound cake or dream cake. It came about in the early 1700s in Northern Europe. It appeared in a cookbook by Amelia Simmons entitled American Cookery in 1795 in Connecticut. Apparently brought over by the Europeans and revised I'm sure. The name always struck me as odd until I read up on this yummy cake. Amelia Simmons describes the ingredients as; "One pound sugar, one pound butter, one pound flour, one pound or ten eggs, rose water one gill (don't ask, that's from the original recipe), spices to your taste; watch it well, it will bake in a slow oven in 15 minutes." So now you know!
Potato Flour Swedish Sandkaka (Sandcake)
May 27, 2020
: 8 pieces
: 15 min
: Easy
Ingredients
1 cup of soft butter (room temperature is important! soften in micro BUT DON'T let it melt)
3 eggs (room temperature is important! Set in warm water if you have to for 15 minutes)
1 tsp of vanilla or almond flavoring
1 cup potato flour
1 cup birch tree sugar
2 tsp of baking powder
1/2 tsp salt
2 Tbsp of rum or liqueur of choice
Directions
Step 1

Turn oven to 350 degrees or 180 C.

Step 2

I used an 8' springform pan and buttered the sides and used a circular piece of cut baking paper. A small 8×8 or loaf pan will work also. If using a loaf pan or baking dish butter and dust the sides and bottom with potato flour.

Step 3

In a standing mixer, beat the butter and eggs until bright yellow and fluffy. About 5 minutes on medium.

Step 4

Meanwhile, mix the potato flour, baking soda, and salt in a small bowl with a fork or whisk.

Step 5

Slowly add the sugar to the egg and butter mixture and beat on high for 5 more minutes.

Step 6

Slowly add the potato flour mixture to the standing mixer 1/3 portion at a time alternating with the brandy or liqueur. Scrape the side of the bowl a couple of times to make sure everything is combined.

Step 7

This is a thick dough so don't worry. Once all is incorporated use a spatula to scoop the dough into your baking pan. Pat the top so it is somewhat smooth.

Step 8

Bake for 40-50 minutes, depending on your pan size. My springform pan took 50 minutes! Use a toothpick or a long carving knife and slide it into the middle. If it comes out clean it's done!

Step 9

Enjoy!