I think summer is starting to realize it is late. Last week it showed it's shine for a couple days. We took advantage of this and snuck out to do some grilling! I am addicted to these Grilled Veggies with my B&B Pesto. The B&B stands for Black Basil and Black Olive Oil. Check out the recipe for B&B Pesto here. Another option is to use my Cilantro Chimichurri sauce as a marinade. I make a ton of these veggies and take them to work-–well, I used to. I'm retired now, so I'll probably take them with me other places 🙂 Hey, they're equally delicious cold. Give them a try the next time Mr. Sun decides to come out.
GRILLED VEGGIES WITH B&B PESTO OR…
June 20, 2016
: 4
: 15 min
: 20 min
: 35 min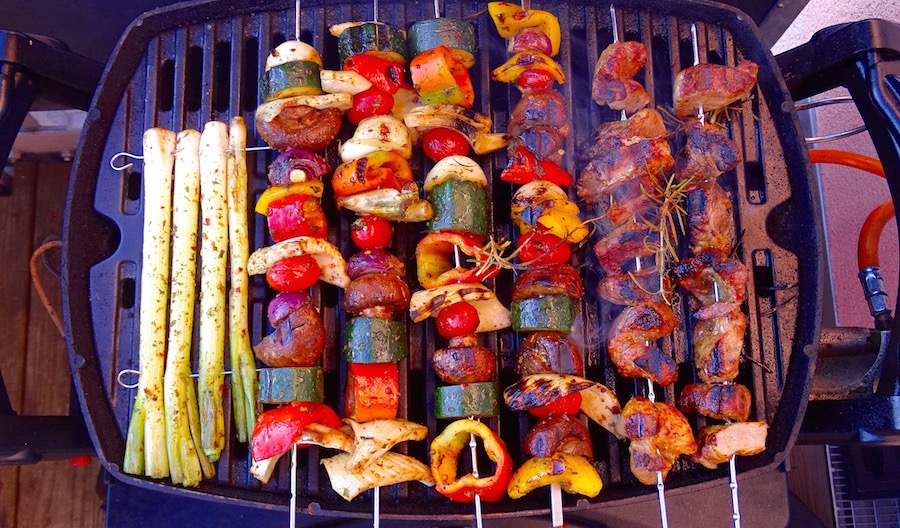 Ingredients
1 red bell pepper 2 inches pieces
1 green bell pepper 2 inches pieces
1 yellow bell pepper 2 inches pieces
1 orange bell pepper 2 inches pieces
1 medium red onion cut in 1/4
1 medium white onion cut in 1/4
1 large zucchini cut 1inches rings then in 1/2
8 large mushrooms cut in 1/2
8 cherry tomatoes
Choose your Marinade
1/4 cup B & B Pesto on my site OR
1/4 cup Cilantro Chimichurri on my site OR
1/4 cup seasoned olive oil choose your own seasoning!
Directions
Step 1

Slice the veggies making sure you leave them large enough so they don't break when you slide them on the grill sticks. I have several different kinds and the ones we like best are the ones that are flat. The round ones make it difficult to rotate the veggies. They just spin around the sticks.

Step 2

Place the sliced veggies in a bowl and add 1/4 cup of B&B Pesto, Cilantro Chimichurri or your own creation. Mix this well so each piece is coated. I use my hands! This can be done a day ahead if you like or they can stay on the counter while you prepare the rest of dinner.

Step 3

When ready to grill, place the veggies on your grill sticks and cook on medium. Rotate every 4 to 5 minutes for 20 minutes. Serve right away!