It might be quite obvious that I'm not enjoying this spring weather when I only think about soup. You're right…But I am looking for the good in the weather. My mantra for this cloudy, rainy month has been: "Thank you, Universe, for the rain that grows the veggies I eat and makes the farm animals happy." Truly, there is a good side to all this rain and cold…more time to experiment in the kitchen!
I was raised never to throw anything away. So leftover pieces of broccoli, green beans, cauliflower, or any other veggie hanging around, I freeze! This is such an easy soup. You can use frozen or extra veggies before they become a science experiment.
This day, I had several small portions of various stuff, like cauliflower, kale, potatoes, onions, celery root, little pieces of bio ham, and some shiitake mushrooms. Look what I made…
LEAN GREEN SOUP
June 12, 2016
: 8
: 15 min
: 1 hr
: 1 hr 15 min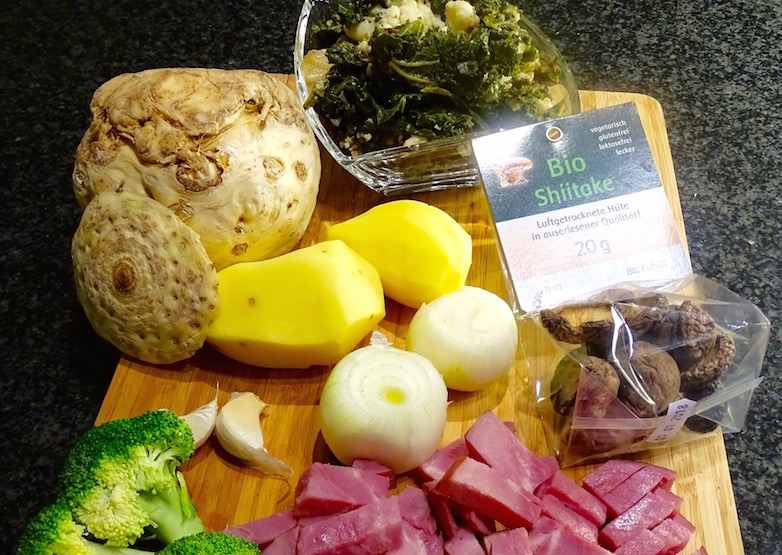 Ingredients
4 cups Organic or homemade broth chicken, beef or veggie
4 cups water
1 Tbsp seasoning Italian, Spanish or herbs of choice
1-2 tsp Himalayan salt
1 tsp red pepper flakes
1 Tsp ground pepper
2 cloves garlic chopped
1-2 onions chopped
6-8 shiitake or fresh mushrooms sliced reserve 2 for topping
4 cups frozen or fresh veggies broccoli, kale, cauliflower, celery root etc.
2 medium potatoes cut 1/2 optional they make the soup thick!
1/2 cup coconut cream milk almond milk works too
1 lb Bio Ham cut in cubes reserve 1/4 cup for topping
1/2 cup Blanched raw almonds toasted for topping
Directions
Step 1

Don't forget to reserve a bit of the ham and mushrooms for topping. If using shiitake mushrooms, place the 2 or 3 reserved for the topping in a cup and cover with boiling water while the soup cooks.

Step 2

Place all the ingredients, except the coconut cream milk, ham, mushrooms, and toasted raw almonds, into a large soup pot with the lid on. Bring to a low boil.

Step 3

Once it just starts to boil, turn it to low and cook for an hour with the lid on. Check to make sure the potatoes are done after an hour. It might need a little more time.

Step 4

With your immersion blender, puree the mixture until smooth.

Step 5

Stir in the ham and sliced mushrooms—Reserve a little for the topping.

Step 6

Slowly add the 1/2 cup of coconut milk or almond milk. Add more milk or broth until you have your desired consistency.

Step 7

Heat for another 10 minutes while you chop the reserved bio ham, sliced reserved mushrooms, and toast the raw almonds.

Step 8

Serve and sprinkle a small portion of the ham, mushrooms, and a few almonds on top. Enjoy!