Easy right? Ok, so I had a large batch of rooted cilantro from my Asian store and it was wilting fast…what to do? Make a pesto. So, I wanted it to be unique and decided to use roasted pecans I'd been saving for a special recipe and decided this was it. I also had some lemon basil left in my garden from the boat and thought it was a brilliant idea to add to this mix. It came out amazing and can be used in any recipe that calls for pesto or as a marinade or in a salad dressing. Just a handy pesto to make your meal or dish pop!
Suggestions for use:
Marinate for meats, a flank steak works beautifully.
Marinade for fish and pork.
Add a tablespoon in my Foolproof Mayo for french fries or tortilla dip!
Use a teaspoon in your omelets.
Add to your favorite salad dressing.
Add to your favorite Mexican salsa or sauces.
Place a dollop inside your quesadilla before grilling!
Use with fish tacos or carnitas.
The list is endless…
Here we go, within 15 minutes you have created a typical meal into an outrageous meal!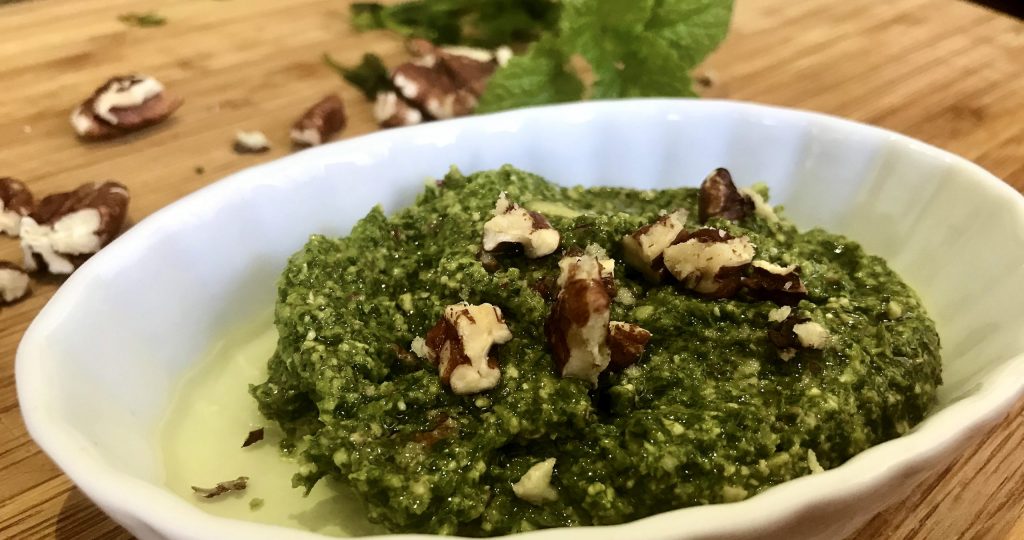 Spicy Cilantro Pecan Pesto
September 15, 2020
: 2/3 cup
: 15 min
: Easy
Ingredients
2 batches of freshly washed cilantro (about 3 stuffed cups with stems)
1 cup of freshly washed lemon basil leaves
1/4 cup olive oil (a little bit more to cover the top of the stored pesto)
2 garlic cloves
1 jalapeño (keep seeds in if you're daring!)
juice from 1/2 lemon
1/4 cup toasted pecans
Directions
Step 1

In your small immersion blender food process attachment or in a small food processor, place all the ingredients and blend until smooth!

Step 2

Place in an airtight jar and cover the top with a bit of olive oil to keep it from drying out.

Step 3

If your eating cheese, you can add 2 tablespoons of goat cheese or queso fresco to the mix!