This spicy-sweet dinner was gone in minutes! This dish got rave reviews from both her kids and her husband. It's a combo of recipes I've read about and some ingredients I love to combine to make sauces pop! I've been staying with my daughter in San Diego and enjoying the best home-cooked Mexican food ever, so I was a little scared when I took charge of the cooking.
There are a variety of ways to make this dish. It's easy and quick. You can also use ground chuck, but the turkey is a bit leaner. You can do the meatballs ahead. You can freeze them cooked or uncooked. I haven't tried it yet, but you can also grill them on the grill and make the sauce separately. Leave the cooked or raw meatballs in the fridge for three days. I've fried the meatballs in a pan on top of the stove but hate the flying grease and usually have to fry separate batches, which takes longer, plus more to clean up. But the last time I made this recipe, I used the broiler method and loved the results. Either way, you choose to cook the meatballs; this dish bursts with flavor and is delicious.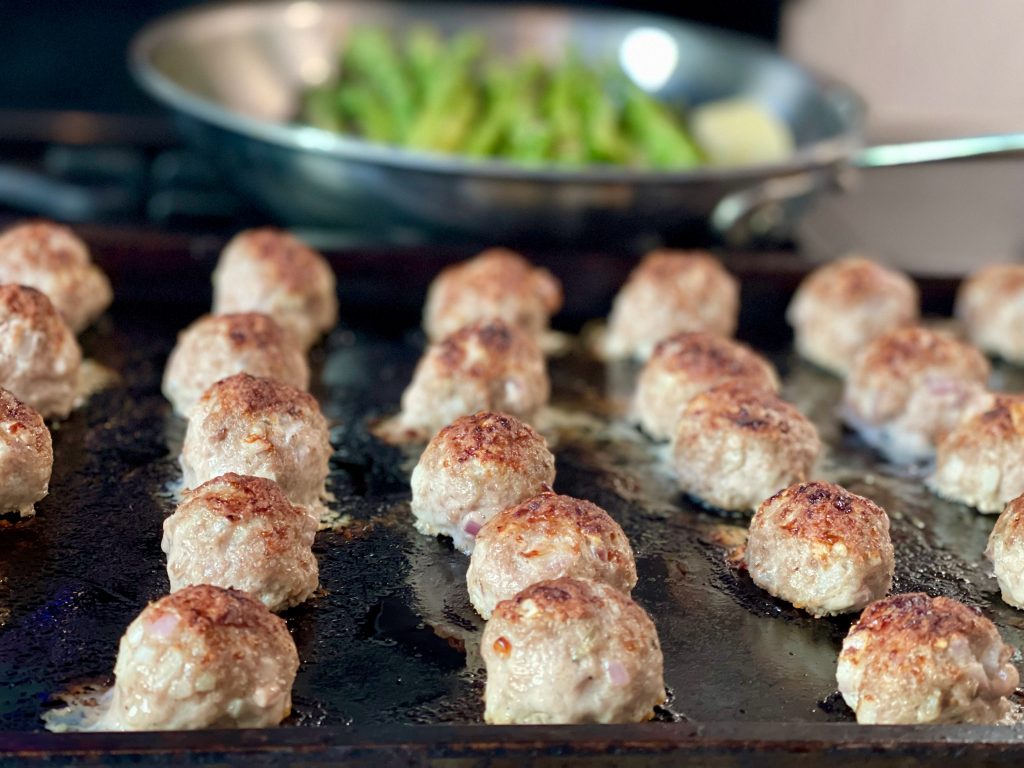 Turkey Meatballs and Honey Mustard Sauce
November 2, 2021
: 6
: 20 min
: 20 min
: 40 min
: Easy
Ingredients
Meatballs:
1 lb ground organic ground turkey or ground chuck
1/2 white onion
4 garlic cloves
1 egg beaten
2 TBS almond flour or cassava flour
1 tsp Himalayan salt
1 tsp pepper
1 tsp fresh diced thyme
1 tsp fresh minced rosemary
1 TBSP fresh minced basil
1 tsp red chili flakes (optional)
Sauce:
1 cup organic chicken or veggie broth
1/4 cup spicy hot mustard
1/4 cup organic maple syrup
1/2 cup cream or coconut cream (not coconut milk)
Leavings from broiled/fried meatballs
2TBS of olive or avocado oil
2 TBS water
Salt and pepper to taste
Fresh rosemary for topping
Directions
Step 1

Turn the broiler to 350

Step 2

Prepare a cookie sheet with avocado oil. Do not use baking paper. You will use the scrapings and juice in the sauce.

Step 3

Place the ground turkey meat in a medium bowl.

Step 4

Mince the onion and garlic—place in the bowl with the turkey meat.

Step 5

Add remaining ingredients to the turkey meat and mix with a spoon.

Step 6

Using a Mellon scoop or your hands, roll meatballs about 1 and a half inches big. I made 24 meatballs on one cookie sheet.

Step 7

Place the cookie sheet with the meatballs under the broiler and bake for 8-10 minutes. You can flip the meatballs halfway through if you like, but it's not necessary. Watch closely and ensure they get nicely browned on the top and sides. You can turn your cookie sheet halfway through so they are evenly browned if necessary.

Step 8

Once browned, carefully remove the cookie sheet from the oven and let the meatballs rest for 10 minutes while you prepare the sauce.

Step 9

In a 2-cup jar or bowl, combine the broth, mustard, maple syrup, and cream. Shake well and set aside.

Step 10

Place the cooked meatballs from the cookie tray on a plate.

Step 11

Scrape the juice and leavings from the cookie sheet into a large saucepan. Heat on medium and whisk leavings with 2 tablespoons of olive oil, 2 tablespoons of water until you have broken down the leavings into a semi-smooth mixture.

Step 12

Slowly add the jar of sauce ingredients to the leavings into the saucepan mixture. Simmer on medium for 15 minutes or until it begins to reduce. Whisk often to make sure it doesn't burn or stick to the bottom.

Step 13

Once reduced to the consistency of syrup, add the meatballs and simmer on low for 10 more minutes with the lid slightly cocked, so it continues to thicken.

Step 14

Add more salt and pepper if needed. Top it off with diced rosemary, and enjoy! Serve over your choice of rice, noodles, or veggies.