Yes, this is a no-brainer for sure. It's all in the sauce, the ingredients, portion size, and timing. With this cooking style, you can use any meat, fish, or veggies you like. Plus, it's quick and straightforward. I love using any of the sauces I've created and selecting meat or fish. We've even done this recipe without any meat or fish, so it's also great for vegan nights. Below are a few sauces I love to smother over my seasonal veggies and protein.
The choice of the sauce depends on you and what flavor you're seeking to highlight. I made this while visiting my sister in Oregon and used many veggies from her garden. We added chicken breast and cut them in half. I diced the veggies relatively large since the chicken breasts were large and would take more time to cook. I used my Herb de Province sauce to marinate the chicken and veggies.
This meal is great for serving up quickly and feeding a crowd. In the past, I've marinated my meat and veggies separately for 2 hours to 2 days. Marinating your ingredients is not necessary but is an option if you want to prepare in advance. You can use two cookie sheets and shelves in your oven halfway through the cooking time to exchange trays. When done, you can serve this delicious meal on top of your favorite rice or pasta.
I used cookie sheets and spread out the ingredients, so they didn't overlap too much. I also found that a sauce works better than rubs or seasonings alone. If you choose to use a rub, I suggest you give your protein and veggies a swirl in 1/4 cup of olive oil or avocado oil, then add the rub and mix them well.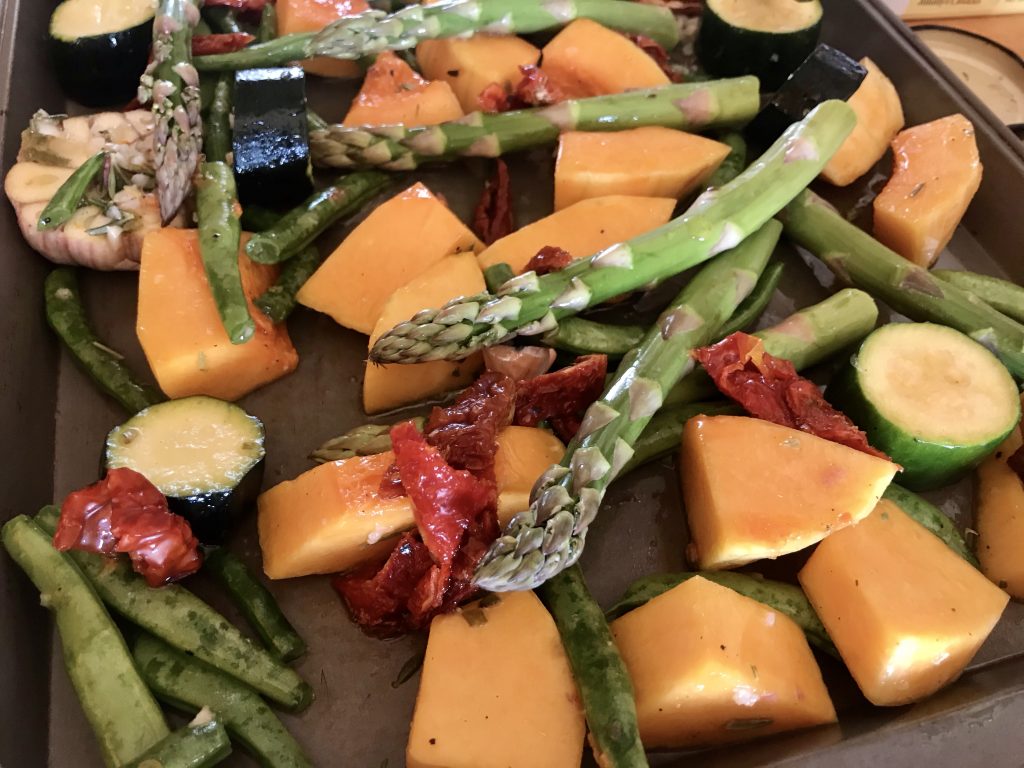 Chicken & Veggie Grill
September 28, 2021
: 4
: 15 min
: 45 min
: 1 hr
Ingredients
4 chicken breast skinned and sliced accordingly
1 sweet potato peeled and sliced
20 green beans cut in half
16 asparagus ends cut
1 large zucchini
8 sun-dried tomatoes
1 large onion (white or red) diced in fourths
1/2 cup olives of choice
4 oz soft goat cheese
Herb de Provence sauce or your choice of sauce
Directions
Step 1

Turn oven to 350 degrees.

Step 2

Wash and trim your protein choice.

Step 3

Wash and trim your veggies.

Step 4

Place your protein and veggies on a baking sheet. Save the olives and goat cheese for the last 15 minutes of roasting.

Step 5

Sprinkle your choice of sauce over the top of the protein and veggies. Rub each ingredient with the sauce.

Step 6

Bake in a preheated oven for 15 minutes.

Step 7

Turn veggies and protein and cook for 10 more minutes.

Step 8

Add the olives and sprinkle the goat cheese over the top. Cook for another 10-15 minutes or until the goat cheese bubbles.

Step 9

Serve hot over your choice of rice or pasta if you like.