One of my kindergarten students had invited me to their house for dinner. I was so impressed with the meal. The mother made chicken chili, and this was a first for me! It was amazing! So when we headed to the desert for the Thanksgiving holiday, I knew what I was going to create for our potluck soup night. Oh yes, one more thing. Go ahead and use that leftover turkey and make this White Turkey Chili. Of course, I had to add a twist to it, and what a hit! Creamy and delicious. Plus, I made it in my crockpot!
I've been eating goat and sheep cheese recently and wanted to give you some choices for making this dairy-free. The recipe calls for 1/2 cup soft goat cheese, but you can use plant-based or nut-based cheeses. As for the 1/2 cup of cream, you can use any plant or nut-based milk. Instead of topping it off with sour cream, use plain nut-based or plant-based yogurt mixed with a dash of Mexican spices and a tablespoon of green chili salsa. It's up to you! I used thighs, but you can use breasts as well. A store-bought rotisserie chicken works super and is much more manageable. This time of year, you can use the leftover turkey as well. This soup has plenty of goodies, so if you like to go vegetarian, leave the meat out altogether. Let's start creating!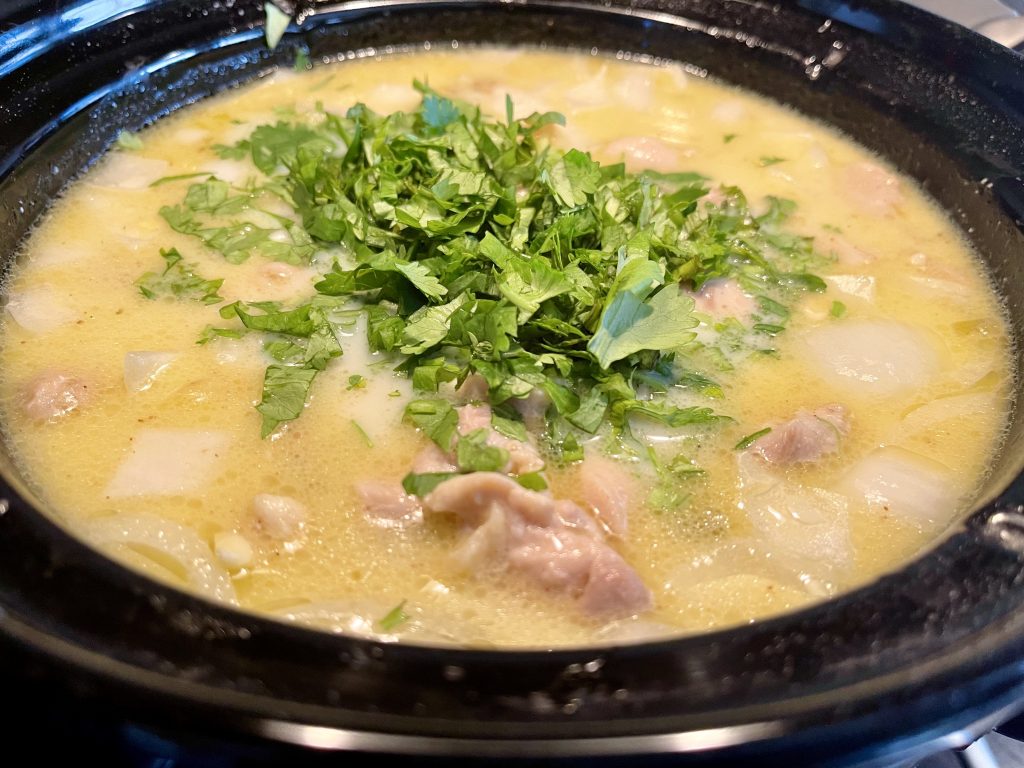 White Chicken/Turkey Chili
November 30, 2021
: 8
: 20 min
: 4 hr
: 4 hr 20 min
: easy
Ingredients
4 cups diced and seared chicken/turkey
3 cups chicken or vegetable broth
2 cans (15oz) drained Cannelloni Italian beans. 1/2 cup of beans set aside
1 large white onion diced
5 garlic cloves diced
1 can corn
1/2 cup cream, nut-based or plant-based milk
1/2 cup soft goat cheese, plant or nut-based cheese
3/4 cup green salsa
1 small can chop green chilis (or diced jalapenos)
2 tsp chili powder
1/2 tsp coriander
1/2 tsp cumin
1/2 tsp oregano
1 tsp salt
1 tsp pepper
3 Tbsp of chopped cilantro
Toppings:
Tortilla chips
Shredded hard goat cheese, plant or nut-based
Sour cream or yogurt
Diced cilantro
Diced fresh jalapeños
Directions
Step 1

Dice and sear the chicken in a large frying pan. Once the chicken is seared, add the chicken to the crockpot.

Step 2

Add a 1/2 cup of warm water to the leavings and juice in the frying pan. Scrape the bottom of the pan to loosen the leavings and pour it over the chicken in the crockpot.

Step 3

Add the remaining ingredients EXCEPT the 1/2 cup drained white beans. Give the soup a good stir.

Step 4

Mash the 1/2 cup of white beans with a fork or in a food processor. Stir this into the soup to make it thickener. Place the crockpot on high for at least 4 hours, so the chicken cooks through. You can leave it on low until you are ready to serve.

Step 5

After cooking for 4 hours on high and you find you would like it thicker, mix 1 tablespoon of potato starch in 1/4 cup of cold water. Spoon 1/4 cup of the soup into the potato starch mixture and mix well. Slowly drizzle into the soup while stirring—Cook for 30 more minutes.

Step 6

When ready to serve, add a few tortilla chips to the bottom of your soup bowl. Sprinkle with grated cheese, then pour a scoop of hot soup over the top. Add a dollop of sour cream, dust with fresh cilantro, and diced fresh jalapeños for a kick!