Fall is amazing in Washington. All the campgrounds in the area have apples falling off the trees. A visit to my son's house led me to this amazing Sticky Apple Cake. He has a HUGE old apple tree in the front yard. Blankets of apples covered his lawn. With tell-tale signs that the local deer appreciated them as well. I gathered a few from the tree and went to work. I made a ton of Fresh Applesauce, since many recipes call for applesauce as a natural sweetener. I had plenty on stand by and placed individual servings in the freezer for later. I also made a variation of my Mangled Mango & Apple Chutney (no mangos) to accompany our Nut'n Butter Than Butter Chicken Indian dish that same night. Needless to say I was consumed with a passionate drive to create recipes calling for apples! Here is one I think you will enjoy. It is quick and easy. You might also want to check out some of my other apple creations:
Mangled Mango & Apple Chutney
Fresh Apple Bread
Fresh Applesauce
(more in the makings…)
STICKY APPLE CAKE
November 2, 2016
: 8
: 15 min
: 25 min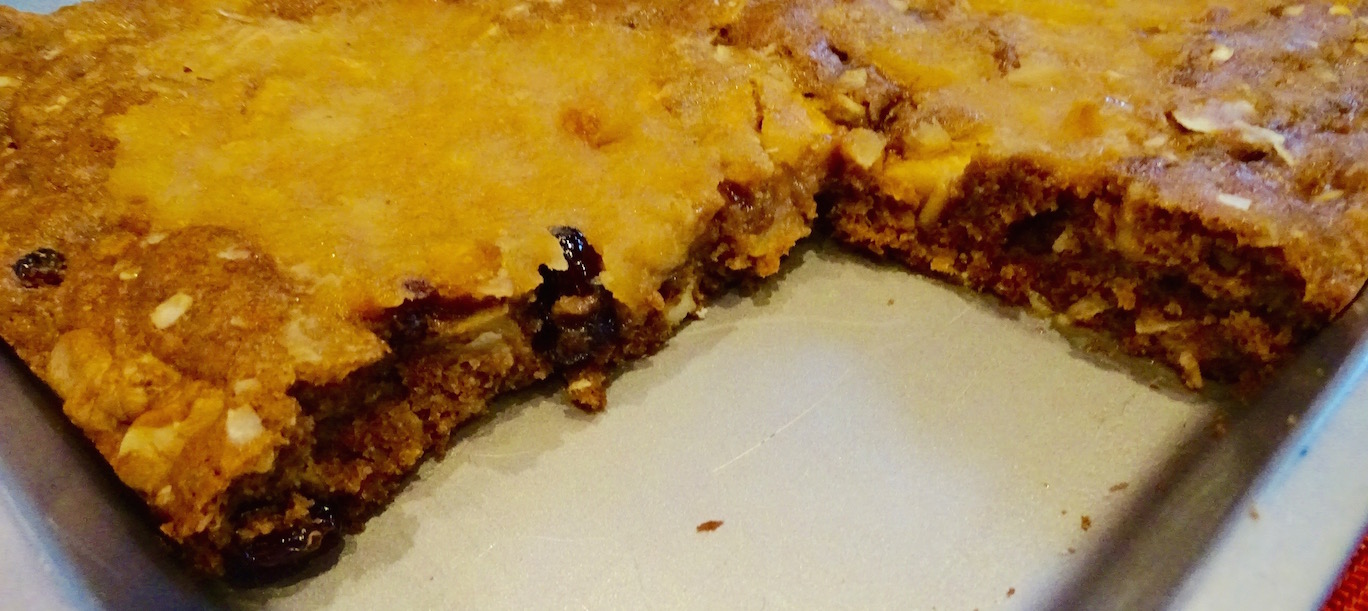 Ingredients
Wet Ingredients:
1/2 cup applesauce see my recipe or use organic no sugar
1/2 cup coconut sugar
1/2 cup coconut oil or avocado oil
1 egg
1/4 cup coconut milk or almond milk
1 tsp pure vanilla
Dry ingredients
1 cup gluten free flour mixture or 1/2 cup cassava flour + 1/2 almond flour
1 tsp baking soda
1/2 tsp baking powder
1/2 tsp salt
1/2 tsp ground cinnamon
1 tsp fresh grated ginger or 1/4 tsp ground ginger
Last Ingredients
1 cup chopped walnuts optional
1/2 cup raw flaked coconut optional
1/2 cup raisins or cranberries optional
1/2 chopped apple optional
1/2 cup applesauce this is to spread on top before baking
Directions
Step 1

Heat oven to 350 degrees. Grease an 9X13 cake baking pan. If using a smaller size pan 8×8 you will need to cook it longer.

Step 2

Wet Ingredients: Place all the wet ingredients into a large bowl and blend with immersion blender or hand mixer until smooth. If you are using my applesauce recipe you will have a few apple lumps!

Step 3

Dry Ingredients: Place all the dry ingredient into a medium bowl and whisk with a fork until blended.

Step 4

Slowly add the dry ingredients to the wet ingredients. Blend well.

Step 5

Last Ingredients: Add your choice of last ingredients. I used them all and was it yummy!

Step 6

Pour into a 9X13 cake sheet pan. Spread the last 1/2 cup of applesauce over the top.

Step 7

Bake for 20 to 25 minutes. This is a sticky cake so the knife check might not be the best test. Tap the top and if it springs back it's done!

Step 8

Serve warm and drizzle with pure coconut cream milk, whipped coconut cream or dairy free vanilla ice cream.