I love Lutz's Lentil Soup and it's rich flavors with pork belly or pork knuckle chunks, but tonight I wanted a different flavor. I wanted something Asian. I buy fresh Asian herbs and veggies and keep them in the freezer for such occasions. I began scrounging through my freezer for them and located one of my favorite herbs, kaffir leaves. Basically, a lovely leaf with a combo of fresh basil and strong lime. I happened to have jalapeños that were on the verge of destruction, so I gatherer all my goods and looked at them for a while. I attacked my spice drawer as well, and as I looked through all my odds and ends and I laid them out and began to divide and conquer!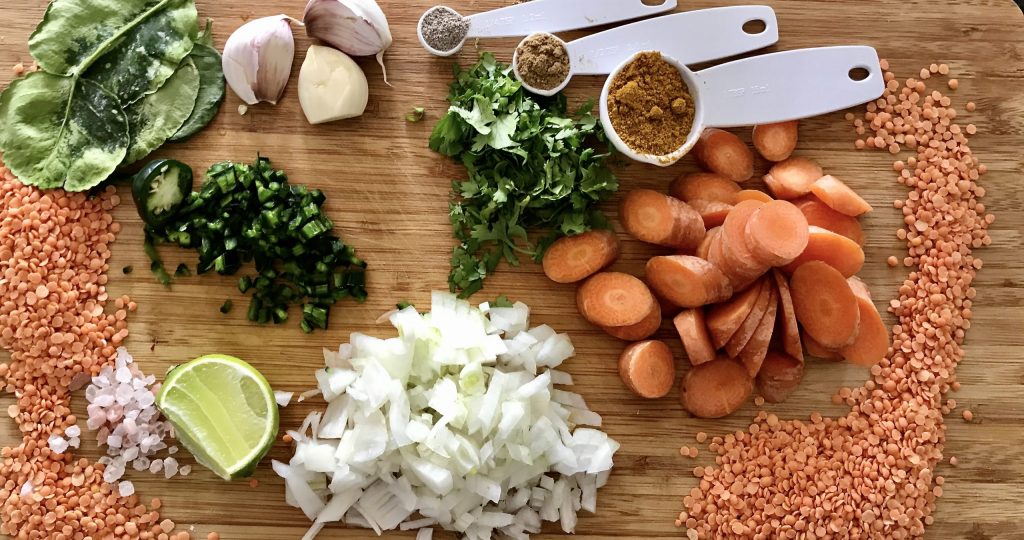 This is what I came up with, and thank you, Universe. At least I took a picture so I would not forget what in the world I added to this crazy delicious meatless meal. You can eat it alone, pour it over seasoned cauliflower rice or organic rice—your choice and actually your choice as to what goes into this soup. Check out your freezer, cupboards, seasonings, and herbs, and get started!
I used my Crazy Curry Seasoning recipe, but you can use store-bought as well. I also found in my cupboard a box of Bio-Organic Creamed Coconut. This comes with four individual packets of pure coconut cream. I used one packet. You can also use coconut cream milk. I had found several dying carrots and added them as well, but as I said, make this your way. Live a little!
If you've got some leftover veggies hanging around, slide them in thirty minutes before serving. I happened to find some frozen kale I had tossed in the freeze once upon a time. BAM, in it, went! If you're adding kale, you can add it with the main ingredients. It's pretty robust. If you choose to use spinach, wait before serving and toss it in so it is fresh and green when you serve the soup. Also, any veggies you choose to add need to be added according to their size and sturdiness. This soup cooks for 2 hours plus, so add your veggies accordingly and more water if needed.
Here's a good base for you to begin your own version of this yummy soup. Have fun!
Spicy Red Curry Lentils
May 15, 2020
: 8 Persons
: 20 min
: Easy
Ingredients
2 Tbsp ghee or coconut oil
1 small onion diced
3 garlic cloves diced
1 jalapeño diced (seeds are optional) and divided
1/2 cup diced fresh cilantro divided
1 Tbsp curry powder
1/2 tsp cumin
1/4 tsp cardamon
2 tsp Himalayan salt
4 cups of water
1 bag of red lentils
1 lime juiced
4-5 kefir leaves
1 packet of 50g Creamed Coconut or 1 cup of coconut cream milk
3 carrots cleaned and sliced
A handful of cleaned roughly torn kale
1 lime sliced for serving
Cilantro leaves for serving
Directions
Step 1

Rinse and clean stones from lentils. Set aside.

Step 2

In a medium cooking pot, bring the ghee or coconut oil to medium-high

Step 3

Sauté the diced onions for 2 minutes.

Step 4

Add the diced jalapeños, garlic, cilantro, salt, and seasonings. Mix well

Step 5

Add the water, lentils, the juice from 1 lime, kefir leaves, and creamed coconut or coconut cream milk. Stir until well combined.

Step 6

If you're adding kale and carrots, you can add them now. They are pretty robust. Add other veggies 30 minutes before you serve.

Step 7

Bring to a boil on your stovetop. Once it begins to boil, lower the heat and simmer for 2-3 hours. Taste and add more salt, lime juice, or jalapeños.

Step 8

Serve with a slice of lime, a sprinkle of jalapeños, and diced cilantro.