Wooo! Ok, I know I am a bread eater, and creating bread recipes is a mission for me (along with pizza crust). This week my husband and I went to Wolfach in the Black Forest to check up on our home that is being built, and do some paperwork. We decided to spend our four days of quarantine time in the wood in a friend's cabin.
Every time we visit the Black Forest we stop at a farm to table place. It's like a small Whole Foods. Anyway, my husband always buys their sourdough farm loaf and cured sausages and meats. Seriously, if I didn't cook this is all he'd eat. Ok back to the story. I always take one bite and just close my eyes and dream of real bread. On our way back home today he bought another loaf and a suitcase full of sausage and cured beef. I was determined to figure this one out.
I wanted a Farm Loaf of my own! I stepped out of my comfort zone and used brown rice flour and sorghum flour so it's not a true Paleo bread but it is gluten-free. I wanted to experiment with these two flours just to compare this bread to my Grain-Free Century Bread. Both are really delicious and the texture is similar but the taste is really a bit nuttier and has more sourdough tang. It could all be due to the brewer's yeast. This is optional but if you choose to use it, read the label because some nutritional yeasts are made from wheat, gluten-free are made from plants.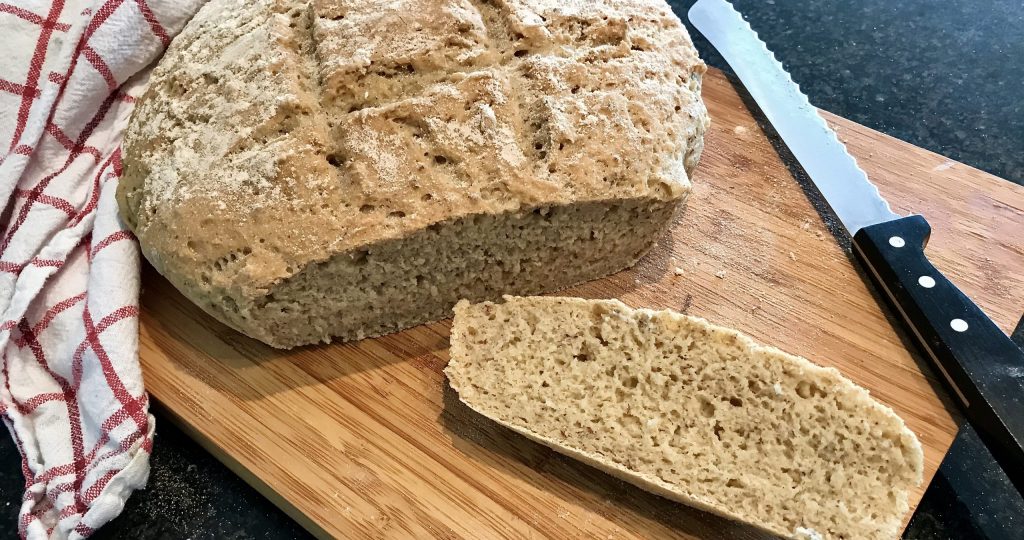 Easy, and done in your standing mixing bowl plus one medium bowl. two-pots to clean, no kneading, no long waiting time for it to rise, no yeast to bring to life in warm water (or to die due too hot water…I hate that). Done bam! I used my black cast iron pan but you can use any baking dish that can withstand high heat. You will need a baking pan that has some kind of edge. This does rise and spread. You can even use four small springform pans and make individual loaves and freeze them. The other thing I read about was ways to get that crunchy top crust. One suggestion was to place water in a cookie sheet and set it on the lowest rack in the oven three inches under your bread pan. I did and it and it worked! The top was amazing but careful when you open the oven to check doneness…you'll get a very hot steam bath.
Gluten-Free Farm Loaf Bread
May 15, 2020
: 1 Large Loaf
: 30 min
: 40 min
: Easy
Ingredients
Dry Ingredients:
2 cups brown rice flour
1 cups sorghum flour
1/2 cup ground flaxseed flour
3 cups tapioca flour
2 Tbsp seeds (chia, sesame, sunflower, etc.Keep a few to sprinkle on top before cooking)
1 Heaping Tbsp gluten-free Brewers Yeast (optional)
2 Tbsp active dry yeast
1 Tbsp Himalayan salt
1 Tbsp xanthan gum
Wet Ingredients:
2 1/3 cups warm water (110-105 degrees)
2 Tbsp honey (or coconut sugar)
1/3 cup melted and cooled ghee or organic butter
4 large eggs
Directions
Step 1

Turn the oven to 50 degrees. Prepare your baking pan(s) with ghee or baking paper. Make sure you trim the paper since the bread will cook on 425 degrees when you slide them in the oven.

Step 2

Melt your ghee or organic butter. Set aside and cool.

Step 3

In your standing mixer place all the dry ingredients and turn the mixer on low. Make sure you have the plastic protection lid on the flour flies all over the place.

Step 4

In a medium bowl add the warm water, honey or coconut sugar, and cooled ghee or organic butter. Stir until the honey dissolves.

Step 5

In the standing mixer with the dry ingredients add all four eggs and turn the mixer to medium.

Step 6

Once combined, add 1/3 cup of the warm water mixture to the standing mixer. Mix and add another 1/3 cup. Mix the last 1/3 portion and beat for 3-4 minutes. It should be pretty sticky.

Step 7

While it is mixing turn off your oven and leave the light on.

Step 8

Place the mixing bowl in the warm oven for 30 minutes. This gives you time to clean up and make sure your baking pans are ready.

Step 9

After 20 minutes take the bowl out and set on the counter. Turn your oven to 425 degrees. Place the tray of water on the lower rack.

Step 10

Place the dough in your prepared baking pan(s)of choice. Smooth the tops with wet hands. Sprinkle the tops with seeds and gently slice the top of your loaf or loaves.

Step 11

Once the oven reaches 425 degrees slide your bread in the oven and bake: Farm Loaf=40-45 minutes and 3-4 small loaves=30-35 minutes.

Step 12

Cool for 15 minutes, slice, and butter this baby up, and enjoy!