Quick and easy…that's what it's all about on a boat or living in our RV. Plus in the summer who wants the heat in the kitchen. These are so fast to make and you can serve them for lunch, snacks or anytime of the day. They're filled with protein and low carb. Of course I had to add jalapeños to bring up the heat. Plus peppers are good for you, especially the fresh ones so" bring'm on!" Oh yeah, and everything goes better with bacon. The sauce is so good it makes all the flavors explode.
If you have precooked chicken this whips up in 15 minutes. The best is to grill a ton of chicken breast and freeze them for occasions like this. Another nifty idea is to buy a precooked chicken at your grocery store. Many of the local stores are now offering free range rotisserie chickens so make it easy on yourself this summer and pick one up. Use what you need and freeze the rest for later. Enjoy your time with your husband and friends by making life easier…enjoy!
SPICY CHICKEN WRAP
June 25, 2016
: 2
: 15 min
: 15 min
: 30 min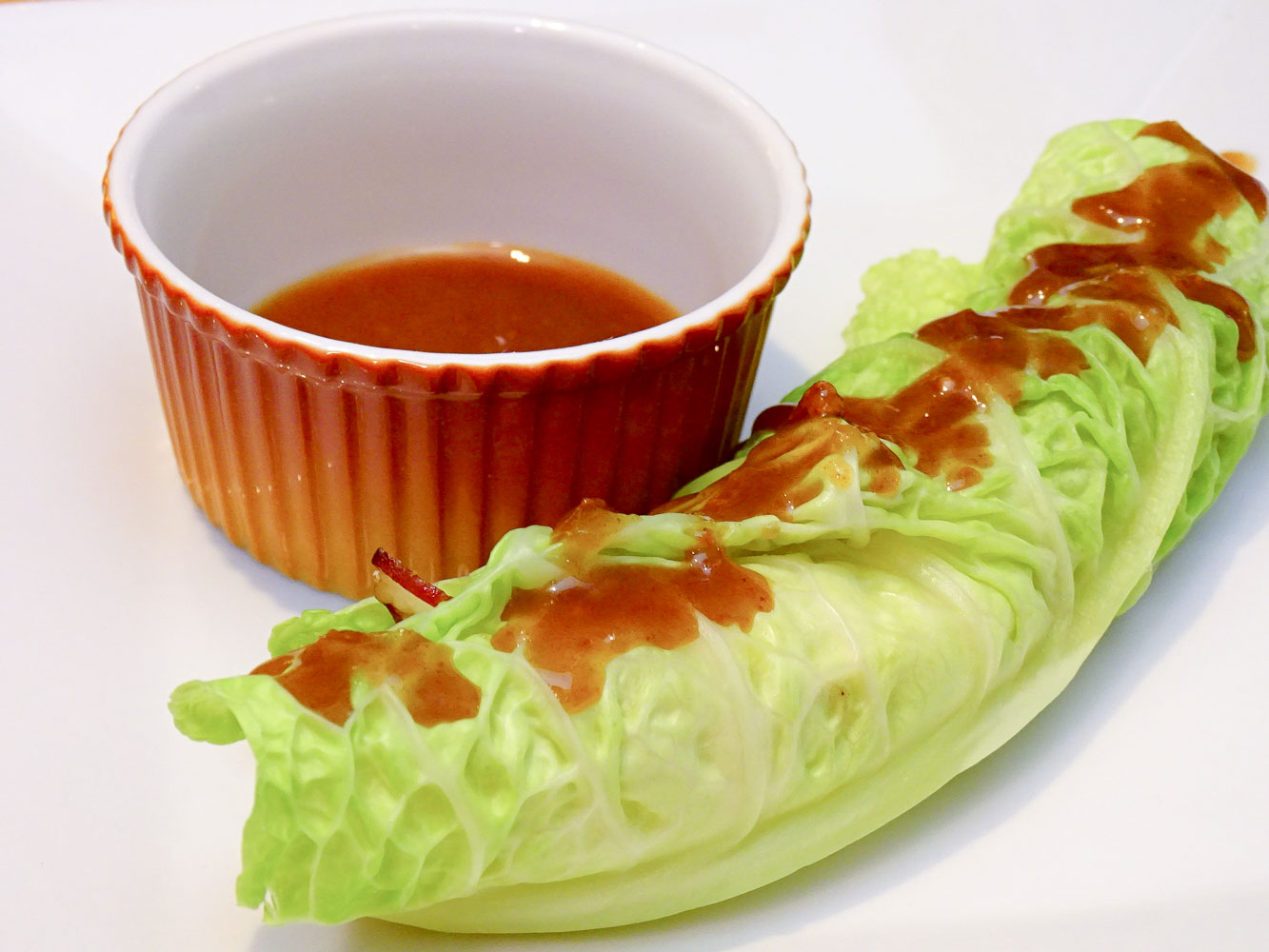 Ingredients
Filling
4 Big Chinese cabbage leaves or any green lettuce
2 cooked bio chicken skinned shredded
2 fresh jalapeños or canned/sliced
1 carrot shredded
1/2 onion rings or diced
4 strips smokey bacon fried
Satay Dipping Sauce
1/2 cups coconut amino soy
1/4 tsp Chinese Five Spice
1 Tbsp almond butter
1/2 cloves garlic pressed
1 tsp organic honey
1/4 tsp fresh ginger grated
1/8 tsp red pepper flakes or more
Directions
Step 1

Wash the cabbage or lettuce leaves in hot water so they become flexible. Wrap in a clean dishcloth when you prepare the rest of the ingredients.

Step 2

Grill your chicken or shred your store bought rotisserie chicken. Freeze what you will not use for this day.

Step 3

Unwrap your lettuce or cabbage leaves and fill each with chicken, a bacon strip, carrots, onions and jalapeños if using,

Step 4

Place all Dipping Sauce ingredients in a small jar and shake well. Take a taste and add a bit more Almond butter or honey to arrive at the taste that pleases your tongue!

Step 5

Wrap those babies up tight and dip away!